Giveaway: Visit Medieval Times Lyndhurst NJ Where Kids Rule!
As you already know, our family recently  enjoyed the movie, The Kid Who Would Be King. During the press weekend we were treated to a class hosted by Medieval Times where the kids were taught some sword skills. They had the chance to meet up with some real Medieval Times knights and practice what they learned. Both the boys and girls really took things quite seriously as those wooden swords clanked together and whooshed in the air. From that moment on it was a given that we HAD to visit the Medieval Times castle in Lyndhurst, NJ!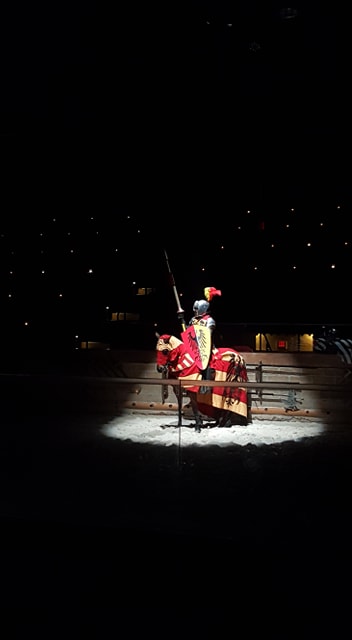 Whether you see the movie or not, Medieval Times is a perfect place to visit for both children and adults. We have been #MTfans forever and have celebrated many happy occasions at the Lyndhurst Castle throughout the years. It's a perfect place for family fun, date night, birthdays, anniversaries and holidays! As for our most recent visit, we were definitely spinning off of the movie, The Kid Who Could Be King! It's such a perfect match up between screen and reality. 
Our visit to Medieval Times started with arrived 75 minutes early. Why do we arrive that early? Well, I definitely would recommend that if you visit you arrive at this time, too! At seventy five minutes before show time you can be there for the Queen's Welcome! The Queen and servers and trumpeters all come outside of the castle and welcome everyone to the castle. The trumpeters trumpet! The Queen invites everyone to join her inside of the castle. It's definitely something that you will enjoy if you can make it there early. Arriving at that time also gives you time to enjoy the inside grand lobby. There is a picture opp on the way in with the Queen herself and also the sword in the stone! It's amazing!
Once inside the grand lobby we always just take time to enjoy the look. You will feel like you are transported into medieval times. There are drinks available with an array of souvenir goblet and glasses. There is even a knight's cup for the kids. During the pre show time you can see people being knighted by the Queen and mingle around to the gift shoppe and maybe even take a stroll through the dungeon, if you dare. Before you know it, it's time to be seated in your preselected color section that matches the color of the knight you will be cheering for during the show. Find out more about Medieval Times here :https://www.medievaltimes.com/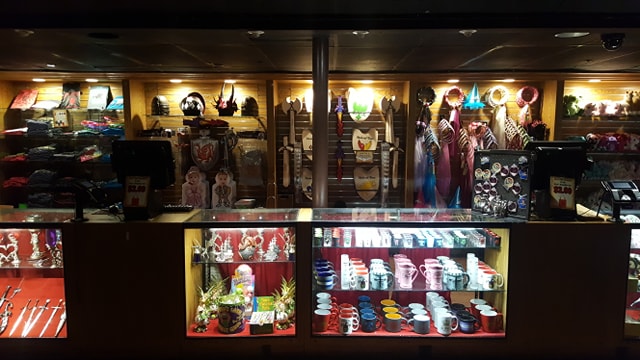 Since we were invited to be VIP on the Queen's List we were treated to front row seating, a special entrance, a flag with our knight's color (we had the black and white knight) and a take home photo.  Our family was quickly seated and started to get ready for the show. Every single time we enter the  arena it's always the same, our family just stops for a second and looks around. It's just amazing to be inside of and you kind of forget the outside world even exists for the time you are inside.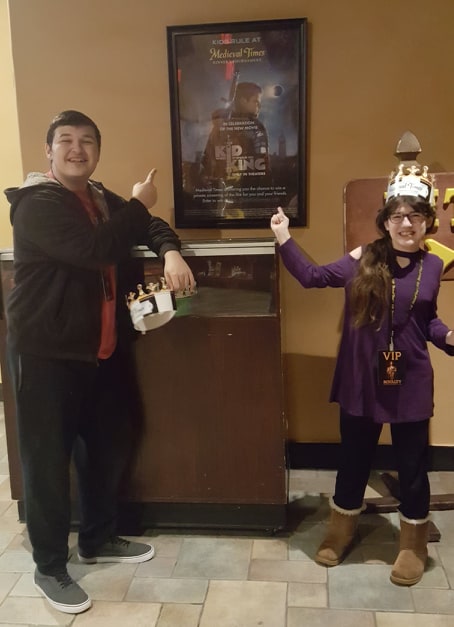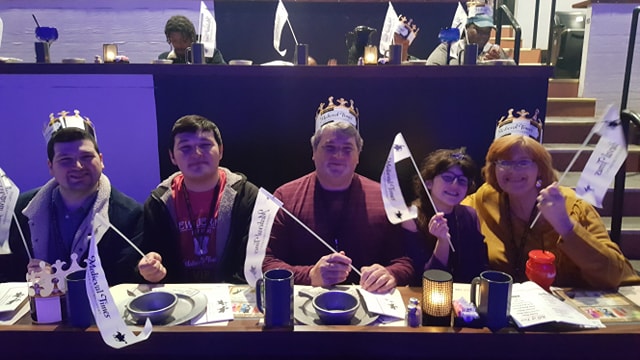 It wasn't long after being seated that the activities began. Our server introduced himself and before you know it we were feasting on delicious tomato soup, half of a chicken, garlic bread and corn on the cobb! Wow! Did I mention that there is NO silverware with your dinner. I mean, you are feasting with the Queen and it is medieval life! Of course you don't have to worry, there are plenty of  wet wipes, so dig in and feast away. The food is absolutely delicious. There is even dessert!
As your family dines the show goes on right in front of you. There are fancy Spanish horses that preform for the Queen followed by the knights dueling and showing off their skills. There is also falconry in it's finest form. The falcon is definitely one of my favorite parts of the show! We cheered and waved our flags as the knights jousted one by one until a final winner was in the house. Along the way each time the knight of your color wins he is given flowers from the Queen that he tosses out to the ladies. Emm is lucky enough each and every time to get a flower tossed to her!  
If you are looking for a fabulous way to spend the afternoon or night with family or friends look no father than Medieval Times Lyndhurst NJ! With the movie The Kid Who Would Be King in theaters there is no better time to partner up a trip with the kids to Medieval Times to celebrate the Kid King in your life!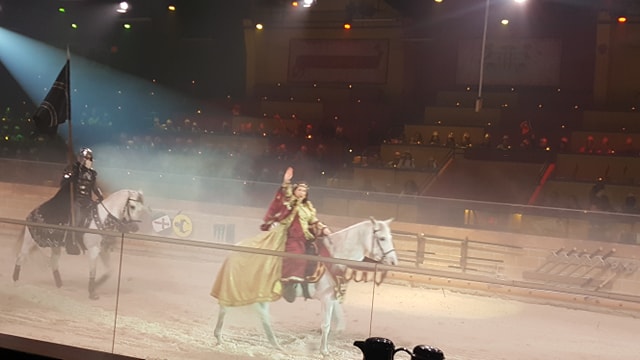 GIVEAWAY: We are thrilled to partner with Medieval Times Lyndurst NJ to send one lucky reader to Medieval Times with their family or friends! We have a FOUR pack of tickets to the show of your choice up for grabs!! I'm so excited to see who wins it! We love going to the show so much, it's just going to be great to see someone else having fun! Enter on the rafflecopter below. Good Luck! Prize consists of 4 one time passes to Medieval Times in Lyndhurst, NJ. Ticket delivery through Medieval Times. Giveaway ends Feb 24 at 11:59pm.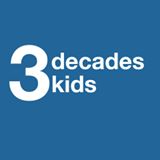 Disclosure: Giveway Tickets provided by Medieval Times. Media invited from Medieval Times. Contact Diane at Diane@3decades3kids.net or @3decades3kids across all social media networks. Our views are honest and do not reflect the views of partner company represented.