Eggland's Eggs Make the Best Muffins!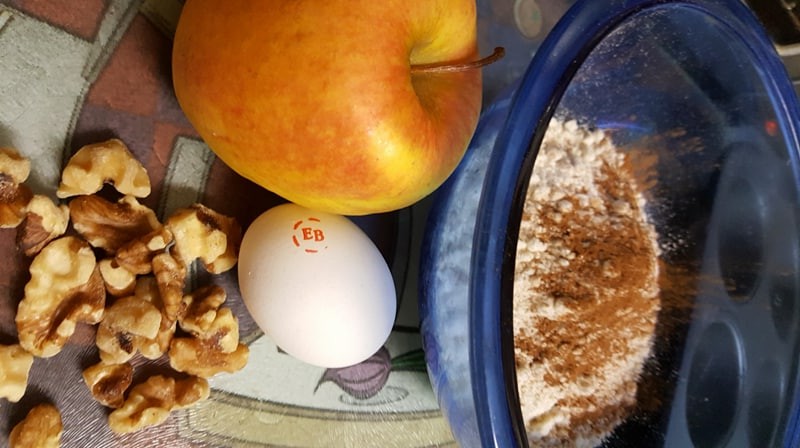 Every morning I wake up, get everyone ready for school and work and then start my day. After drop offs are done I head home to a day of blog work. Before starting for the day I love to begin my day with a good breakfast. Now, don't get me wrong. I don't bake muffins every day or break out the waffle iron, but sometimes you just want a nice warm breakfast. 
This morning driving home through the ice, rain, snow and sleet all I could think about was making a muffin! I know it sounds crazy. I was going to run into the bakery. I even parked the car in front of it but when I went to get out there was SO much ice I scraped the entire idea. In the end it all worked out because everyone knows that homemade out of the oven muffins beat bakery or store bought any day of the week!
Luckily I have a ton of box mixes for everything you ever want to eat. I'm not a from scratch type of person, BUT I am a total "add to the box" person. I grabbed a box of Jiffy Mix, which by the way is under a dollar and found some apples, cinnamon and walnuts to add to the mix. I also always add extra eggs to the mix. I can't see eating muffins and not lacing them with extra protein. Sometimes I even add in some protein mix to bump up the nutritional value. Check out EgglandsBest here: https://www.egglandsbest.com
A few chops later and the mix came to life. The aroma in my house was incredible! In a way, I'm really glad about that ice or I would have missed out on a fantastic breakfast. In addition to the muffins I fried up an egg and added some Italian herbs to them and topped off the dish with some strawberries. Wow, what a delicious breakfast. I really spoiled myself this morning and I just had to share it with you!
Happy Break-fast-ing! TGIF! Hope you love my delicious muffin and egg pics! They were as good as they look. WHAT do you like to make for breakfast when you want to spoil yourself?? Tell me in the comments below. I'd love to hear some great ideas that I can try. Check out another one of our great #Foodie posts here: http://3decades3kids.net/blog/2018/02/we-celebrated-national-pizza-day-with-home-made-pizza-pizza/
Disclosure: Post completed by Diane Sullivan. All opinions are honest and do not reflect the views of the parent company. Contact me at 3decades3kids@gmail.com or @3decades3kids across all social media platforms. This post is part of our #Foodie series.