Giveaway: Win A $50 Gift Card To  The Office Tavern Grill Ridgewood, NJ! 
Our family loves to spend the weekends together chatting about life and catching up. Now that the kids are older we can head out to dinner without any of the younger children drama. Recently we were introduced to a great place, The Office Tavern Grill in Ridgewood, NJ. Honestly, we probably would not have found this place on our own, but we were thrilled to visit it and will definitely go back again.
Let me tell you up front that we were offered a complimentary dining experience. Although it was hosted my opinions are honest so that you know exactly what to expect from your trip to The Office Tavern Grill . The Office Tavern Grill in Ridgewood, NJ was recently reopened after going through a  re-brand and full renovation. It's definitely a place that catches your eye both inside and outside. It's a place you want to go into even before you know how delicious the food being served is.  You can dine on traditional American comfort classics with a new twist. In addition to the regular menu there is a special menu that changes about every two weeks to reflect foods from a different part of the USA!
The new Office Tavern Grill in Ridgewood offers guests a completely revamped food and drink menu. It was tough to make a menu choice since they really did all look good. Our family each decided upon a different entrée so we could test out the variety of foods served. Hubby went with a steak sandwich, I chose grilled chicken, we also feasted on ribs and  a garlic toasted burger (that was my favorite!!), Emily went with delicious pancakes sprinkled with powdered sugar. 
If you are a beer fan you definitely have to check this place out! They have a fabulous bar with forty  rotating beer taps and an extensive craft beer and specialty cocktail selection – all combined with a renovated interior providing a fresh new look and feel. It's a perfect place to meet up with friends or a date and meet for a drink.  
A re-brand from its previous concept, The Office Beer Bar & Grill, the newly renovated Office Tavern Grill in Ridgewood now offers Bergen County fans of the restaurant a brand-new menu with the best gastropub-style food this side of the Hudson. Using locally sourced, seasonal ingredients whenever possible, The Office Tavern Grill provides guests with a variety of selections from its chef-driven menu, including signature items like Sweet Potato Nachos, Seafood Paella, Chicken and Waffles and more – plus traditional Office favorites like burgers, wings, and flatbreads, paired with the best micro brews, regional favorites and international staples hand-selected by its own Cicerone. 
 The Office Tavern Grill also offers a new limited-edition Road Trip menu, which will feature signature dishes from around the country, paying homage to a select state in the U.S. every two months. Additionally, its rustic wood and steel vibe complimented by old-style copper beer kettles and temperature-controlled recessed wine coolers provide guests city-chic ambiance nestled quietly in the suburbs. The Ridgewood location, which opened in November, joins two other New Jersey locations of The Office Tavern Grill in Morristown and Summit, but is the first of its kind to enter Bergen County. 
Did I mention your menu choices can come on an ipad? And the kids can use an Etch-A-Sketch to keep themselves occupied and unplugged! Our family gave the Office Tavern Grill an A+ for food, cleanliness, and friendliness! It's a definite "Go Back" in our book! See you there!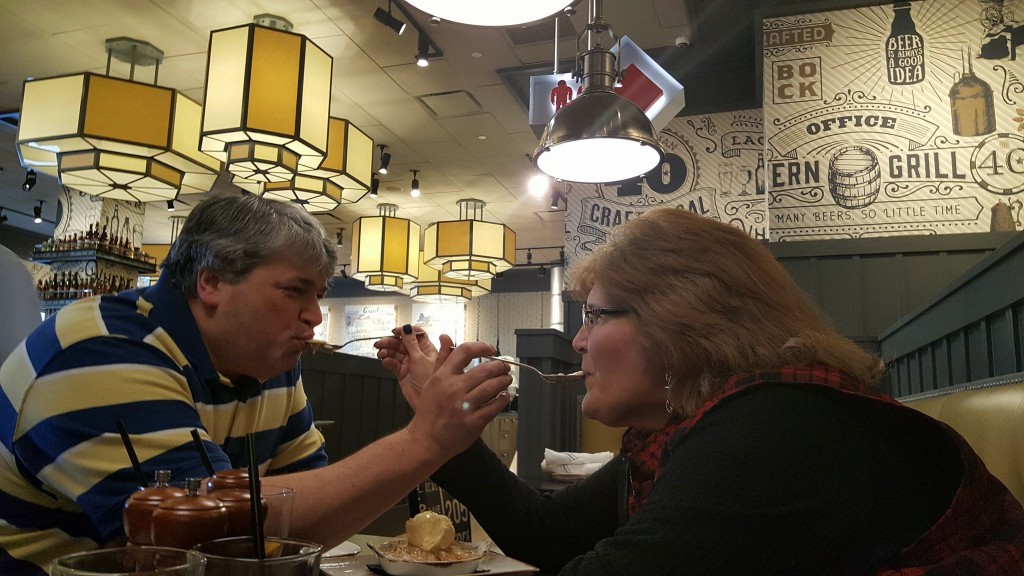 GIVEAWAY ALERT: We are thrilled to be able to share this generous $50 gift card to Office Tavern Grill in Ridgewood, NJ. The prices are very reasonable, so that will be enough to cover you and a friend! It's definitely worth the trip! As an example, the dessert above with the three little pans of ice cream was $7.00 total! Bring it on! Please enter on the rafflecopter below. Giveaway ends March 24, 2018 at 11:59pm. Winner will be contacted via email provided in the rafflecopter. Prize consists of one $50 gift card to Office Tavern Grill in Ridgewood, NJ. 
Disclosure: All opinions are honest and that of my own. They do not reflect the views of the parent company represented. Gift card and dinner provided. Contact Diane at 3decades3kids@gmail.com or @3decades3kids across all social media platforms.