Disney's A Wrinkle In Time In Theaters Everywhere Now!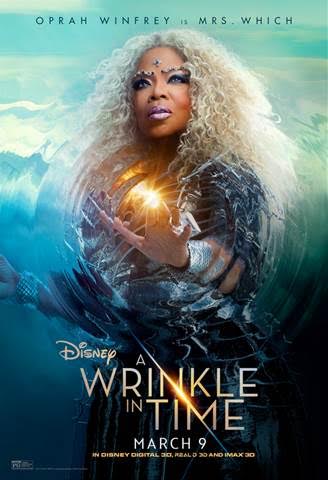 Our family has been counting down the days until we could see A Wrinkle In Time on the big screen! During our recent trip to Disney's Hollywood Studios and during the Disney Social Media Moms Celebration  we had the chance to see an extended preview of the movie. It was AMAZING and everyone in the theater wanted it to just PLAY ON!! After seeing the preview we are even more thrilled about seeing the movie tomorrow! Have you read the book?
Being a teacher, one of the books that my class was always assigned to read was, "A Wrinkle In Time". It's a book that I love and so does my family. My daughter had the chance to read the book as part of her after school group, Battle of the Books! She is the most recent family reader of the book and absolutely loves it! So, Sunday we will go and see A Wrinkle In Time for the first time as a family together! I am SO looking forward to that moment in time!
During the conference I was also thrilled to be able to see actual cast clothing from the movie and a make shift green carpet similar to the premiere. It was quite an experience to see first hand. Disney Press was also on hand to introduce us to the book, Disney A Wrinkle In Time Guide to the Universe! It's a great book for any Wrinkle In Time fan and is meant to accompany the experience of seeing the movie. Our entire family enjoyed the book! But here's the thing, You DID NOT have to READ the book in order to see and enjoy the movie! It's a definite hit all by itself and I'm just speaking from seeing the extended preview.
So, what's the movie all about? From visionary director Ava DuVernay comes Disney's "A Wrinkle in Time," an epic adventure based on Madeleine L'Engle's timeless classic which takes audiences across dimensions of time and space,  examining the nature of darkness versus light and, ultimately, the triumph of love. Through one girl's transformative journey led by three celestial guides, we discover that strength comes from embracing one's individuality and that the best way to triumph over fear is to travel by one's own light.
 
Meg Murry is a typical middle school student struggling with issues of self-worth who just wants to fit in. The daughter of two world-renowned physicists, she is intelligent and uniquely gifted, as is Meg's younger brother, Charles Wallace, but she has yet to realize it for herself. Complicating matters is the mysterious disappearance of Mr. Murry, which has left Meg devastated and her mother broken-hearted. Charles Wallace introduces Meg and her fellow classmate Calvin to three celestial beings (Mrs. Which, Mrs. Whatsit and Mrs. Who) who have journeyed to Earth to help search for their father, and together they embark on their formidable quest. Travelling via a wrinkling of time and space known as tessering, they are transported to worlds beyond their imagination where they must confront a powerful evil force. To make it back home to Earth, Meg must face the darkness within herself in order to harness the strength necessary to defeat the darkness rapidly enveloping the Universe.

Like A WRINKLE IN TIME on Facebook: https://www.facebook.com/WrinkleInTimeMovie/
Follow A WRINKLE IN TIME on Twitter: https://twitter.com/WrinkleinTime
Follow A WRINKLE IN TIME on Instagram: https://www.instagram.com/wrinkleintime/
Visit the official A WRINKLE IN TIME website here: http://movies.disney.com/a-wrinkle-in-time
A WRINKLE IN TIME is now playing in theatres everywhere!
Disclosure: Information provided by Disney Pictures. All opinions are that of my own, honest and do not reflect the views of the parent company represented. Guest passes provided by Disney Pictures and Fandango to see the movie. Contact me at 3decades3kids@gmail.com and @3decades3kids across all social media platforms.