Giveaway Disney's Snow White and the Seven Dwarfs on Digital HD and Blu-ray Combo Pack Release. Win it for yourself or your friends! 
Heigh Ho! Heigh Ho!, It's off to see Snow White we go! Our family adores all things Disney, so of course we were super excited when we were invited to celebrate the release of Snow White and the Seven Dwarfs! This past weekend in NYC, Disney  teamed up with Taste Buds Kitchen to welcome Snow White and the Seven Dwarfs on Digital HD and Blu-ray™ Combo Pack. 
Snow White and the Seven Dwarfs is a movie I can remember watching with my parents and I am glad to share my love of the movie with my own family. Of course we all know how important the red apple is in the movie, so it was quite a treat to be involved in a baking class at Taste Buds Kitchen where the little bakers worked together to create red velvet cupcakes that resembled the witch's red apple. Aprons on and step by step directions in hand, the children were guided through the baking process including whipping up some dreamy icing and fondant leaves to adorn the apple inspired cupcake. Did I mention the aroma of those delicious cupcakes baking? I'm glad the wicked witch was not there to temp me, although I could not help but sample the deliciousness when all was said and done.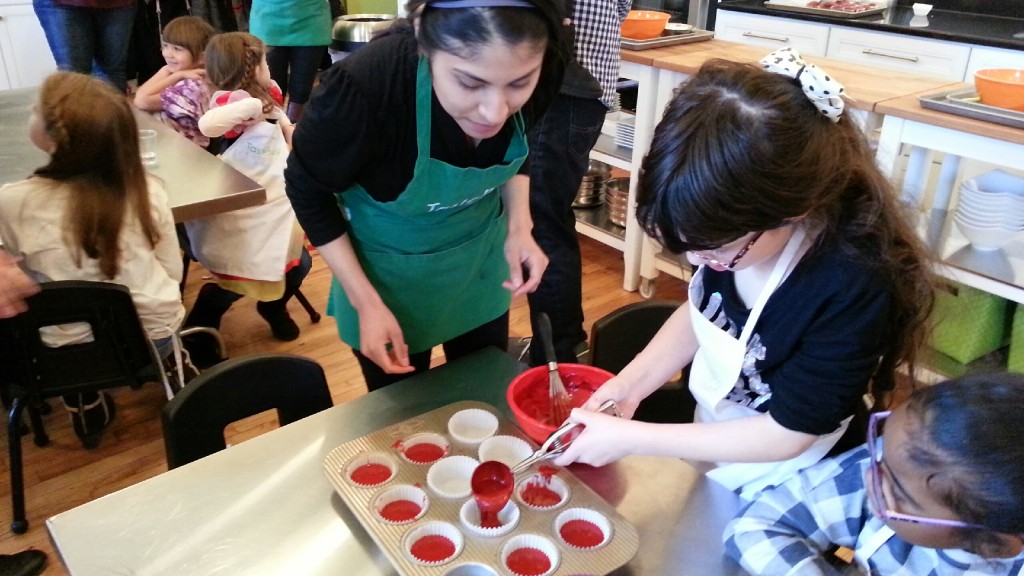 Now, getting back to the movie- Our family has spent years identifying with those adorable little dwarfs! Everyone has a favorite. Mine is Dopey! When we visit Walt Disney World our family is always sure to see Snow White and the Seven Dwarfs. They are just a staple in our love for all things Disney. The movie never gets old around here, especially all the treasured songs. So, if you are seeing it for the hundredth time, or for the very first time, I'm sure you will love it.  http://movies.disney.com/snow-white-and-the-seven-dwarfs
Disney's Snow White and the Seven Dwarfs is available for the First Time Ever on Digital HD and Disney Movies Anywhere (DMA) January 19th and on Blu-ray™ Combo Pack February 2nd. This will be marking the launch of The Walt Disney Signature Collection featuring In-Depth Brand New Bonus Material Including "In Walt's Words: Snow White and the Seven Dwarfs," "Iconography," "@DisneyAnimation: Designing Disney's First Princess," "The Fairest Facts of Them All: 7 Facts You May Not Know About Snow White," "Snow White in Seventy Seconds," "Alternate Sequence: The Prince Meets Snow White" and Much More! 

GIVEAWAY: We are thrilled to partner with Disney Pictures and be able to offer a Deluxe Digital Download code where you can watch the movie on your handheld devices or tv. We are watching the movie right now and loving every minute. Some lucky 3decades3kids readers will have a chance to win the Snow White movie. We will have multiple winners. Please enter on the rafflecopter below. Giveaway ends 11:59pm on Feb. 10th. Code comes in fancy little Disney packaging and will be send via mail. Winner will be alerted on Feb. 11th via email and have 24 hours to respond and claim prize before a new winner is chosen. 18+/USA only. Thank you for entering Disney fans!
Disclosure: Diane Sullivan/3decades3kids is a Disney Pictures partner blog. There was no compensation received for this post. A media invitation was extended to the family via Disney and Taste Buds Kitchen NYC. All opinions are that of Diane Sullivan and completely honest. Please contact me at Diane@3decades3kids.net and @3decades3kids across all social media channels. Visit our site at 3decades3kids.net