Your Cover Is A Great Gift For Valentine's Day!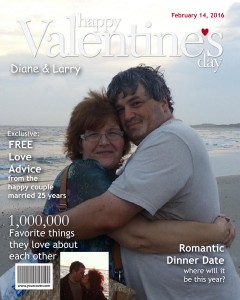 Recently I was introduced to Your Cover and immediately fell in love with the site and the idea! I mean, who does not want to be on a magazine cover, right? Hubby and I definitely are always in search of unique personalized gifts for one another. We have been married for more than twenty-five years and love Valentine's Day! It's a great day formy husband and I to show each other just how much we care. After a while the gifts mean more if they are personalized and that is why I just could not wait to test out Your Cover!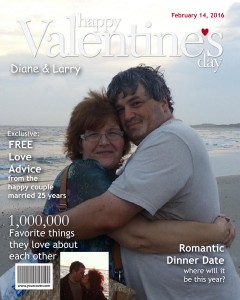 Although my actual framed print is on the way, I did also order a digital download so I could share my creation! I cannot wait to get the real deal and display it on my living room wall. February is a special month for me. Besides Valentine's Day, hubby popped the question during the month of Feb and our first baby happened to be born in Feb! I love this month! So, with saying that. Let me tell you have easy it was to create the cover. You simply choose the title cover you like-They have Valentine's Day ( that is what I chose), Love, and also many other themes! I already cannot wait to make a second one. Check out everything at http://www.yourcover.com/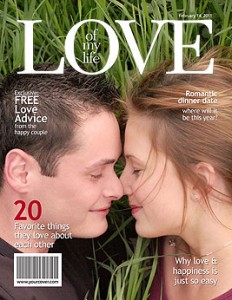 The process is easy peasy! After you choose your theme, you can stick with the wording that is already preset or insert your own wording. I did a little bit of both. I left some of the presets and then added in a few of my own personalized words. As for pictures you can download two, one big one that is the magazine cover and one inset one that you size and put into any location. It was a great experience and I was really happy at the end that you could also choose your frame, or make your creation into a tee shirt, mouse pad or even a mug! Honestly, I wanted all of them!! 
So, if you are in need of a unique gift for someone you love? make a magazine cover using our magazine cover generator to create a gift as unique and special as your sweetheart. The Love-themed magazine cover template is great for so many occasions – a wedding, engagement, anniversary, Valentine's Day, or just to let the one you love know how very wonderful you think they are (it might work really well for saying you're 'sorry' too!). YourCover is a unique gift for birthdays, holidays and milestone events – Sweet 16, New Baby, Wedding, 1st Birthday, Anniversary, Sports, Dance, Music, Hunting, Fishing, & more.
DISCOUNT CODE!!: So excited to offer all 3decades3kids  Readers a 20% off your entire purchase using the code USFGVD20
at http://www.yourcover.com
Disclosure: Diane Sullivan/3decades3kids is a USFG partner blog. No compensation was given for this post. Sample product will be provided in order to write a review piece. This post is part of our #ValentineSweetestGiftsGuide Contact me at Diane@3decades3kids.net and @3decades3kids across all social media channels.