"Doc McStuffins Time For Your Check Up!"
App For ipad, ipod touch and iphone
Check Out Em's Video Review!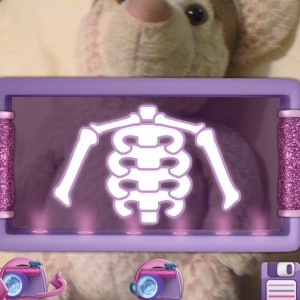 If your children are like mine they love the ipad, ipod touch, and even the iphone. My six year old daughter happens to adore Doc Mc Stuffins. She has been a little doctor herself since about age two- checking everyone in the family daily with her own doctor kit. I was thrilled when Doc McStuffins hit Disney Junior and now things have gotten even better. Recently, Disney/ABC Television Group's Digital Media team has launched the "Doc McStuffins: Time For Your Check Up!" App based on the popular Disney Junior series, "Doc McStuffins." The new activity based app for iPhone, iPad and iPod touch allows players to join Doc, along with Hallie, Lambie and the rest of her friends for a fun-filled time fixing, sorting, exploring and caring for toys, dolls and more. Inside Doc's clinic players can choose from four entertaining and engaging developmental activities.
`This app is just adorable and of course after spending twenty years as an elementary school teacher I had to check the app myself for educational value. I am happy to report there is plenty to learn on the this app. So you have the best of both worlds. You child will not even begin to suspect they are learning as they have fun with Doc Mc Stuffins. Leave it to Disney to come up with this amazing app.
I absolutely adore how my daughter could take an x-ray of her stuffed animals or
any members of the family and have a life like x-ray photo right in front of her eyes.
There are also other hands on games and activities that will keep your child interactive with their toys, friends and family. They can use the visual stethoscope and octoscope to examine their patients. Not to mention how fast these words became part of Em's vocabulary! Your child (or you, because you definitely will want to try this app out yourself) can check out Check-Up and help Doc Mc Stuffins diagnose and cure patients based on their different ailments. Another part of the app is Mixupitis where your children have to make sure that each toy has the correct parts. One of Em's favorite parts was Picture Stickers where she could decorate the photos she took of all of us with different stickers including band aids and more.
The Big Book of Boo Boos saves the names and diagnoses of cured patients so players can go back and look at them at anytime. Additionally, throughout the game players will be able to earn Doctor's Notes prescribed with "lots of love," "kisses" and "cuddles."
The
"Doc McStuffins: Time For Your Check Up!"
App is available for $3.99 from the App Store on iPhone, iPad and iPod touch or at
www.itunes.com/appstore/
.
Now don't take my word for it. There is nothing more honest than watching a six year old play this app and getting her opinion on it. Enjoy!
Disclosure: All information and ipad app provided by Disney. All opinions are that of Diane Sullivan, like it or not. Video review opinion by my six year old daughter. Email me at ELGeorgia@aol.com