Hideaway Inside Macy's Herald Square
Every time I shop at Macy's Herald Square NYC, I still can't believe there is a McDonalds tucked away in the children's clothing on the 7th floor.
Do cheeseburgers really grow on trees? At this location they do! Hamburgler also is on top of the sign to the entrance, so be careful!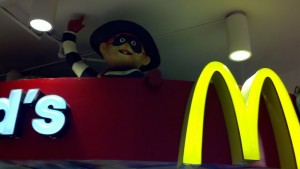 So, if you are in the mood for McDonalds and do not want to fight the crowds of the outside streets, this is the perfect little hideaway. Good News: Same prices as the regular NYC MacDonalds.
Not a bad view from outside of the Macy's either!