Koba Entertainment Proudly Invites
You To Be Their Very Special Guest At
…
There's a Big Bunny Party Coming to NYC!
The Beloved Children's Book Collection And
Nick Jr.'s #1 Rated Television Program Comes To Life On Stage
At Best Buy Theater In NYC On May 1st at 1:30 and 4:30 PM
Tickets Are On Sale Now
Max and Ruby have been family favorites in our house for years! I cannot think of a day where we have not watched an episode on tv or dvd or sat down and read a Max and Ruby book!
For over 3 decades,families around the globe have embarked on fun and imaginative adventures with beloved bunny siblings, Max & Ruby. Originating as a best selling book series by critically acclaimed children's author and illustrator, Rosemary Wells, Max & Ruby books have sold more than 3 million copies worldwide. In 2002, Max & Ruby hit primetime with the creation of their #1 rated animated television show on Nickelodeon and Nick Jr. Now, Koba Entertainment proudly invites parents and children to come and hop along with Max & Ruby: Bunny Party. It's a surprise party for someone special and Max and Ruby have a-million-and-one things to do before the big event. This brand new live show bounces into New York, NY on Sunday, May 1st for performances at 1:30 and 4:30 PM at Best Buy Theater.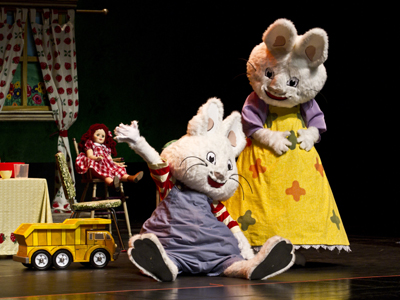 Max and Ruby never want quite the same thing and their plans always collide – with hilarious results! Come and be a part of the fun as these two beloved characters try to decide on the perfect gift for their "Super Duper Special Birthday Guest." Along the way they will encounter some unexpected visitors, including an engaging Robot, a giant Spider, and an adorable Slug.
This 70 minute fun adventure was conceived and directed by Patti Caplette, live stage creator for The Backyardigans, The Doodlebops, and Franklin the Turtle, Max & Ruby: Bunny Party is an exciting musical adventure that celebrates the universal nature of sibling relationships. I'm sure we will all be clapping and singing along with all the fun!
Tickets for Max & Ruby: Bunny Party in NYC are on sale now. Tickets start at $26 and are available via
Ticketmaster.com
, Charge by phone at 800.745.3000, and at the Best Buy Theater box office. For exciting show announcements and ticket information please visit
.www.MaxAndRubyonTour.com
All opinions are that of 3decades3kids.
Special thanks to Kobaentertainment and MaxandRubyLive.