Opens April 30th for it's
Sesame Place opens on Saturday, April 30th for it's 2011 Season! Since my oldest son is 20 and my youngest daughter is 4, we have been season pass holders of Sesame Place for many years. Every year the park just seems to get better and better. You would think after being passholders for that long, it might get a little boring, but, it's just the opposite. Every year our family looks forward to Opening Day!
It's so much fun to check out all the latest additions to the park.
This year we can't wait to try out the newest ride,
Wow! I will definitely let you know how it goes!
As far as characters go, I can remember when there were only a few. Now it seems like any time you look, you can see a Sesame Street character walking by, in a show, or stationed for a meet and greet. This year it will be wonderful to meet the new addition- Murray.
I wonder what the word on the street will be the day we visit!
One of the most fun events when we visit Sesame Place is watching the parade. This year will be really exciting, especially getting ready to see the "Neighborhood Street Party" for the first time! The thought of new music, floats, and even a night parade really has our family ready for Opening Day!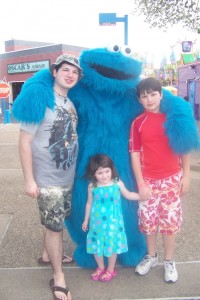 All opinions are that of 3decades3kids.