This past weekend my family and I, thanks to
MommysLinks, attended a KIDROCKERS event at
The Living Room on Ludlow St. in NYC
hosts adult bands that play a few of their songs and go
to the audience of children ages 3-13.
Adults must be accompanied by children,
since it is an children's event.
The two bands featured this week by Kidrockers were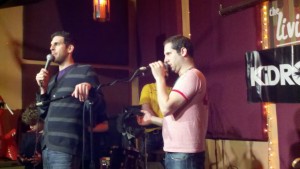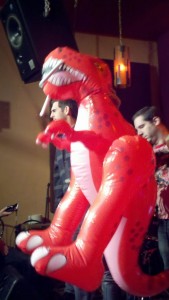 The event was hosted by Seth Herzog and Craig Baldo,
two of the most humorous guys you could ever encounter. They really had both children and adults roaring.
As each set of music was completed the bands answered any questions the children could come up.
The hosts also asked questions and gave the kids a chance
to win a variety of prizes.
Of course, my children's favorite part of KIDROCKERS is getting the chance to actually go up on the stage and "jam" with the bands! Instruments were given out and the fun was endless!
If you have a chance to check out
do not let it pass you by.
It's just as much fun for the adults as it is for the kids!
So much fun and a chance to rock out on the lower east side!(with your kids)