Disney On Ice Princesses and Heroes At Prudential Center Through Monday January 19th Looking for something fun to do during this crazy rainy, icy weekend. Disney On Ice is at Prudential Center, Newark has shows today(Sunday) and tomorrow(Monday). You can grab the kids and have some Princess and Heroes fun. We had a blast on opening night of the show. Personally, it was one of my favorites since Em is so big into Disney Princesses. Of course she dressed the part, which was a first for her. We usually just go in regular clothes (Disney themed of course), but this time she opted for the her new Frozen Elsa gown that Santa recently delivered. We took full advantage of the moment and headed for the photo opp. So pleasantly surprised that the pic including the Frozen frame was $20 flat. That's okay to have the memory captured forever. What a great time we had waving to all of our Disney friends and singing along to all of our favorite Disney tunes. At Prudential Center in Newark, NJ through January 19th! PS: The last scene is awesome for all of your Frozen fans!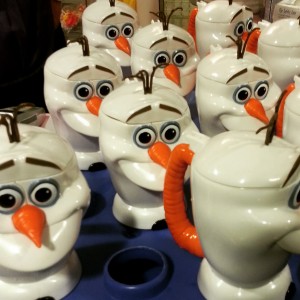 If you were wondering- Anna, Elsa and Olaf from Disney's Frozen will now share their story of true love in Disney On Ice presents Princesses & Heroes Presented by Stonyfield YoKids Organic Yogurt. Enter a world of wonder where heroes and hearts prevail. Join Ariel as she yearns to explore the world above the waves and Prince Eric as he breaks Ursula's slithering spell to reclaim his one true love. See Prince Phillip, in a race against time to rescue Sleeping Beauty's Aurora, defeat the evil Maleficent as she transforms herself into a fire-breathing dragon! Be there to discover a whole new world with Jasmine and Aladdin. Join Anna and Elsa and the hilarious snowman Olaf, from Disney's blockbuster hit Frozen, and discover how an act of true love can thaw a frozen heart. Waves from Elsa and Anna. PS-That's Emily in the middle!!
Big Moment! And, watch in awe as the dreams of Cinderella, Belle, Snow White, Rapunzel and Tiana all come true. High-flying jumps, daring acrobatics, breathtaking skating and lovable Disney friends are just a wish away! See Disney On Ice presents Princesses & Heroes Presented by Stonyfield YoKids Organic Yogurt where believing is just the beginning! Grab tickets to Prudential Center right here: http://www.prucenter.com/event.php?EventID=130 Disclosure: Diane Sullivan is a Feld Entertainment Ambassador Blogger. All opinions are that of my own and honest. Please email me at ELGEorgia@aol.com and everywhere else as .@3decades3kids.
Have you been to Disney On Ice recently? What did you like best?