Giveaway: Tinkerbell and the Legend Of The Neverbeast
Available on Blu-ray Combo Pack and Digital HD March 3rd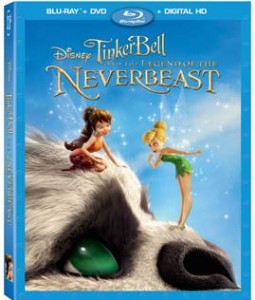 In our house Tinker Bell is a daily word. We talk about her when we play, watch tv, and color. She has been one of my daughter's favorites  since before she could even walk and quite honestly, Tinker Bell has always been a favorite of mine. Every time a new movie is about to come out I cannot help but get this little internal pang of excitement. My daughter is jumping for joy at the thought and speculation about the new movie and I cannot wait either. If you have a Tinkerbell fan in your house, you will definitely want this to add to your collection.
SYNOPSIS: Return to Pixie Hollow for a heartwarming adventure, Disney's Tinker Bell and the Legend of the NeverBeast. An ancient myth of a massive creature sparks the curiosity of Tinker Bell and her good friend Fawn, an animal fairy who's not afraid to break the rules to help an animal in need. But this creature is not welcome in Pixie Hollow — and the scout fairies are determined to capture the mysterious beast, who they fear will destroy their home. Fawn must convince her fairy friends to risk everything to rescue the NeverBeast. This thrilling action-adventure roars to life with never-before-seen bonus extras on Disney Blu-ray. Available March 3rd!  Check out more about the movie here: http://fairies.disney.com/tinker-bell-and-the-legend-of-the-neverbeast
The wonderful team at Disney Pictures is offering one 3decades3kids reader a chance to have a Tinkerbell and the Legend Of The Neverbeast  Blu-ray + DVD + Digital HD of their own. No wonder we heart Disney. Giveaway will end March 10th at 11;59 pm. Enter on the rafflecopter below. USA/18+ only. Disclosure: Sample product provided by Disney Pictures. All opinions are that of Diane Sullivan. Contact me at 3decades3kids@gmail.com and everywhere else at @3decades3kids.