Pirate Night On The Disney Cruise Line, Disney Dream- Disney Social Media Moms Celebration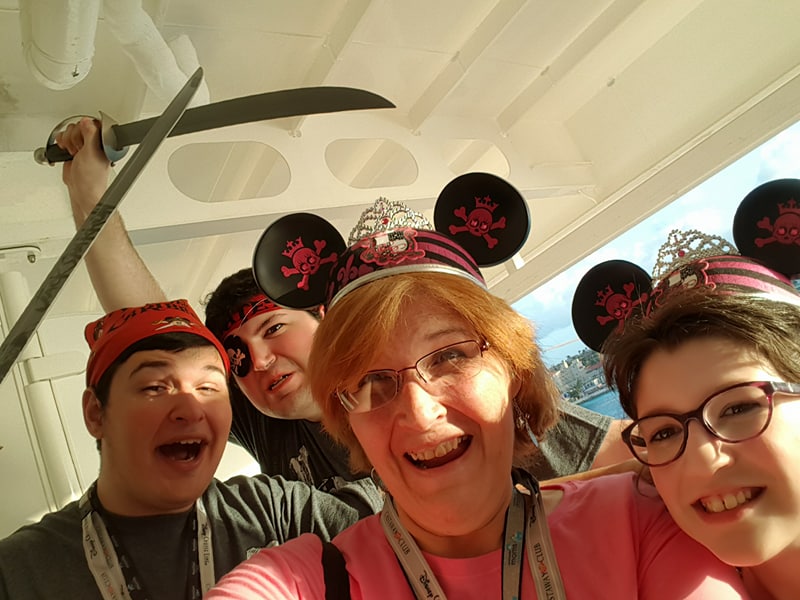 Yo Ho! Yo Ho! A Pirate's Life for me! Up front- Mickey's Pirates In The Caribbean was my favorite night of the cruise! Being a "BoyMom" for sixteen years before Emily arrived on the scene gave me plenty of time to get my pirate on! I can't even begin to count the hours and hours I spent when my sons were younger playing pirates. They were both super into Pirates of the Caribbean. I can remember having to constantly stick my arm under my sleeve after it had been chopped off my pirate son! Yes, if you are a boymom you already know the drill!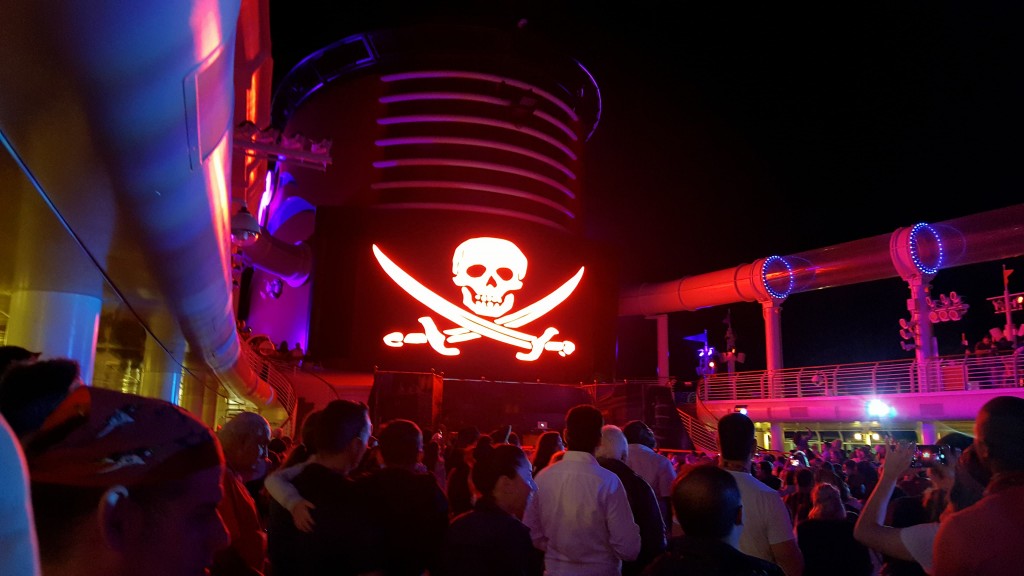 When we first heard about Pirate Night on the Disney Dream I have to admit, I really did get pretty pumped about the entire thing. I mean, who doesn't love pirates? And Jack Sparrow? Pirate Mickey? The entire night sounded amazing! Then I found out that everyone dresses up in their best pirate garb! What a dream come true. I immediately scooped up some matching Pirates of the Caribbean tees for the guys and matching Pirate and Princess Mickey ears for Emm and me! Of course you don't have to go all out with extras. It's totally up to you. Disney does have you covered- They will leave some Mickey pirate bandanas in your stateroom the afternoon of Pirate Night so that everyone can feel included in the big event. On Pirate Night the Bibbidi Bobbidi Boutique transforms into The Pirates League where you can have a pirate makeover just in time for the party! Next time I'm sure Emm will want to do this, I did not know about this time. (Uggg…Do your research! Read the blogs! lol Find out everything you can before you cruise!)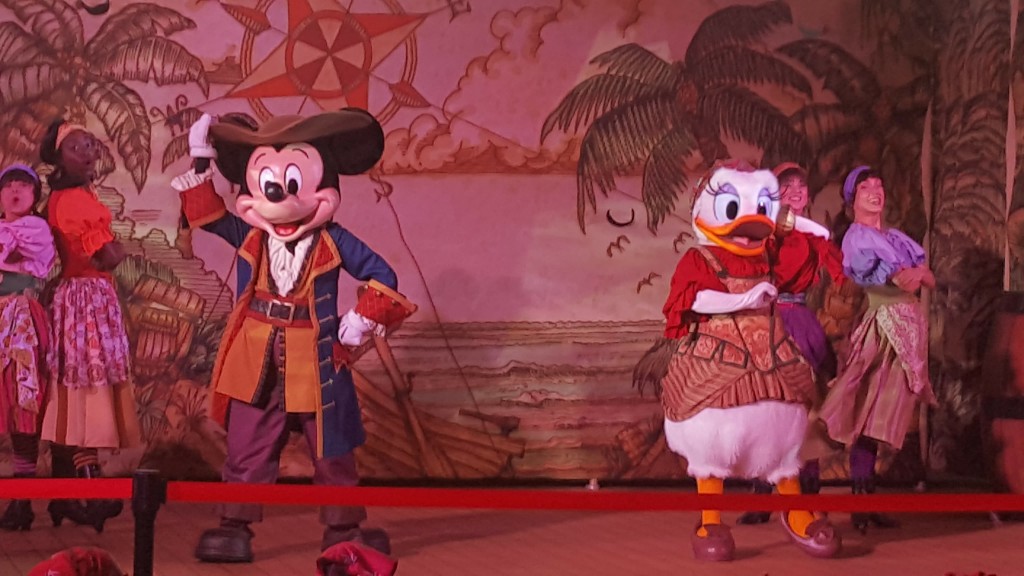 How long does Pirate Night last on the Disney Dream? The entire night! It starts at around 6-7 (Please don't quote me on exact times- you can check your daily navigator when you are on the actual cruise). Most of the people come to dinner already in their pirate gear. We did, too! Did I mention that along the way we bought a Pirate Princess dress for Emm at the Pirates of the Caribbean ride in Magic Kingdom?! And some Jack Sparrow swords- which I am still not sure was the best idea~! You know boys and swords and men and swords and just swords in general- More boymom stuff here!!
Check out our two minute video that will highlight all the fun we had at Pirate Night aboard the Disney Dream- Disney Cruise Line! Click here–> https://youtu.be/42DbAQu65TY

Before or after dinner you can find the entire crew of Disney characters decked out in their finest pirate garb! They are all available for pictures and believe me, it is so much fun! Jack Sparrow is also at a meet and greet, which is a big ton of fun. After dinner and pictures there is a first show. That show features all of the Disney characters in a energizing show that will definitely have you singing and dancing along! The first show does not have fireworks and is a more geared to a younger crowd. The second show starts after 10pm and is total pirates including Jack Sparrow. It's a fun show and ends with fireworks off of the side of the ship. This show is DON'T MISS show! It's not scary for kids, but there are no characters in it. The pirates do run through the crowd but do not bother the audience.
After the show and the fireworks the party is still not over- it's followed by a Pirate Dance Party, Club Pirate! There is also a late night pirate buffet open at Cabanas. Even if you are not in the mood to chow down, it's worth a walk through just to see the carved watermelon pirates! The entire night was SO much fun! Our family made memories that night that will last forever! It was also my favorite night on board the Disney Dream! Arrrrrgh!!!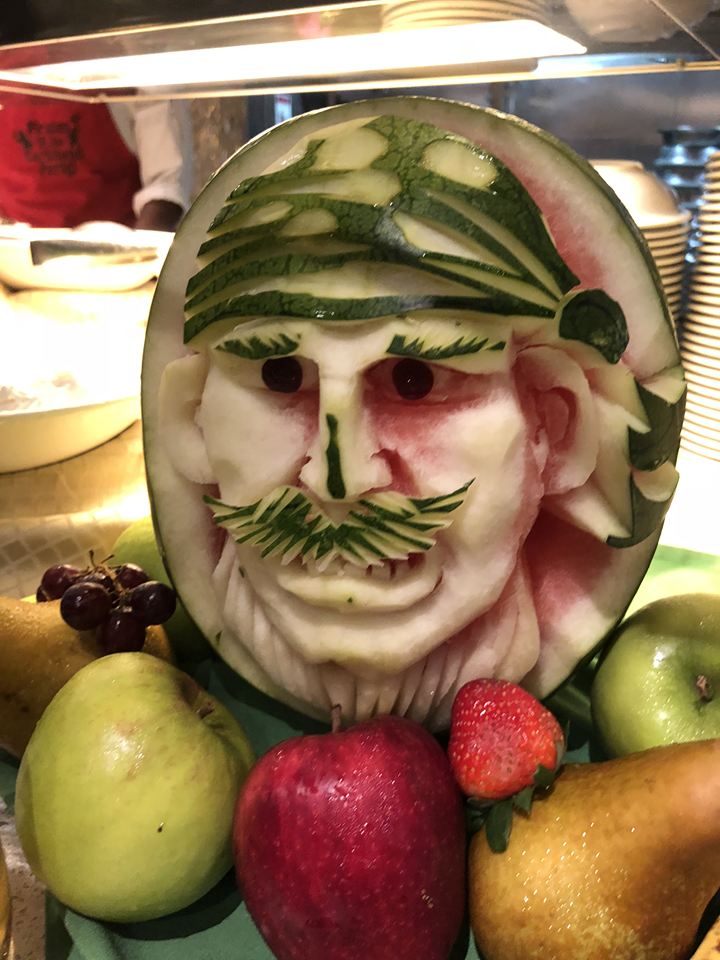 So, how about a few tips? Things I WISH I knew before Pirate Night!
– Bring your own pirate garb and tees! We also brought along eye patches and swords!
– Get your pictures with Mickey and the gang dressed in their pirate outfits!
– Stay for the fireworks! It may be late but it's definitely worth it. Besides, fireworks off the side of the cruise ship? Priceless!
– Take LOTS of pics! You can always delete them later!
– Stay and dance! A lot of memories are made during dancing with your family!
– Walk through the late night pirate buffet to see the decorations and carved watermelons!
– Make your appointment for The Pirates League ahead of time. The Pirate's League is for both boys and girls.
Find out more about Pirate Night on Disney Cruise Line here: https://disneycruise.disney.go.com
Disclosure: This post is written by Diane Sullivan. All opinions are honest and do not reflect the views of the parent company represented. This post is part of our Disney Social Media Moms Celebration coverage, a media rate was provided for this trip. Contact me at 3decades3kids@gmail.com or @3decades3kids across all social media platforms. Follow our coverage at #DisneySMMC