Castaway Cay All Day Long Was The Best Part Of Our Disney Cruise- After 25 Years, My Dreams Came True! Believe! Also, TIPS On Castaway Cay- What I WISH I Knew Before I Went To Castaway Cay!
Here's a little secret you may not know about me. For years I have had a dream, a wish, I have always wanted to go to the Caribbean with my family, with my children. It's been a wish that I have had since my oldest son was a toddler. As life would have it something has always prevented us from traveling to the Caribbean together. I'm happy to report that Dreams DO come true sometimes, this one took 25 YEARS to come true, but it did, and I will NEVER forget that magical moment!
Recently our family was invited to the Disney Social Media Moms Celebration Land and Sea! As soon as the invite arrived I knew that this could possibly be more that just a conference. This could be a dream come true. In the words of Rapunzel- We all have a dream, well mine came true! I knew we had to go! It was no easy task to organize things including days off, pet care, and home watching, but somehow it all just came together. In the back of my mind I kept thinking something was going to ruin the entire plan, but nothing happened and my dream came true….and it was even more beautiful than I ever could imagine!
The Disney Dream is just as amazing as you could ever imagine. It's like a floating utopia filled with as many smiles and laughs everywhere you look. Our family celebrated from the minute we boarded the gigantic ship of happiness. But that is another story. For this one, I just want to share my time at Castaway Cay! 
Castaway Cay is Disney's Private island in the Caribbean. The only way to access Castaway Cay is by Disney Cruise Line! Wow, what a perk. Day Three of the itinerary was Castaway Cay. I had the family up early so we could debark the Disney Dream as soon as it was possible. Before we even left the ship MY DREAM CAME TRUE!!! Sitting on deck 12 outside of Cabanas our table faced Castaway Cay. There was my dream, all of us sitting together with that gorgeous water in the background. I was SO excited I DID NOT take a picture of all of us. I just don't believe it! Between the smiles and the tears( Yes, I just could not hold back my emotions- It was a surreal moment). Emily kept asking me why I was crying. My heart was bursting with happiness. Everyone has something they really want, THIS moment was mine! And I loved it, I treasured it. It was not as big a deal to the kids as it was to me, but that's okay. Everyone has their own list. After TWENTY FIVE years, my wish came true, it really happened.
Now, onto Castaway Cay. I'm sure by now you have seen the commercials or ads for Disney's private island. Believe me when I tell you, it is a perfect little place to visit! First of all, it's just the people from the cruise that are on the island so there are no outsiders to deal with. As soon as we debarked the Disney Dream we found Stitch waiting to greet everyone! If you love Disney characters, I have good news- they are plentiful on the island. Some places you can find them are the  Post Office, Gazebo, and Gangway!  
You dont' have to worry about dragging towels off the cruise ship- someone is at the entrance of Castaway Cay handing out towels to use for the day! We grabbed the island tram to get to our first stop, the family beach. Our package included snorkel gear, floatie tube or raft, and bike rental. Of course we headed right for snorkeling! Let me say up front I am not a snorkel fan- Years ago I pushed hubby into a coral trap when we were snorkeling. An octopus came out of nowhere and totally spooked me. Ever since then I have been overly cautious when snorkeling! I tried not to let on about my snorkeling koo-koo so the kids would have the best chance liking the sport. THEY did GREAT!! I didn't make it out to the deepest, but my sons did and they loved it! As for Emm and me, we went about mid-level and still were able to see many fish swimming about the crystal clear water!
There is so much to do on Castaway Cay and without a doubt in my mind, something for everyone! There is shopping that includes both Disney's Castaway Cay goods as well as a special Bahamas gift shop where you can pick up some authentic Bahamas goods! Don't even bother asking, of course we shopped in both! There is also a great frozen drink station where you can pick up an Olaf or Sven biggie themed drink cup! You can find these souvenir cups at Olaf's Summertime Freeze! If you are into themed cups, they are available as well. The kids and I couldn't resist the plastic coconut frozen drinks on the beach! I think that when I see that coconut now it will remind me that dreams count- Don't ever lose sight of your own. You never know.
There is also no need to head back to the cruise ship when you are hungry, there is an amazing mouth watering Cookie's BBQ dining in a open air location that  serves complimentary meals at a designated time slot. Did I mention there are ice cream machines??!?!?! Yumm!! Banana/Strawberry twist was my favorite! As for the family, they feasted on ribs, chicken, burgers, hot dogs, fruit salad and a million other choices. Everyone was satisfied!
If hanging out on the beach and relaxing is not your thing you need not worry- There are tons of activities, including happy island music and dancing at the Gazebo to volleyball and soccer at the Sports Beach. Children can even engage in an array of supervised games at In Da Shade Game Pavilion! You can take a break from the hot sun and have fun playing table tennis, foosball, basketball, billiards and more. If outdoor sports is your thing, you can head over to Sports Beach( I LOVE this because you did not have to worry about being hit with a flying ball on the family beach!!) On Sports Beach you can join in  a fun game of volleyball and tetherball!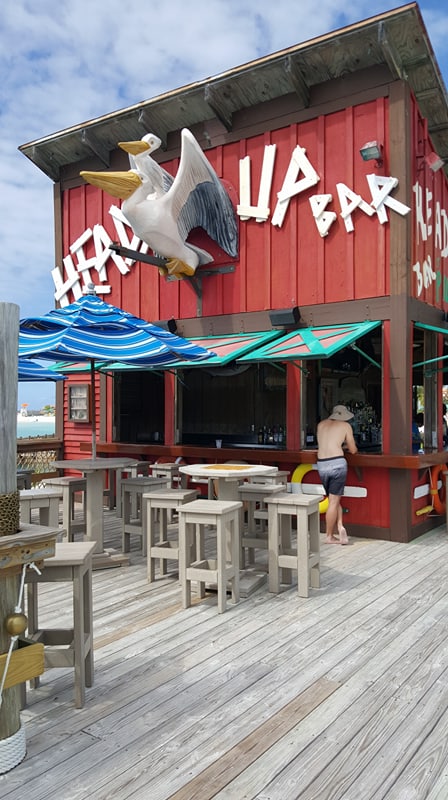 If you are looking for a child-free experience of just a little bit of time alone at some point in the day you can head to Serenity Bay, designed for adults 18+. Serenity Bay is filled with open-air cabanas, options for a massage under those monstrous palm trees, and sipping on  frozen specialty drinks at the Castaway Air Bar. There is also 18+ dining available at Air Bar BBQ so you never have to mingle with the family crowd.
There is one thing you should do before you leave Castaway Cay, it's Pelican Plunge!! Definitely take the plunge. Young and old can both enjoy this fabulous water slide that is free floating in a gorgeous lagoon. This water play area and slide celebrated the island's favorite, the pelicans. You can see them everywhere around the island and from the ship you can see them diving into the water for some yum! Pelican Plunge is a 2,400 square foot water play area which also includes a gigantic bucket dump and more. This is a must see and must do!
If you have a teen with you, no problem! When you have had enough of each other they can head to the Teen Hideout, for ages 13-17, and lounge about while they hang with other teens. Brilliant!! As for the little kids, no problem, they have a special place to go, too! Scuttle's Cove is designed for kids and supervised by the same counselors as on the ship. They will have access to water fun and activities including Monstro's Point, a whale bone excavation site. Your kids will thank you!!
If you are up for more than playing on the beach there are many rental choices! You can grab a boat of your choice and take an excursion on the crystal-blue waters of Castaway Cay. There are one-person sea kayaks,  Four person paddleboats, two people aqua trikes or active stand-up paddleboards! There are SO many choices for your day of adventure! 
As for me, I just loved LOOKING at the water! We did snorkel, bike ride, float and walk the entire island. It all added up to "One Perfect Day!" and "A Dream Come True". I can't even write this without tears coming into my eyes. I just can't believe it really happened. I'm SO happy! They always say that Disney has magic, now I am a big believer of that magic. Thank you for making my dreams come true Castaway Cay. I hope we meet again in the future…..You will always hold a special place in my heart, always!! Check out more about Castaway Cay and the Disney Cruise here: https://disneycruise.disney.go.com/ports/castaway-cay/#!
TIPS! What I WISH I Knew Before Going to Castaway Cay!
1. Don't forget your suntan lotion, flip flops, sunglasses and a hat! The ship is not exactly close, so if you leave something in your room you will be wasting a lot of time to go back or have to buy it at the shop.
2. Don't bring towels. They give them out and collect them back outside of the ship! Bravo, Disney!
3. You don't need any kind of change of clothes! Wear your bathing suit with a cover up and your flip flops. Going to Castaway Cay is like going to the pool or beach. Everyone wears their beachwear!
4. If you want to mail a card or message in a bottle stamped with the Castaway Cay post office stamp you will need CASH! They do not take credit cards or your room key. 
5. Kids can wear their own swim goggles and SEE the fish! Some of the snorkel masks are big and uncomfortable, you can see it all with your own goggles. 
6. Bring your own tissues and napkins! My son had a horrific nosebleed after snorkeling and it took forever for someone to produce a tissue. The bathrooms are far from the water. I wish I was better prepared. 
7. The bike rental is amazing and so worth it!
8. DO IT ALL! It's one stop on the Disney Cruise and who know WHEN or IF you will ever go back to Castaway Cay! Don't have regrets, just do it!
9. When you go back onto the Disney Cruise ship go right to the Aqua Duck or the pool. It's great to continue your beach and water day by heading to the pool for an extra hour or so. We took advantage of the Water Duck, Hot Tub, Pool and Movie right after Castaway Cay and before dinner.
10. Don't wait for the final whistle to blow before boarding the cruise ship. That is when the lines get SO long! I could see them from the deck above. We left about thirty minutes before last call and walked right back on the ship with no lines.
Have fun! Make a day of memories that will last forever. Take a million pictures AND video!! I hope you enjoy the video I made, it's not just for the blog, it's for myself, and my kids and my life. I hope my kids come back and look at it and see that their Mom's Dream Came true that day! I hope when they watch the video they see how much that day meant to me and how much I love them. I hope they watch it and make their own wishes and dreams….AND even if they have to wait TWENTY FIVE YEARS for them to COME TRUE…It WILL be worth the wait!! Go live your dreams…. <3 Thank you for sharing in mine.- Diane
Disclosure: All opinions are honest and do not reflect those of the parent company represented. This post is part of the Disney Social Media Moms Celebration coverage. A media rate was provided to attend the conference. Contact me at 3decades3kids@gmail.com and @3decades3kids across all social media platforms.