Giveaway! Enjoy A Day of Family Fun With Thomas the Tank Engine at Delaware River Railroad Excursions on July 7,8,9,14,15,16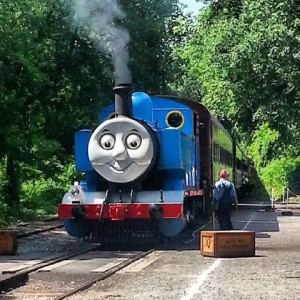 All aboard! Thomas the Tank Engine invites little engineers to join him for a day of friendship and family fun at Day Out with Thomas: The Friendship Tour 2017. Children everywhere can spend a day with their friend Thomas when the #1 Engine pulls into Phillipsburg on July 7,8,9,14,15,16 , 2017. Day Out with Thomas: The Friendship Tour 2017 is presented by Mattel.
Day Out with Thomas is a fun-filled event that provides children of all ages the opportunity to climb aboard and take a ride with Thomas as well as participate in Thomas & Friends™ themed activities.  The tour, now in its 22nd year, will make 42 stops across the U.S. and Canada, and is expected to welcome nearly one million passengers in 2017.  For 2 back-to-back weekends little engineers and their families are invited to take a 25-minute ride BEHIND their favorite engine, meet Sir Topham Hatt, Controller of the Railway and enjoy a day of Thomas & Friends fun.
In celebration of this year's theme, Day Out With Thomas: The Friendship Tour 2017 will feature an array of friendship-inspired activities. Attendees will be able to participate in events that encourage and celebrate friendship including photo opportunities, crafts, and a fun activity that invites kids to collect passport stamps throughout the day to receive a trio of Day Out With Thomas friendship bracelets. The 2017 tour theme is in line with this year's Thomas & Friends global brand campaign, 'Set Friendship in Motion' – a campaign that ties together content, social integrations, and event activations across the entire Thomas & Friends franchise to highlight the importance of first friendships and the development of key friendship skills in toddlers.
GIVEAWAY: Please be sure you are available one of the days Thomas is in NJ- July 7,8,9,14,15,16. One lucky reader will win a family 4pack of tickets to A Day Out With Thomas at Delaware River Railroad in Phillipsburg, NJ. You can choose the day and time! Choose any or all ways to enter. The winner will be chosen via random.org on June 20, 2017 at 10 pm and contacted by email provided. You can come back and comment everyday if you would like for more entries. Good Luck!
Want to be the winner?
1. Answer the question in the comments below- What do you like about Thomas the Tank Engine?
2. Like us on facebook at : /https://www.facebook.com/3decades3kids/ ( Comment below what name you liked us with)
3. Follow us on twitter at: https://twitter.com/3decades3kids (comment below what name you followed with)
4. Follow us on Instagram at: https://www.instagram.com/3decades3kids/ (comment below what name you followed with)
5. Comment below who you would take to the Thomas event with you.
Thomas the Tank Engine rides depart every 60  minutes, rain or shine. Departure times begin at 10:00 AM through 5:00 pm each day of the event.  Tickets for Day Out with Thomas are $21 plus tax for ages two and up.
Tickets are on sale now and can be purchased at www.ticketweb.com/dowt or by calling toll-free 866.468.7630.  For more information and directions, contact the the Delaware River Railroad Excursions at 877-train-ride or 877trainride.com