Six Flags Great Adventure Has Some Great Events This May! (May 20-29th)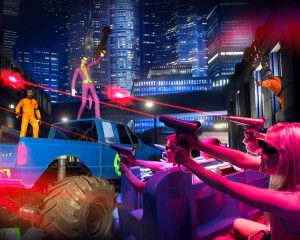 May is in full swing and Memorial Day weekend is almost here! It gets our family thinking about theme parks. As far as this family is thinking we absolutely cannot wait. It has been a long winter with a lot tough days getting my broken foot back into the swing of walking again in time for spring and summer. It's looking good and I cannot wait to join the family riding all of our favorites at Six Flags Great Adventure! Memorial Day is a perfect weekend to visit Great Adventure and there are some pretty awesome events and rides that we cannot wait to test out! On Memorial Day Weekend, May 27 to 29, patrons are encouraged to kick off summer at Six Flags. Thrill seekers can enjoy rides such as Zumanjaro with its limited-time Drop of Doom VR, El Toro, and GREEN LANTERN™. Families can celebrate the weekend riding HARLEY QUINN™ Crazy Train, Bumper Cars and Big Wheel.
You can also check out DC Super Hero Summer Garden State Comic Fest – May 27. As part of the DC Super Hero Summer, Six Flags will partner with Garden State Comic Fest to bring guests a mini comic-con from 12 to 7 p.m. Saturday, May 27. The event will feature comics, collectibles, artists, DC Comics cosplay, and a special celebrity appearance by actor John Wesley Shipp, known for his role in the CBS sci-fi adventure series "The Flash," and Henry Allen in the CW's "The Flash." Bill Spadea from NJ 101.5 and Chasing News will be present to celebrate Law Enforcement Appreciation Day during the mini-con. Police officers along with their friends and family will be able to stay in the park an extra 90 minutes for exclusive ride time on BATMAN™: The Ride and THE DARK KNIGHT™. The festival is included with valid theme park admission.
If you are heading out this weekend, check out what is going on at Great Adventure. The weather is gorgeous! It already feels like summer is here, why wait!
May 20 & 21: Dance troupes of all ages and types have the opportunity to perform without the pressure of a competition or recital. Performances start at noon inside Showcase Theater in the Movietown section of the park. All participants will receive a Dancefest ribbon to take home as a souvenir of their day. Registration is required for group participation. Visit www.sixflags.com/greatadventure for more information.
Business & Marketing Education Day – May 24: For years, Six Flags has invited high school and middle school students to learn about business by bringing them inside the marketing of a theme park. Professionals from different industries are invited to speak to students about all levels of marketing.  Each year, Six Flags creates a new challenge that asks students to design a business plan for everything from a new concert or sporting event to marketing non-profits. Participating students compete for theme park tickets.
 Safety Patrol Day – May 26: Safety Patrollers are responsible and dedicated to the safety of fellow students and their school. Reward their dedication with a fun filled trip to our annual Safety Patrol Days.  It's a great way to recruit students for the Safety Patrol program from year to year.
And don't forget the funnel cake!!…..
Disclosure: Diane Sullivan/3decades3kids is a Six Flags Great Adventure partner blog. All opinions are that of Diane Sullivan and do not reflect the views of the parent company represented.  Information provided by Six Flags Great Adventure. A media preview invite is generally provided to our family to experience Six Flags first hand. Contact me at Diane@3decades3kids.net
More information is available at www.sixflags.com/greatadventure