McDonald's Signature Crafted Influencer Event In NYC
Recently our family was invited to the McDonald's Signature Crafted Influencer Event in NYC. We had the opportunity to check out all of the new tastes McDonald's has on board. We were in awe of the variety of choices that pleased our palate as we taste-tested some of the latest menu items. We had the chance to sample three costumer inspired Signature Crafted Recipes. They were made with premium ingredients and each had their own unique flavor combination. The three latest flavors include Pico Guacamole, Sweet BBQ Bacon, and Maple Bacon Dijon.
Pico Guacamole is a treat to the taste buds and anyone who is a guacamole fan. It's a pleasant combo of where smooth and creamy meets chunky and spicy. Made with white cheddar cheese, guacamole made from 100% Hass avocados, freshly prepared Pico de Gallo, crispy leaf lettuce and creamy buttermilk ranch sauce made with real buttermilk and sour cream blended with shallots, garlic and spices. It is also topped off served with a line wedge.
The Sweet BBQ Bacon burger  was amazing! Honestly this one was my personal favorite! I will be back from more. This sweet BBQ heat meets savory with grilled onions, thick cut Applewood smoked bacon, creamy white cheddar, delicious BBQ sauce and topped off with golden crispy onions. Yum! Absolutely delicious! This burger is sweet to the taste and a bit crunchy, too. If I could design a hamburger this would be it.
The Maple Bacon Dijon was hubby's favorite and I can see why (but I am still sticking by my own choice). This burger is a satisfying combination of sweet and savory. It has grilled onions, thick- cut Applewood smoked bacon with sweet apple maple seasoning, white cheddar, crisp leaf lettuce and a creamy Dijon sauce.
Ordering is simple. You can select a freshly prepared quarter pound 100 percent beef  patty, buttermilk crispy chicken or Artisan Grilled Chicken with either a sesame seed bun or toasted Artisan Roll. No matter what choice you make, you cannot lose. All the new additions are absolutely delicious!
Our night was hosted by the one and only, celebrity radio host, Skeery Jones from Z100. We were also treated to live performances by Beat Box House and artist, Lara Maxen as we dined in style at the @McDNYTristate 809 6th Avenue, NYC.
GIVEAWAY: We are thrilled to be partnering with McDonald's to give one lucky 3decades3kids reader a chance of their own to experience the amazing new Signature Crafted Recipes. Someone is going to McDonald's for some major Yum! Winner will be selected via random.org on May 12th at 10pm and contacted. Winner will have 24 hours to respond and claim prize before a new winner is chosen. The prize consists of a $25 McDonald's Arch Card delivered by McDonald's. 18+/USA.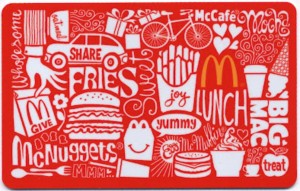 ** If you already are a follower on YouTube, Twitter, Facebook, Instagram- Please comment below the name you used for each- separate comments for separate entries please)**
1. Answer this question in the comments below: What do you love about McDonald's? (You can come back and answer this every day!).
2. Like the page https://www.facebook.com/3decades3kids/ and comment that you want to win the McDonald's Arch Card!
3. Follow https://twitter.com/3decades3kids on Twitter. (Comment below that you followed us and what name you used)
4. Follow https://twitter.com/mcdnytristate on Twitter (Comment below that you followed us and what name you used)
5. Follow https://www.instagram.com/3decades3kids/ on Instagram (Comment below that you followed and what name you used)
6. Follow https://www.instagram.com/mcdnytristate on Instagram (Comment below that you followed and what name you used)
7. Tweet this ( Or similar) I want to win an Arch Card from @McDNYtristate and @3decades3kids #SignatureCraftedVIP [You can tweet once daily as an enrty]
8. Like and Comment on our McDonald's picture on Instagram https://www.instagram.com/3decades3kids/ There will be a few pictures put up. You can like and comment on each one for entries. ( I will already have your Instagram name from the above.)
9. Subscribe to https://www.youtube.com/3decades3kids (Comment below with the name you subscribed with )
10. Answer this question below- Which Signature Crafted item are you most interested in trying? Pico Guacamole, Sweet BBQ Bacon, Maple Bacon Dijon
 Disclosure: Diane Sullivan/3decades3kids is a McDonald's partner blog. Contact me at Diane@3decades3kids.net and @3decades3kids across all social media platforms. This post is part of our #foodieNYC coverage. 3decades3kids.net Join the conversation on Social media- @McDNYTristate and #SignatureCraftedVIP  https://www.mcdonalds.com