You And A Friend Are Invited To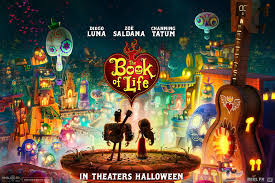 We are so excited about this movie! I personally cannot wait to see it ever since having the opportunity to interview Us The Duo this past weekend!
Check out our interview here!
AMC Garden State Plaza – Paramus, NJ
Please remember that screenings are overbooked to ensure a full house so please arrive early. In theaters October 17th! See it 8 days early!
THE BOOK OF LIFE, a vibrant fantasy-adventure, tells the legend of Manolo, a conflicted hero and dreamer who sets off on an epic quest through magical, mythical and wondrous worlds in order to rescue his one true love and defend his village. Starring the voice talents of (in alphabetical order): Christina Applegate, Ice Cube, Hector Elizondo, Diego Luna, Zoë Saldana, Channing Tatum www.BookofLifeMovie.com
Disclosure: 3decades3kids is a Gofobo.com movie partner. No compensation was given for this post. We love to go to the movies and want to offer our readers a shot at advanced movies screenings. Contact Diane Sullivan at ELGEorgia@aol.com and everywhere else at .@3decades3kids.