Buy A SesamePlace 2015 Pass Now and
Get 2014 and 2015 Halloween and Christmas INCLUDED!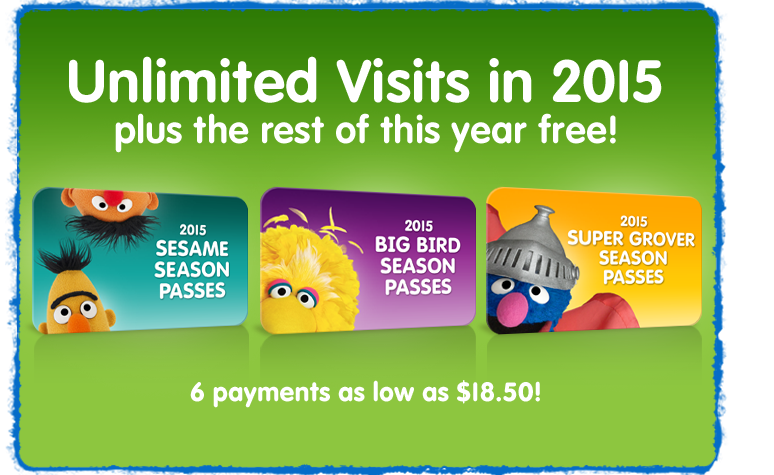 Being a Sesame Place Ambassador Blogger really does come with some great perks. But, before I was an Ambassador Blogger I was a Season Pass holder for many many years! During that time, I was always in search of what was new with the passes coming out for the next season and how could save the most money! The 2015 Season Passes really were designed with Parents and Families in mind! They have many amazing choices and offer more than ever before! The new 2015 Season pass will allow guests to visit an unlimited number of times in 2015 and the rest of this year free! By purchasing the 2015 pass now, you will be getting to visit during Halloween AND Christmas both in 2014 and 2015! Wooza! That is an awesome perk for pass members!
http://bit.ly/1oE495T
You may not know, but there are different tiers of Season Passes. Season Pass Members can save on admission to Sesame Place, other parks, and dining. You do not need to buy the exact same pass for all members of your family. Checking out the benefits for each pass can help you to choose which pass is best for you. Some include Free Parking and 30 % off of purchases! Personally, I have the Big Bird Pass as part of the Sesame Place Ambassador program and I love it! 30% off of food and shopping really saves us a lot of money when visiting with our family of five! When dining it especially comes in handy. If our dining bill is $30, the Big Bird Pass takes off 30% so we only pay $21. BIG savings! When it comes to sit down character dining, Big Bird, Super Grover, and Transferable Pass Members Only can save 30%.
You can check out more Pass benefits here: http://bit.ly/YvHWBu
As part of the Season Pass you will also have the unique opportunity to attend the Season Pass Member Party and get first crack at booking special event reservations and concerts!

Bringing a friend along for the day? You can save them up to 50% on single-day admission for up to six guests if you are a Big Bird and Super Grover Pass Members Only.


When it comes to getting an up front character experience, Pass members have it in the bag! You can meet all of your favorite Sesame Street Character meet & greet (May – October, Big Bird, Super Grover, Transferable Pass Members Only). Another perk is grabbing some advanced seating at select shows (May – October, Big Bird, Super Grover, Transferable Pass Members Only).
You can also get a free membership lanyard (adults only, while supplies last, Big Bird & Super Grover Pass Members Only). The lanyard is awesome and keeps your pass handy for all the discounts throughout the day!
One of my favorite Pass Member perks is the early park entry for extra ride time on select attractions (July – August, Big Bird & Super Grover Pass Members Only). Yes, please! Get me to the rides early!! Goodbye crowds! We are leaving you at the gate!
You can check out all the perks of being a Super Grover Pass Member. It's the highest Pass tier,and comes with the most benefits including benefits at other Sea World and Busch Gardens parks.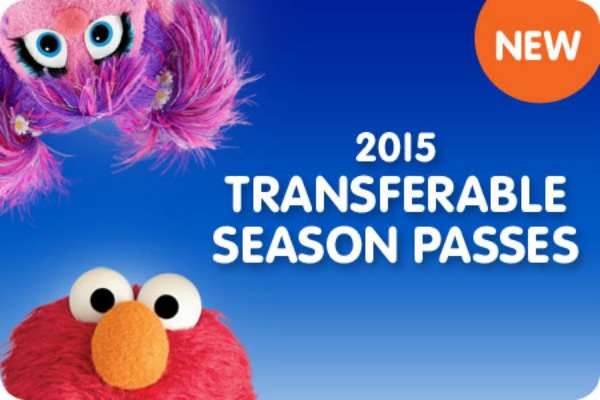 The Newest Pass available is the Transferable Pass. Honestly, I do not know a lot about this pass, but from what I have heard it is just amazing! It's sounds like the answer to most parents' prayers! It allows you to bring an extra person with you for the day! You can bring Grandma or the babysitter! What a super idea! Check out the details on The Transferable Pass here:
http://bit.ly/YvHWBu
This is a NEW Pass product for 2015.
Transferable Passes must be purchased in conjunction with a Sesame, Big Bird, or Super Grover Host Pass.
The Host Season Pass Member must accompany the guest using the Transferable Season Pass on each visit
There can only be one Host Season Pass Member designated per Transferable Season Pass and that person cannot change. The Transferable Season Pass is valid for one visit per day.
SUPER TIP!!! Make the CHILD the HOST pass! Since the child will always be visiting the park, any guest- mom, dad, or grandparent- will be able to accompany him or her!
Disclosure: Diane Sullivan/3decades3kids is a Sesame Place Ambassador Blogger and Loving it!
All opinions are that of Diane Sullivan. Contact me at ELGEorgia@aol.com and everywhere else at .@3decades3kids.