You Are Invited to the NYC Screening of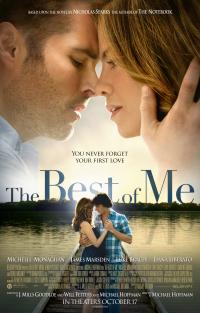 Director: Michael Hoffman
Release date: October 17, 2014
You and a Guest Are Invited!
AMC 34th Street
Wednesday October 8th
7pm
Please click on the link below to claim a pair of screening passes.
Please remember that screenings are overbooked to ensure a full house. Arrive early.
Do you love Nicholas Sparks as much as I do? Even though I swear I will never read another book of his or watch another movie, somehow I end up with a box of tissues just sobbing away reading or watching. This time will be no different. We know up front it's going to be a tearjerker, so bring your boyfriend or your hubby or your BFF and head to the screening. I'm so sure that it will be amazing. Amanda (Michelle Monaghan) and Dawson (James Marsden) were once high-school sweethearts. They have a bittersweet reunion when they return to their hometown for the funeral of a mutual, beloved friend. Seeing each other again after 20 years apart reignites the love they've never forgotten, but Amanda and Dawson soon discover that the forces that drove them apart when they were younger pose even more threats today. Based on the novel by Nicholas Sparks.
Disclosure: 3decades3kids is a Relativity Movie Screening Partner. We love the movies and do what we can to put our readers in touch with the best screenings in NYC! Contact me at ELGEorgia@aol.com and everywhere else at .@3decades3kids.