Sea World Orlando
Recently our family had the pleasure of visiting Sea World Orlando! Our day was filled with fun, learning, and a lot of splashes!
Sea World immediately captivated my family. Our first stop (which was a hard choice) was to feed the dolphins. It was great for all the kids and hubby and me, too! We all lined
up, held up the fish and "like magic" the dolphins appeared.
Emily, Adam, and Louie all had a chance to not only feed, but also pet the dolphins. After leaving the dolphin area, we made a quick stop at the Stingray area where everyone took turns petting stingrays.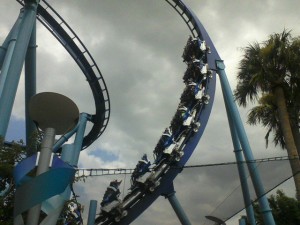 Next on
our list w
as Man
ta! Now that is some roller coaster! Before actually boarding the ride you walk through a wonderful tropical fish paradise. It surrounds you. As you get closer to boarding the ride you realize you will be hooked on to the belly of the Manta, you ride this face down. It gives you the feeling that you are actually flying and comes very close to the water. Manta has a bunch of loops that make this ride unique and tons of fun! My oldest son had to admit that it did top his old favorite of Kraken!
The rest of our day was filled with seeing penguins, sharks, sea turtles and sea lions! Of course I cannot forget to mention the Polar Bears! They are always a favorite of mine and so is the Wild Arctic Ride!
My 3 year old daughter had a ball at Shamu's Happy Harbor. It was just her size! Our night was topped off with "Shamu Rocks" followed by fireworks! I could not have asked for more! My family LOVES Sea World and looks forward to our next visit!
For more information, please visit:
www.seaworld.com