Cake Boss-A Visit To Carlo's Bakery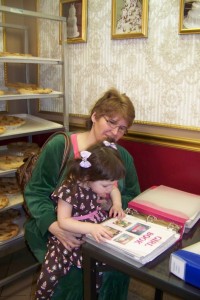 By now, almost everyone has heard of Buddy, The Cake Boss, or has had the chance to see his show on TLC. Since we are not far from the actual bakery, our family decided to take a trip, the first of many trips to Carlo's Bakery-located in Hoboken, NJ.
It's tough to go to Carlo's without waiting in a line, but if you can get there during the week it's not too bad. Expect to stand in a line that wraps around the corner if you visit on the weekend(of course it's worth the wait).
Once you are inside of Carlo's Bakery, do not worry about being rushed. The people inside could not be nicer. It is good to have an idea of what you want before you enter though, because all the delicious choices are endless!
Personally, our family went in to buy a cake and ended up with the cake, cookies, coffee cake, bread, coffee and other goodies. The scent of fresh cake and cookies is very overwhelming, so be prepared.
If you are there to order a specialty cake for a wedding, birthday, shower or any other occasion, there is a special area to sit at(same one they use in the show) and a book with endless examples of cakes for every occasion. Emily looked through the book a few times and was ready to put her order in for ten different cakes! I'm sure we will be back in the future to order a special occasion cake from Carlo's Bakery.
Another fun thing about visiting Carlo's Bakery is that since it is family run, you will always see someone from the show working there. In the times we have gone, we have met a few of Buddy's sisters, Little Buddy, Buddy's mom, Frankie and his brother! They are great about photos and
always greet you with a smile!
There is also merchandise from the show available for purchase right inside the bakery.
If you are visiting the NYC area, or NJ you are in the Carlo's Bakery area. Don't miss your
chance to meet the Cake Boss gang and sample some of the yummies that Buddy has to offer!


For more information on Carlo's Bakery:
http://carlosbakery.com/Home.php