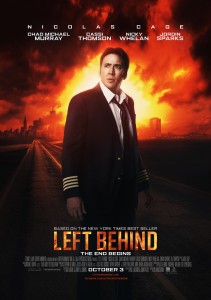 Know me? If you do, you know how much I adore Nicholas Cage! So, when I heard about Left Behind, I could not wait to learn more and more. This October it will be on the big screen and I am dying!! This looks awesome. Have you read the book?
The movie is based on the New York Times bestselling book series of the same name, co-authored by Jerry B. Jenkins and Tim LaHaye. Based on the Bible and published in 32 different languages, the series has sold more than 65 million copies and is one of the best-selling fiction series of all time.
Among the most highly anticipated films to be released in 2014, Stoney Lake Entertainment announces the full-length action-adventure motion picture
LEFT BEHIND
. The movie stars Academy Award winner Nicolas Cage (
NATIONAL TREASURE, CITY OF ANGELS, THE CROODS
) as Rayford Steele, as well as Chad Michael Murray, Cassi Thomson, Nicky Whelan, Lea Thompson and Jordin Sparks. The movie is directed by veteran filmmaker, Vic Armstrong (
THOR, AMAZING SPIDER-MAN, WAR OF THE WORLDS
), widely renowned for directing action sequences.
LEFT BEHIND
is produced and distributed by Stoney Lake Entertainment, with the national release slated for October 3, 2014.
LEFT BEHIND
follows Rayford Steele (Nicolas Cage) who is piloting a commercial airliner just hours after the Rapture when millions of people around the globe simply vanish. Thirty thousand feet over the Atlantic, Rayford is faced with a damaged plane, terrified passengers, and a desperate desire to get back to his family. On the ground, his daughter, Chloe Steele (Cassi Thomson) is among those left behind, forced to navigate a world of madness as she searches for her lost mother and brother. Shot mostly in and around Baton Rouge, LA.,
LEFT BEHIND
was produced by Paul Lalonde and Michael Walker and co-written by Paul Lalonde and John Patus.
"My greatest hope for this movie is that people will be entertained and thrilled by it, but also that they'll go home and have conversations with their family, and ask 'do you think this could happen, or couldn't happen?' and it'll inspire discussion and closeness," says leading actor Nicolas Cage.