NYC Broadway Escape To Margaritaville With NYC Dads Group!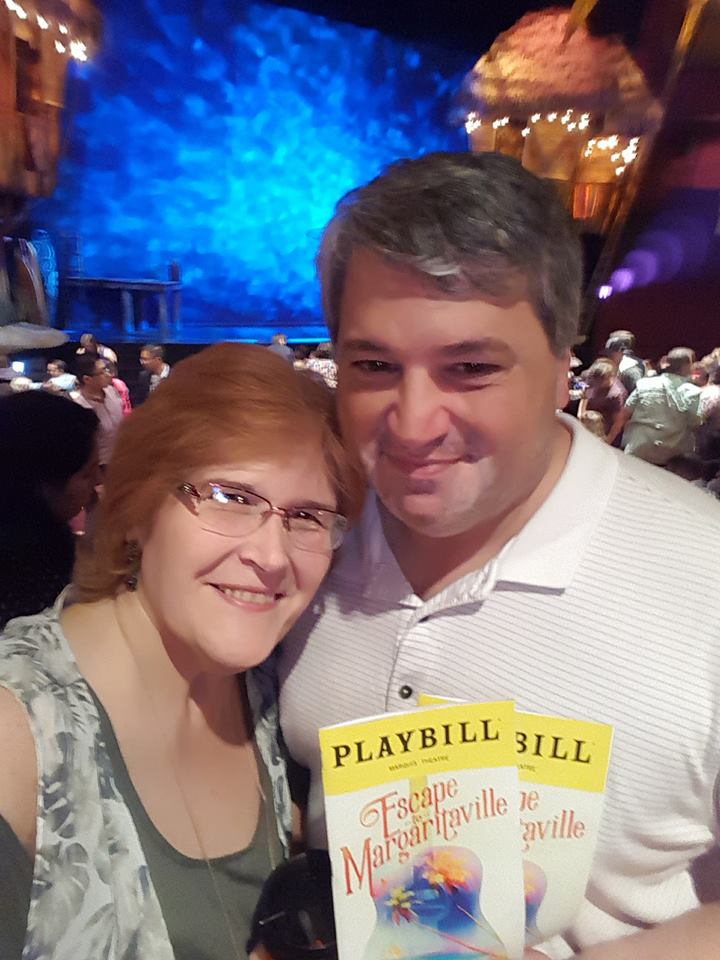 My hubby belongs to a Daddy parenting group on Facebook called NYC Dads Group! If you are in the area you should definitely check it out. It's a great place for Dads to chat with each other to meet up! Recently @NYCDadsGroup hosted a group of Dads and their significant others for a night on Broadway to celebrate Mother's Day! My hubby was lucky enough to be invited and took me along as his date! I was SO excited about the show- Escape to Margaritaville! I am such a huge Jimmy Buffet fan and have been forever. You may not know but before I hit the road to married life I spent most summers down the shore working in Cape May, NJ. My days were spent on the beach and my nights working at the bookstore. It was something I absolutely loved and along with those days of freedom I was basically obsessed with all and any Jimmy Buffet music. I took it to the beach with me all the time and played it in my one room apartment when I wasn't watching the waves crash. I also introduced my hubby to the beach life and to Jimmy Buffet. It did not take him very long to also become a big fan!
So when hubby asked me if I wanted to join him for a night on Broadway fun at Escape to Margaritaville I screamed, YES!!! Yes! Yes! Yes! Yes! Of course as life would have it our hot water tank cracked and a pipe or two just days before the show. The only time the plumbers could tend to the huge mess coincided with the show. This could only happen to me!?! I did not want to miss the show but I also did not want to chance being trapped at the house with the plumbers. Ugggh!! Well, somehow it all worked out and we arrived at the show with thirty minutes to spare! Yay! 
If you are thinking about going to see Escape To Margaritaville, just do it! It's a great show if you are a Jimmy Buffet fan OR if you are not! It really doesn't make much difference. It's a very enjoyable story with plenty of comedy and tunes to keep you smiling throughout the show. If you are a Jimmy Buffet fan you will definitely going to LOVE this show! It's packed with songs and puns and a million little things that a Jimmy Buffet fan will just love. It's like an island getaway right in the middle of NYC! The show also is filled with some of my favorite songs including, Volcano, Cheeseburger In Paradise and Fins! 
Summer is a perfect time to take in a Broadway show and this one will definitely leave you singing and with an island vibe! You can also get a taste of some unique Escape To Margaritaville speciality drinks that include, Frozen Fins Margarita, Son of a Sailor and 5 O'Clock Somewhere! You can get them without alcohol so everyone can enjoy! Check out more about Escape To Margaritaville here and grab some tickets to see it for yourself!
Disclosure: This is a personal post. The event was hosted by NYC Dads Group so we are super thankful for the #DadsNightOut with them! All opinions are that of my own. Contact me at 3decades3kids@gmail.com and @3decades3kids across all social media platforms.