Cha Cha's Easter Adventure
Breakfast at The Rainforest Cafe
Over the weekend my family
and I had a wonderful time attending Cha Cha's Easter Adventure
at the Rainforest Cafe. Our family loves the Rainforest Cafe and usually dines at in when we vacation in Florida or when we visit the Menlo Park Mall.
One of their special events is breakfast with the Easter Bunny and Cha Cha. We have not missed it in years. It seems to just get better every time we go to it!
Yesterday was no different. We had to arrive bright and early, since the breakfast event begins at 8 am sharp.
After checking in, everyone was greeted by the Easter Bunny and Cha Cha and then the children were split into two age groups for the Easter egg hunt.
If you have ever visited the Rainforest Cafe, you can just imagine how much fun it was for the kids to check under the tables, chairs, around all the trees and in the shrubs by the animals hunting for eggs loaded with surprises.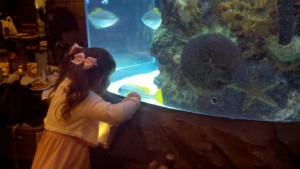 After all the guests had there fill of finding every egg to be found, it was time to get seated and have some delicious breakfast. A nice hot buffet of pancakes, french toast, hash browns, eggs, bacon and sausage, along with cereals, pastries, and fresh fruit satisfied everyone.
There was also endless coffee, tea and juice for everyone to enjoy!
While we feasted on breakfast Cha Cha and the Easter Bunny made several rounds visiting the families, while the children worked on their coloring pages for the coloring contest.
During Cha Cha's Easter Adventure there was plenty of time for fun, walking around to see all the animals, and for visiting the characters.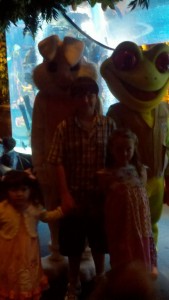 The kids even had a chance to join the Easter Bunny in the Bunny Hop around the Rainforest Cafe.
When the breakfast finished up every child was given a Rainforest Cafe goodie bag loaded with fun treats and the parents were given a 15% off coupon to be used in the gift shoppe.