Top Five Tips For Attending Mickey's Not So Scary Halloween Party at Magic Kingdom!
Our family loves Halloween and we love Walt Disney World! With saying that I'm sure you already figured out that we always look forward to attending Mickey's Not So Scary Halloween Party at Magic Kingdom.  This is how the party works. Generally Magic Kingdom closes to regular guests at 6 pm on party nights. Mickey's Not So Scary Halloween Party goes from 7 pm to midnight, but you can pick up your party wristband at 4pm at the front gates or at locations throughout the park. This gives you two hours of park time before the party begins. Between 6-7pm cast members get busy clearing all of the non-banded guests. There are quite a few places to Trick-Or-Treat but we only stopped at a few.
By 7 pm you can be ready for some unique magical fun that only Walt Disney World could put together. Honestly it will exceed all of your expectations and it's something that our family loves to attend over and over again. Bonus- It's great for all ages! So, you may be wondering why someone would spend extra money to go to an after hours party? You may be wondering if it is worth it. It is, it totally IS! You cannot find any better way to celebrate Disney and Halloween if you tried.
It's your choice if you want to dress in costume or not. Disney does have some strict guidelines including no masks but there are definitely plenty of costume choices if you want to join into the Halloween spirit! If you don't want to be in costume that works, too. It's all up to you. Last year we all purchased the 2017 official Halloween party tees for the family and wore them the entire night except for Emily who was decked out in her Frozen Elsa attire from head to toe. As for this year we held up to tradition and purchased the 2018 tees for the family. My oldest son dressed as Jack Skellington and Emily found an adorable Sailor Minnie Mouse from the Disney Cruise!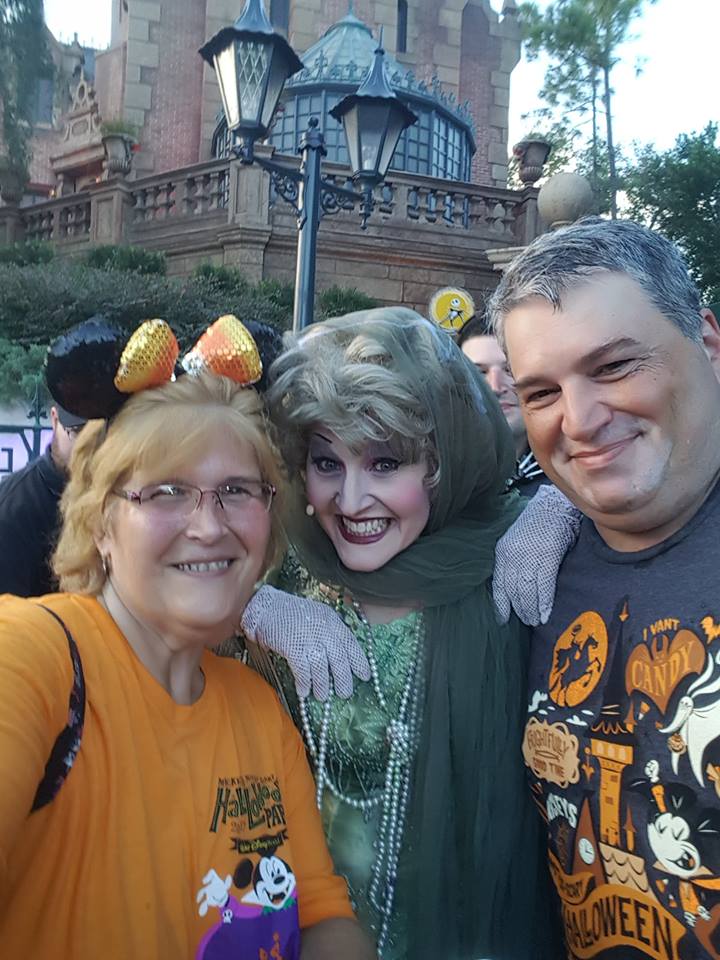 Now as for those Top Five Tips For Attending Mickey's Not So Scary Halloween Party, here goes!
1. If you already have passes and are spending the day at Magic Kingdom pick up your passes in the back of the park and start there! Wristbands are given out at 4 pm. We lined up by the Buzz Lightyear ride at about 3:15. It was worth the wait to be one of the first few people in line. By the time 4 pm rolled around the lines were pretty long but we were already on our way! By the way, even though the party does not start until 7 pm, the Trick or Treating begins at 4 pm and we found most of the specialty desserts were also available around the same time.
2.  Do not under any circumstances miss the Headless Horseman that comes down the street before the Boo To You Parade! It is one of the most amazing things you will ever see! The parade is great, too! If you can, grab a spot on Main Street. They have a pre-parade dance party with the characters from Zootopia and the kids and go out into the street to join them! It's so much fun! Main Street is also the best back drop for the parade. There are shadow castings of ghosts and ghouls and pumpkins on the buildings and flickering Jack-O-Lanterns in the windows of the stores.
3. Map out what specialized Halloween treats you want and where to get them, including popcorn buckets. One of the kewlest things about Mickey's Not So Scary Halloween Party is that there are special dining sweets available. Be sure to check in advance where to find them so you are not wasting time after the party begins. You will SO amazed at just how fast the time will go by once it all starts. You don't want to miss out on something special.
4. Don't forget to get your pictures with Photo Pass! There are special magic shots available only during the hours of the party including a picture with the Headless Horseman, The Hatbox Ghost,  holding the lantern at the entrance of the Haunted Mansion, a picture with the wagon at the Haunted Mansion, and holding a poision apple over a cauldron. There are also pictures available during the parade holding Halloween signs! We absolutely love the magic shots and the regular pictures as well.
5. End your night with HalloWishes the most magical display of Halloween fireworks ever including the spookiest Disney tunes from our favorite movies. In addition you will not want to miss the Hocus Pocus Villian Spelltacular Stage Show in front of the castle! The three Sanderson Sisters are live and on stage. Hocus Pocus is celebrating thier 25th Anniversary! There is the most awesome cauldron mug that I purchased while I was there with the Hocus Pocus logo and a 25th Anniversary stamp. We love to see Dr. Facilier, Oogie Boogie and Maleficent up close along with many of our favorite villains. In addition, the special effects are endless!
In addition there are unique character meet and greets that you can only find during the party hours, ride effects- like riding Space Mountain the pitch black darkness and even a big dance party with the Monsters, Inc. crowd.  There is so much to do. The best part is sharing the entire night with your family and friends. Going to Mickey's Not So Scary Halloween Party is something that will create memories that will last a life time. You can check out more about the event and purchase tickets here: https://disneyworld.disney.go.com/
Disclosure: All opinions are that of Diane Sullivan and do not reflect the views of the parent company represented. Complimentary party passes were provided for the purpose of this review. Contact Diane for collabs at Diane@3decades3kids.net or @3decades3kids across all social media networks. 3decades3kids.net