Starlink: Battle for Atlas Now Available On PS4, Xbox One and Nintendo Switch
*This is a sponored post by BSMmedia. All opinions are that of Diane Sullivan and do not reflect the views of the parent company represented.
Recently our family was invited to the Nintendo Store NYC to check out the new Ubisoft video game Starlink: Battle for Atlas. If you know our family you already know that we all are gamers from youngest to oldest. We game together as a family and alone. So when we heard about the new Starlink game we were pretty excited to see exactly what it was made of and if it was something we would want to play. We found out pretty fast that Starlink: Battle of Atlas fills the void between kiddie video games and violence based games. That is perfection in my eyes! Since Emily is a tween and sees her older brothers playing some more mature games it's easy for her to want to join in. As a mom I'm trying to keep the violence to a minimum no matter what the age level.  I'm pleased to say that younger gamers can have the excitement of more violent games that moms aren't ready to expose them with Starlink. The game was designed by parents of tweens so that their own children had an option for video games. Game On!! Game On!!
Starlink: Battle for Atlas is the newest toys-to-life sci-fi adventure from Ubisoft, and it's one of the best experiences the Nintendo Switch currently has to offer. In Starlink, players control their very own customizable starship, where different pieces and weapons can be swapped out in real-time. The game also features a variety of pilots, and exclusive to the Nintendo Switch version comes the addition of Star Fox, a beloved character in the gaming world. Players will be glad to see that not only Star Fox makes an appearance, but also his supporting cast of characters such as Slippy Toad and his arch-nemesis Wolf O'Donnell. The Star Fox adventure includes both the iconic Star Fox as a pilot figure, alongside his signature Arwing Starship.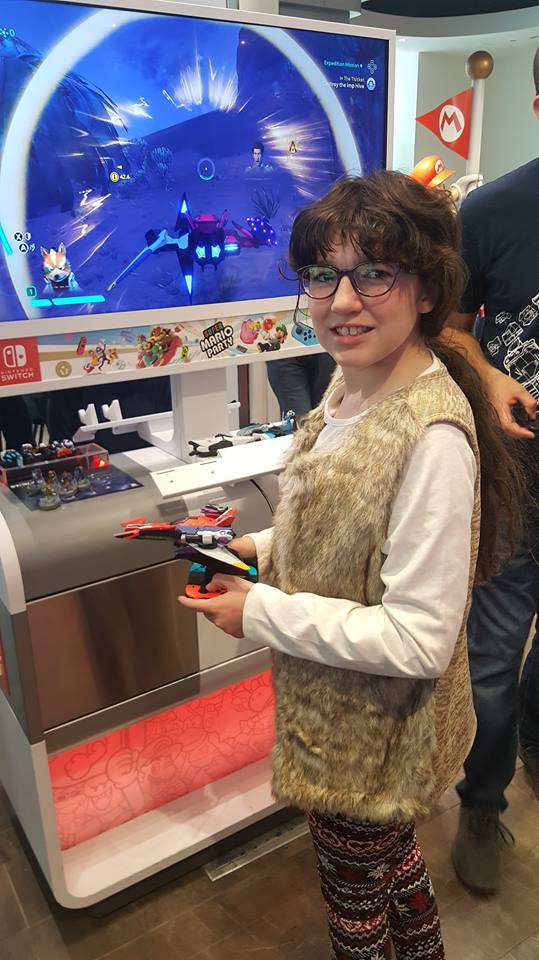 The addition of Star Fox on the Nintendo Switch version of the game adds a lot to the overall experience, as the game's cast directly interacts with the pilot. Fox appears in cutscenes, and looks amazing on the Snowdrop engine, which was used to develop the game. The inclusion of one of our favorite Nintendo characters definitely improved what is already an incredible campaign. Cutscenes look amazing across all platforms, and the story is well fleshed-out and keeps players hooked. The game takes around 15-20 hours to complete, which is perfect for a Switch title. The campaign definitely has enough to offer and there's tons of exploring to do.
Families can get in on Starlink's action as well, since the game features local split-screen co-op capability. Players can work together traversing the game's vast open world and completing challenges all on the same screen, which is definitely a perk in a world full of online-only titles. The game's world is absolutely stunning. with seven planets ripe for exploration. In this open-world environment, players are free to fly around, explore, and, of course, engage in combat against the dangers of the worlds. Each planet feels unique in its own way, offering different forms of life and different overall experiences For example, Tundria is an ice-based planet full of ice ridges and methane pools, where a planet such as Kirite is more desert-like and beautiful.
For those concerned about the game being toy-based, all additional content that is available physically can be purchased on the eShop or other digital stores. Plus, every physical item purchased can be used without a figure in-game for 7 days, so gamers don't have to bring the toys everywhere they go, especially in the car. However, having the actual figures definitely adds a lot to the experience, and having the Arwing sitting on our coffee table is a nice addition over the digital version. Starlink's closed environment gives Moms  a sense of security while still offering your tween a deep level of play and you don't have to worry about your child talking with strangers within the game frame. That is something that is always on my mind! This game will definitely keep your tween engaged.  The game has enough play to keep kids interested for a long time.
Overall, Starlink: Battle for Atlas is nothing short of amazing, from the integration of real-life figures into the game to its gripping story and action sequences. There's lots to do, plenty of worlds to see, and hours of fun to be had. We loved checking out the game's Switch-exclusive Star Fox content, and would highly recommend diving into those bonus missions. Starlink provides players with an authentic gaming experience for all ages, and definitely should not be missed this year on the Nintendo Switch.
Disclosure: *This is a sponored post by BSMmedia. All opinions are that of Diane Sullivan and do not reflect the views of the parent company represented. Contact me at Diane@3decades3kids.net or on all socials at @3decades3kids.  3decades3kids.net  #NintendoSwitch #GamerFamily #Gamer