Giveaway- Liberty Science Center Great For the Entire Family!

Liberty Science Center in Jersey City, NJ is one of our family's favorite places to go, especially during the summer months. Science is big in this house. My youngest daughter is always ready to hear more about the planets, the universe and anything scientific. It's fun to get unplugged and into the world. It's also always a plus when dinosaurs are involved. 
We could spend forever at Liberty Science Center but this time when we visited we went to three different exhibitions, Jack Horner's Dino Dig, Arthur's World and Grossology. I would suggest seeing all of these and more depending on how much time you have to spend at LSC. There definitely is enough to do that you can spend the entire day there.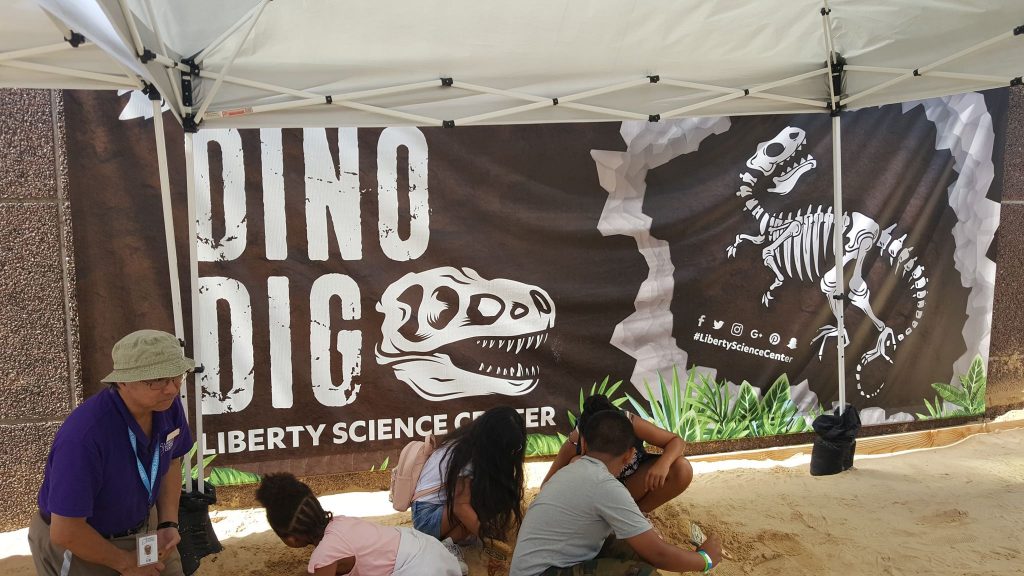 Jack Horner's Dino Dig is a great place for anyone who loves dinosaurs. A makeshift dinosaur fossil exhibit with the New York City skyline as a backdrop. Upon entering Dino Dig everyone gets their own brush to help uncover the gigantic fossil pieces that lay below the sand. You will definitely feel like you have entered a real excavation site and everyone in your family will feel like a paleontologist. You will have the opportunity to dig for more than sixty fossils, many of them replicas of those discovered in Montana by Jack Horner, the famed paleontologist who inspired Jurassic Park. A lot of fun and learning going on as each bone fossil is uncovered. There are plenty of workers on hand to answer all of your dinosaur and fossil related questions. Please note that since this exhibition is seasonal (now through September 3) and located outside it may be closed due to inclement weather.
Arthur's World is a bigger than life exhibition that brings you into the world of Arthur. I don't know about you but after having three children I feel like Arthur is part of the family. We were so excited to chek out Arthur's™ World, which is a national exhibition based on the PBS TV series and popular Marc Brown books. My previous classroom and our home are filled to the brim with Arthur books! As you enter the exhibit you will have the chance to see Arthur's kitchen and play inside of it. There are recipes and play foods that will allow your children to pretend play just like they in the actual Read family's kitchen. Of course Mr. Ratburn's classroom is part of the fun complete with a chalkboard your children can write on, a teacher's desk and a few student desks filled with school supplies. There is a chance for dress up play and to role model both teacher and student. What a fun stop. You can even enter a spelling bee in Mr. Ratburn's classroom. Next stop is the Elwood City Library where you can read books and even be the librarian! There is place to go backyard camping in real tents. But I think one of our favorite parts was the Lakewood School Auditorium where you can make a live video and watch yourself appear on a giant television screen! Anyone who loves Arthur should definitely check this out, but even if you are a new fan or have not heard of him at all your family will still enjoy the Arthur's World exhibition, at Liberty Science Center now through September 16th.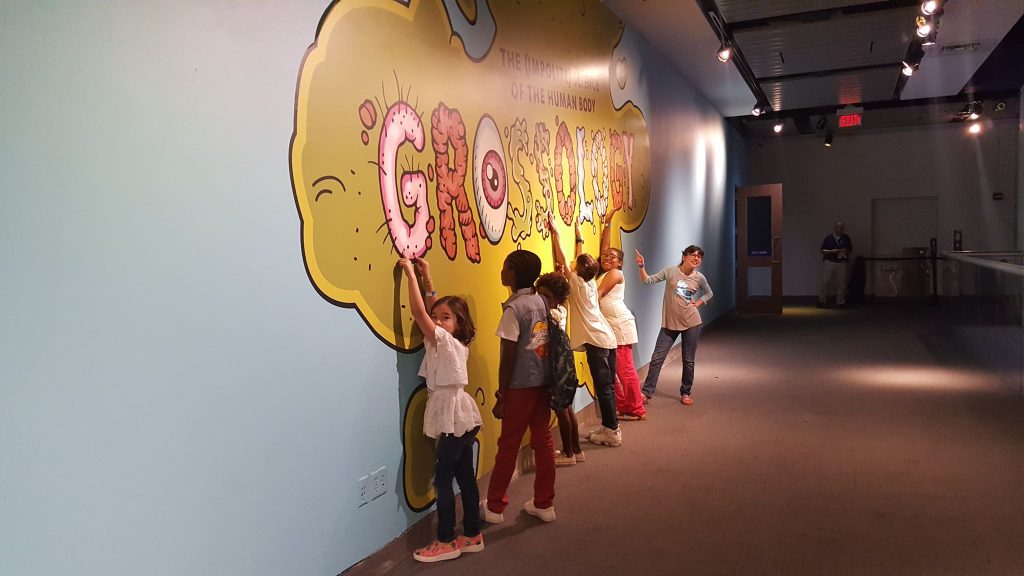 Our final stop of the day was at the new Grossology exhibit! Grossology is the (impolite) science of the human body. If you want to know exactly what that means you will have to visit the exhibit. Let me tell you, all the kids in this exhibit could not get enough! There was a gigantic nose with walk in nostrils and slide through the intestines. This exhibit has everything that no one wants to ever discuss including burping, vomiting, passing gas, and boggers, all so gross! But that is exactly what this exhibit is all about, everything gross about the body and most likely everything your children will love learning more about but can never really discuss with you.
Your child can become a dust particle and walk through a giant nose to learn about air filtering and mucus production. They can also climb a human skin wall with warts, hairs, and wounds. So gross!  Then they can visit the Vomit Center and learn the many reasons why humans throw up, or the Toot Toot area to create different sounds that replicate the physics of gas . Then they can crawl and slide through a 30-foot-long 3D model of the digestive system.  There was also a bigger than life Operation game for kids to place all of the body parts inside of and then try to remove. Where was this when I was a kid? I LOVED how much the kids inside this exhibit loved it. There was a ton of learning and laughing going on.  But more importantly there was a better understanding of the human body and how it works. Bravo, Grossology! Grossology is a premium exhibition for which there is an additional admission fee. Ask about Premium Pass at the Box Office, or get details here.
By the way, have you heard that Liberty Science Center houses one of the World's largest planetarium? It's a must do if you visit LSC. The newly opened Jennifer Chalsty Planetarium and LSC Giant Dome Theater  and will take you on a journey through the solar system like you have never experienced before in your life.  You can choose from a variety of shows that suit your family including One World, One Sky: Big Bird's Adventure! There is a show for everyone.  Our favorite is In To Worlds Beyond,  where your family will tour each of the planets of our solar system—a tour that incorporates the latest information about the solar system as gathered by a fleet of robot probes. Through travel you will see the surfaces of Venus and the  mountains and canyons of Mars, and even Neptune's giant moon Triton. Before the show begins a live presenter will show the audience where the planets are in the night sky. You may even see Liberty Science Center and the dome! Check out our day at Liberty Science Center on YouTube.com/3decades3kids
GIVEAWAY ALERT: Enter to win a pair of tickets to Liberty Science Center. To enter please:
1. Subscribe to our youtube channel 
2. Like and Comment on our video-https://youtu.be/P1qUXRuU-0I
Winner will be chosen via random.org from our youtube video. Good Luck. Winner Chosen August 9th at 10 pm. Winner will be announced on youtube in the comments of the above listed video. Two passes will be mailed out via snail mail. Good Luck! 

Disclosure: This is a sponsored post in partnership with Momtrends and Liberty Science Center. All opinions are that of Diane Sullivan and do not reflect the views of the parent company represented. Contact me at Diane@3decades3kids.net or @3decades3kids across all social media platforms. Thank you for reading about our adventures- Diane