Great Wolf Lodge New In Room Services! Wine Down and Fort Kit Now Available
Recently our family had the pleasure of visiting one our favorite places to chill in the Poconos, Great Wolf Lodge (one of the county's largest family waterparks/resorts). We can't wait to share something that is new as family's summer travel plans are underway! Great Wolf Lodge is now offering two new in room services! We had the chance to check them both out and they were equally spectacular!
Have you heard about Great Wolf Lodge (Poconos)? It's an ideal vacation destination for people and families in the greater New York City regions. Great Wolf Lodge not only offers an incredible indoor water park, but it also has gorgeous hotel accommodations, delicious food options and pleRecently our family had the pleasure of visiting one our favorite places to chill in the Poconos, Great Wolf Lodge (one of the conty of shops to explore and is perfect for families in need of a kid-friendly resort options.
So, let's get to it! During our four day stay at Great Wolf Lodge our family spent time both in and out of the room. You see, when you visit Great Wolf half of the fun takes place right in the room. The rooms are set up in a nature style and it just gives you an outdoor feel. I'm thrilled to say that the first in-room service, Build-Your-Own Fort Kits, is a perfect fit for any room in the lodge! This new service is now available at properties nationwide. The reusable fort kits include a Great Wolf Lodge themed backpack, two colored sheets with ties, clothespins for clipping, a camp lantern and a Fort Kit tag to create the ultimate sleepover experience.
Our family picked up the kit right at the Buckhorn Exchange! Each kit comes in a super cute sack adorned with a giant paw print! As soon as we got ours Emily could not wait to get up to the room and check it out. Our family has been making tents and forts forever! It's kind of a family tradition that just took as the years went by. Emily is a huge fort maker at home, especially during the summer. Of course she grabbed her big brothers as the assistants! The fort kit is great for any age. Little ones will really love as well as tweens!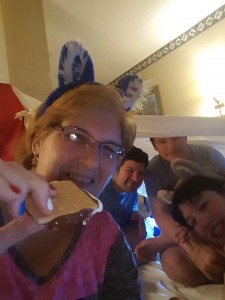 The kit has everything you need to create a great fort in the room! It's easy to construct and you will only be limited by your own imagination! So much fun! We did happen to bring some supplies to make S'mores to enjoy once everything was set up! The real joy is you get to bring it home. I know this Fort Kit is going to get a real work out this summer! Bring on the forts! This kit is available for $30.
·      Now, honestly, the Fort Kit is all about the kids but the next in-room service is for adults 21+ only. You most likely will need this service for when the fort making is done! Hee Hee! The second service hubby and I checked out is called the   "Wine Down Service"   It's a definite must-do for when the little wolf pups are asleep! After a day in the water park and playing Magi-Quest there is no better way for Mom and Dad (or any adults) to just chill out and relax at the end of the night.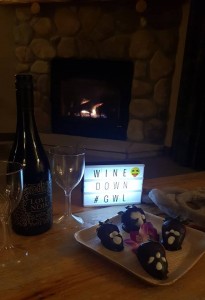 The Wine Down Service let's you choose your favorite wine from the list along with a sweet treat to go along. You also choose the time for it to arrive. Bravo, Great Wolf! What a brilliant idea! The package features a signature wine, cheese and dessert pairing program brought directly to your room, allowing guests to "wine down" once kids are put to bed. I absolutely love the Wine Down Pairing names: Rekindle the Bonfire, While the Pups Sleep Chardonnay,  It's Been a Fun Filled Day Time For a Cabernet, Kids Snoring More Pinot Noir-ing. The Wine Down in-room service is priced at $45.00.  Our package arrived with a bottle of wine, two wine glasses and a platter of chocolate covered strawberries. It was a delight to see and taste and a perfect ending to an amazing day at Great Wolf Lodge.

I would definitely recommend both the Fort Kit and Wine Down service. They were both great additions to our weekend away and we were able to create even more memories than in the past because of the in room services. When you visit Great Wolf Lodge you should definitely give one or both services a try! You won't be disappointed!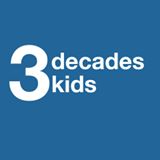 Disclosure: All opinions are that of Diane Sullivan and honest. All In Room Services hosted by Great Wolf Lodge Poconos. No compensation was provided for this post. Contact me at Diane@3decades3kids.net or @3decades3kids across all social media platforms.