Ubisoft Is One Stop Gaming Shopping During the Holidays!
Everyone that knows my family knows that we LOVE gaming! Hubby was a gamer before I married him and he has since made me into a super Gamer Mom! As for the kids, it's a no brainer! They were born into gaming! We have about every gaming hardware system available so we are accepting of all gaming challenges. This Christmas Santa will be dropping off a boatload of video games. Of course he did have a lot of help from Ubisoft. Being part of UbiStars gives our family a chance to test out the Ubisoft games after they are available. 
This year we were so lucky to check out everything you will need to know for this holiday season. First off, Family Gamer Game Night is something we live for around here. Everyone has their own controller and it is go time. Are we are a bit competitive within the family when it comes to gaming? YES! 
Let me tell you that the games we are going to talk about are in NO particular order. We have played them all and really have enjoyed each and every one of them. Some are good for single player, some for families and of course my teen son's favorite, Assassin's Creed Origins (18+)! I'm good with whatever game gets popped in on whatever system the kids choose.
So let's start off with what I call perfect Family Game Night Game Picks! Wheel of Fortune and Jeopardy are packaged together. That is kind of funny because when we watch the two shows some nights they are on TV back to back. Uno is a ton of fun both as a card game and as a video game! Monopoly is something our family has played for years. I think that Ubisoft really hit it out of the ballpark with these Family Game Night choices! So grab the family and game on! Adding any or all of these titles will definitely bring a lot of fun nights to your family.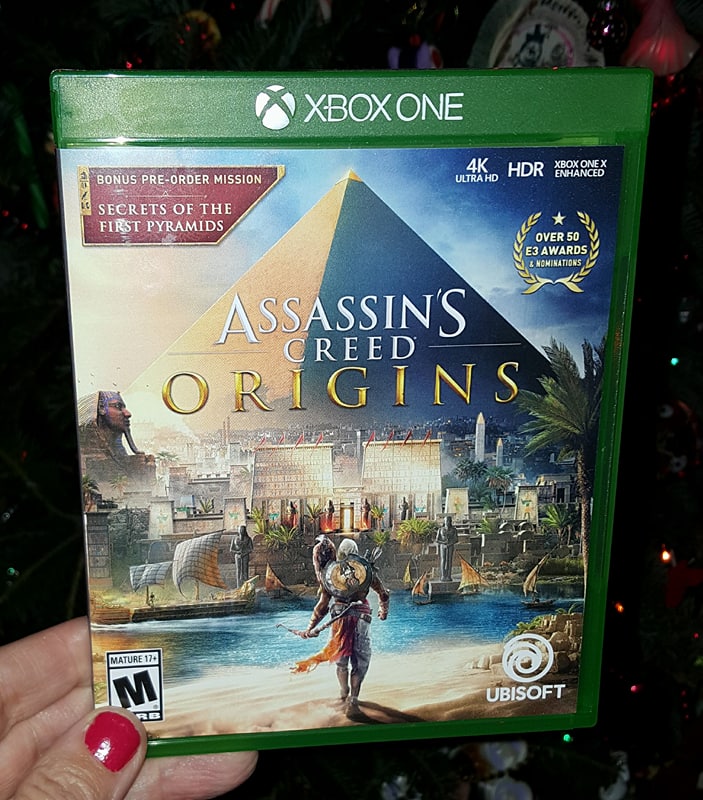 If you ask my teenage son what his favorite choice is right now he would tell you to go with Assassin's Creed Origins (M rating 18+)! As his mom, of course you know I have played my share of Assassin's Creed. This one is one of my favorites. You can get the details of the game in our review here: http://3decades3kids.net/blog/2017/11/ubisoft-assassins-creed-origins-review/
Of course he would tell you that he has a second choice when we are not gaming as a family. That choice is South Park The Fractured But Whole. Okay, I have to admit that somewhere in the deepest part of my soul I could not wait for my kids to start turning eighteen so we could make new lasting memories talking about South Park and all things that the under eighteen crowd has to shy away from. Although this is a one player game, you know that this gamer mom had to take a "crack" at it. (Lol! I couldn't help myself- Fractured But Whole….take a Crack at it!!!…lol) You will just love this game. If you are a South Park fan or know someone who is, you must get this game! Check out our full review of the game here: http://3decades3kids.net/blog/2017/10/south-park-the-fractured-but-whole-gamer-review/
My tween daughter's top pick is always the same, Just Dance! Last year it was Just Dance 2017, this year it's Just Dance 2018! She has been rockin' out to Shakira, Disney's Moana, Selena Gomez's Bad Liar and so many more tunes. It even includes access to over three hundred more tracks through Just Dance Unlimited! Just Dance 2018 turns your living room into a big party! What are you waiting for? Grab a copy of Just Dance 2018 and start dancing! We have an annual disco ball dance party every New Year's Day with the latest Just Dance 2018! Maybe this year I should live stream it. It's a great day of dancing around here, but what day isn't with this game in the house!?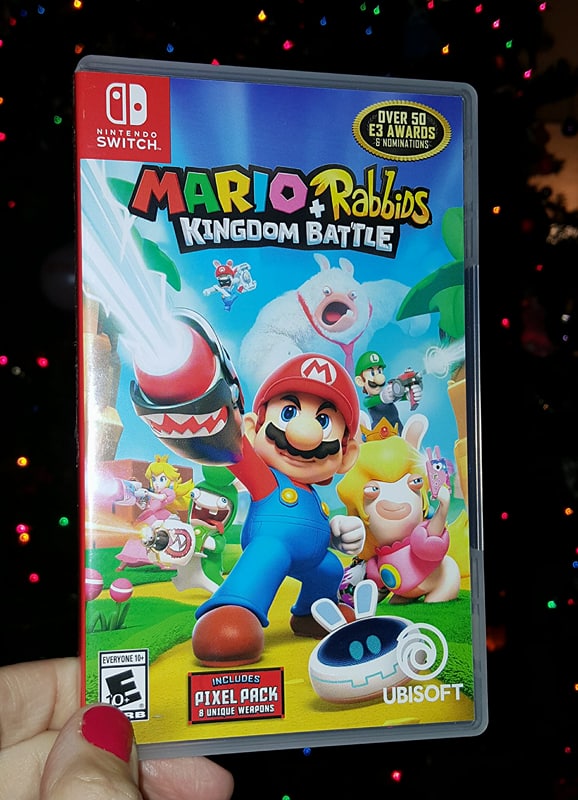 As for hubby and me, we both are obsessed with Rayman Legends Definitive Edition and Mario and Rabbids Kingdom Battle. What could be better? We constantly argue over which one should go into our Nintendo Switch! Most times I win, but that is besides the point. I have loved Mario and Rabbids Kingdom Battle since I demoed it months ago before it hit the shelves. I mean, can you think of a better combo than Mario and Rabbids?!! Can you imagine seeing your favorite Rabbids dressed like Mario and Princess Peach? I absolutely love that! This game was built especially for the Nintendo Switch! Play on Switch friends! Rayman Legends Definitive Edition is so much fun! You can play alone or with up to a party of four friends. The Kung Foot Tournament mode feature is beyond exciting. You will have to run, jump and fight your way through the game in this action packed adventure. It's great for boys and girls!
So if you have a gamer in your house or are planning to surprise a gamer friend with a game this Christmas be sure to check out any of the games above. They are all a part of our Game Library and they do not just sit there, they get constant play. There is something for literally everyone. You might even want to pick one up for yourself! Please don't ask me my favorite favorite! I love each of the games listed for different reasons. When you play them you will understand exactly what I am talking about. You can pick up the games at any of the local game shops or retail stores or you can order online at https://www.ubisoft.com/en-US/
Disclosure: Diane Sullivan/3decades3kids is a Ubisoft partner blog and part of UbiStars.  Our family loves gaming and is obsessed with sharing all of our gaming finds with our readers. Game titles provided in order to facilitate this review. Contact me at 3decades3kids@gmail.com and/or @3decades3kids across all social media platforms.