Sony Spider-Man Homecoming NYC Press Junket- FB Live Coverage- In Theaters July 7, 2017
Recently Sony Spider-Man Homecoming hosted a group of Mommy Bloggers to a weekend in New York City and everything Spider-Man. It was definitely a whirlwind of fun to get whisked around the city and see it from Spider-Man's point of view. Our weekend started with a super advanced screening of Spider-Man Homecoming at the AMC Empire on 42nd Street, NYC. I cannot even begin to say enough good things about this movie. If there is one summer big screen movie you go to see, make sure it is this one. It's action packed and full of surprises!
Our night at the movies was followed by a day of Spider-Man inspired activities for our power group that was up for the challenge. Our web of fun took off at swanky  Whitby Hotel where we were treated to breakfast and had the chance to check out all of Hasbro's newest Spider-Man toys including Marvel Spider-Man Homecoming Tech Suit Spider-man, Spider Sight Mask, Legends Series, and even sample the Original Motion Picture Soundtrack!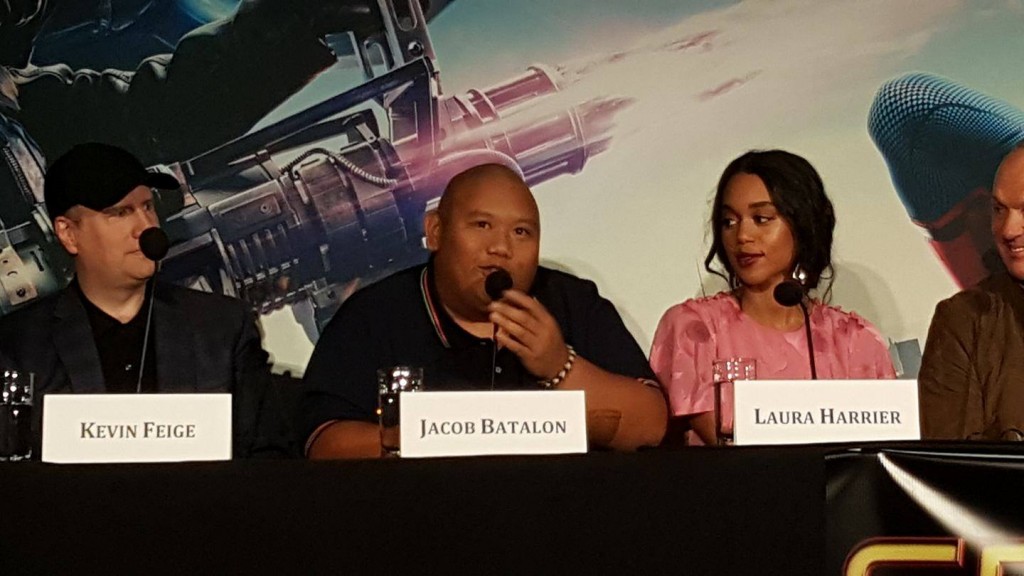 Next up was the Spider-Man Homecoming Press Conference. Being "in touch" range of all the stars did have me a little Star-Struck, but I did manage to hold it together and laugh right along with them as they told their stories and background tales. Tom Holland told us first hand what it was like to hold the role of Spider-Man and how his gymnastics background really helped him out tremdously. Robert Downey, Jr. had the entire room chuckling just being his entertaining self. As for Zendaya, she always has such an inspiring presence that exudes confidence beyond her years. As for Kevin Feige and Amy Pascal- there were absolutely no leaks on what is to come! Tom Holland, Michael Keaton, Robert Downey, Jr.,  Zendaya, Marisa Tomei, Jacob Batalon, Jon Watts, Kevin Feige, Amy Pascal, and Laura Harrier. You can view the entire Press Conference here that was recorded via FB Live: facebook.com/SpiderManMovie  In a room full of celebs, journalists, bloggers and TV personalities the entire Press Conference went off without a hitch.
As for the movie itself, here is Sony's Synopsis: A young Peter Parker/Spider-Man (Tom Holland), who made his sensational debut in Captain America: Civil War, begins to navigate his newfound identity as the web-slinging super hero in Spider-Man: Homecoming.  Thrilled by his experience with the Avengers, Peter returns home, where he lives with his Aunt May (Marisa Tomei), under the watchful eye of his new mentor Tony Stark (Robert Downey, Jr.). Peter tries to fall back into his normal daily routine – distracted by thoughts of proving himself to be more than just your friendly neighborhood Spider-Man – but when the Vulture (Michael Keaton) emerges as a new villain, everything that Peter holds most important will be threatened. Check out all things Spider-Man Homecoming right here: http://www.spidermanhomecoming.com/
We tested out the Dell Experience Gaming Room and complimentary VR experience (available now through Dell, Oculus, PSVR). With Dell you can Superpower Your Games! This hands on VR experience let's you experience what it is like to be Spider-Man. You try on the suit, make the decisions and shoot the webs. Our Mommy blogger team was even invited to zoom in on our own super power and have a hand drawn take-away of ourselves with it. My superpower, of course, was Social Media! – Is anyone surprised?
Press Conference day also included seeing Manhattan from Spidey's point of view! Spidey Mommy Bloggers were transported to Chelsea Piers and boarded the private Schooner Adirondack. Before we knew it the sails were up and wind was guiding us around Manhattan for views worthy of Spider-Man himself! Passing by the Staten Island Ferry was a complete bonus! I can only imagine that this is what Spider-Man must feel like after working all day and then just finding a relaxing spot high above and watching the bustle of Manhattan fade. Those two hours were filled with fun talk, amazing views and definite movie talk! Did I mention we were spoiled with endless shrimp and cheese platters adorned with adult beverages. It was a spectacular way to end the Spider-Man Press Junket.
 Please follow all of the Spider-Man Homcoming fun socially with:
#Spidermanhomecoming #SpidermanMovie
Visit the official website: http://www.spidermanhomecoming.com/
Like on Facebook: https://www.facebook.com/SpiderManMovie
Follow on Twitter: https://twitter.com/SpiderManMovie
See on Instagram: https://www.instagram.com/spidermanmovie/
Click here – Also be sure to check out our trip to Sony Square NYC The Spider-Man Experience!
Disclosure: Diane Sullivan/3decades3kids is Spider-Man Homecoming partner blog. Diane Sullivan was extended a Sony Marvel Spider-Man Press Junket media invitation which included above events in NYC. All opinions are that of Diane Sullivan and do not reflect the opinions of the parent company represented. Contact me at Diane@3decades3kids.net or @3decades3kids across all social media platforms. See you at the movies!