Field Station Dinosaurs-A Perfect Day With the Dinosaurs In  New Jersey
Our family loves summer and we love finding outdoor places to go that include a bit of learning. Since dinosaurs are our thing we really enjoy visiting Field Station Dinosaurs in Leonia, New Jersey. This fabulous park is located at Overpeck County Park, Bergen County, NJ.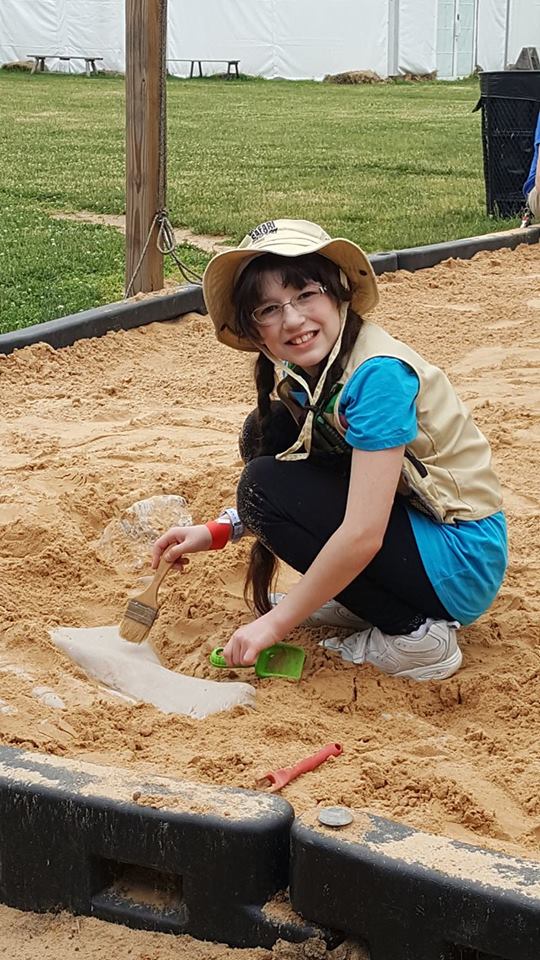 This amusement park is great for children, families and dinosaur fans of all ages. The park is filled with an array of dinosaurs that range from pint sized all the way to the massive T-Rex! Everything is super easy to find and it's not too tiring on little legs in the hot sun. You can dig for pre-set dinosaur bones in the dinosaur dig site- set up beneath tents as if you are on an actual dig site. There is also a dinosaur fossil station that is available for an extra fee. You child can uncover a fossil and take it home. It's a great activity. There are fun shows that also teach kids (and parents_ important facts about dinosaurs, and they take you out of the sun for a little bit. Please remember that this is an outdoor park so you may want to remember sunscreen and an umbrella to shade the family. If you do want a break there is a great snack station where you can dine out of the sun on burgers, hot dogs, pretzels and more. There are also a lot of ice cold choices frozen treats!
Field Station: Dinosaurs' Commander's tent and their assemblage of dinosaurs are open all summer with extended hours into the Fall throughout Halloween with special Dinosaurs After Dark nights available on weekends this fall.
Our day always begins with my daughter receiving a passport upon arrival. The park has several stations where Junior paleontologists can get a stamp in their passport with each task accomplished or visited. At the end of the visit there is a little surprise for completing the passport. It's also a great way to make sure you see all there is to do during the day. This year there is a new 3D movie show for all dinosaur fans to enjoy. There is a $5 fee for the movie. We enjoyed it, but it may be better for children six and up- only my opinion.
So grab your family and get outside. This is definitely a trip where your kids will never even know they are learning and just think they are having tons of fun. My daughter's first stop is always the dig site. It's a fun place where you can grab some shovels and brushes and uncover some dino bones! Field Station: Dinosaurs is a world-class family attraction that combines cutting-edge science with the creative minds of great artists and teachers to create a one-of-kind experience that's thrilling, educational and fun. Over thirty life-sized, realistic dinosaurs  come to life thanks to the brilliant engineering of the world's leading roboticists and the imagination of our artists. Scientists from the New Jersey State Museum have worked to ensure that the exhibition encompasses the latest theories and discoveries in the fields of paleontology, geology, and environmental studies but at the center of it all is the fun, the joy and the wonder of dinosaurs.
Tickets are available online at www.FieldStationDinosaurs.com and by phone at 855-999-9010.  The park is open daily now through September 4 from 10 am- 6 pm. The park is also open on Labor Day.  Season passes and add-ons for access to all of the park's programming and activities are also available. Click here for a calendar of events including July 15-Super Stars Of Science- Dissecting Owl Pellets,  July 22- Famous Fossils of the Garden State, July 29- Dino Don, Jurassic Park Official Dinosaur Adviser. There are more events in August, September and October, so please check out the calendar of events for yourself.
Disclosure: Diane Sullivan/3decades3kids is a Field Station Dinosaurs partner blog. All opinions are that of Diane Sullivan and do not reflect the opinions of the parent company being represented. This is an unsponsored post. Complimentary passes were provided in order to facilitate this review. Contact me at Diane@3decades3kids.net and @3decades3kids across social media platforms. Snapchat: ThreeDecades