BJ's Wholesale Club Opens In Kearny, NJ- Free 90 Day Membership!
The newest BJ's Wholesale Club has now opened its doors in Kearny, NJ! If you are not familiar with BJ's, it's a membership only club where you can shop for just about anything. We had the chance to check it out and quite honestly it quite amazing. On our guided tour we were privileged to some great info! This particular BJ's has over seven thousand items, so we were given a great tip: Make a list! That is a perfect tip, especially for me. I'm sure even with a list I would have to do a little bit of impulse buying at this store- there are just so many choices.
Upon entering BJ's the first thing in view was the seasonal zone. This area is always in the front and filled with seasonal things. Right now you can find some end of summer items as well as Back to School. I am happy to report that I did not see any holiday items yet! Pretty soon you will be able to find a BJ's exclusive: The Top Ten Toys only available at BJ's Wholesale Club. These Top Ten toys will be labeled with a special "Top Ten" tag and will have some extra included that you will be only be able to find at BJ's. I know where I will be Santa shopping this year!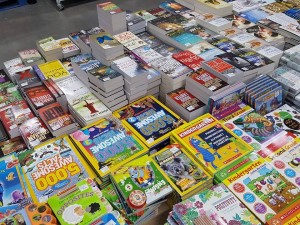 The electronics department was also very impressive. The TVs, electronics, and cell phones were all up to date and most items came in  value packs that gave something extra for free. BJ's also has something new called Tech Advisors! Tech Advisors is a free service available by phone only. A tech advisor is available to help you with your electronics needs when you get home and have a question. What a perk! As we walked along we saw so many items from name brand sweaters and clothing, socks and underwear, to books and blu-rays. There were bargains everywhere. The candy aisle was stocked full with big bags bargains like I have never seen before. We will definitely be back for our Halloween candy!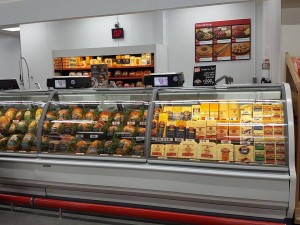 Our group was introduced to the BJ's house brand- Wellsley Farms. One word- Delicious! Wellsley Farms provides foods that really challenge the tastes of national brands. We tasted a few and they were absolutely amazing. Among the products we taste tested were: Wellsley Farms Red Pepper Hummus, Organic lemonade, popcorn and more. We also had a chance to sample the deli meats croissant party platter and two tiered party cake. The food choices were more than many. There were tons of name brands and the prices made my eyes open wide! I was especially impressed with the milk prices being so low. We buy a lot of milk in our house and I was totaling up how much less it would be monthly in savings to buy that one item alone. I can't imagine how much we are going to save by shopping at the new BJ's. I was pleased to see that there were also region specific foods. Something I also did not know about BJ's is that they have a butcher on hand to cut up your meat choices to fit your specific needs. This is a free service. When it comes to lunch our family lives on yogurt. From the looks of things they have a huge variety of brands and flavors. The new Maple Hill Head Creamery Grass fed Greek Organic yogurt is also available. I cannot wait to try it out.
This was not my first trip to a BJ's Wholesale Club, but it was the first time I visited with my eyes wide open. I really think it worth your time to stop in at the new BJ's Wholesale Club in Kearny, NJ. You will not be disappointed. Among other things you can find there are Hallmark cards, American Home Candles by Yankee Candle, tons of diapers and baby supplies and just about anything else you can think of and need in your life. The best part of all is the savings! BJ's sends coupons out to your house and members and also has coupon racks when you walk into the store. This is a store where you definitely want to take advantage of coupon savings, you will walk out feeling like the king of savings. BJ's works by membership only. You can find out about the membership here and grab a 14 month membership now for $40. If you are not sure about the whole wholesale club thing and want to test it out, you can print out this coupon and get a FREE 90 day membership! Thank you for always helping out everyone BJ's Wholesale Club! You are simply amazing and we are thrilled to welcome you to Kearny, NJ!  
As a final note, the new BJ's in Kearny will be the first one to house a Dunkin Donuts inside of there store. Most people I know will give that a thumbs up, I know I did! One of my first purchases will definitely be a 54 pack of Dunkin' Donuts k-cups! BEST NEWS- BJ's will be hosting a Grand Opening Celebration on September 3rd! There will be face painters, balloon artists, and more. Bring the kids and the family and the friends and check it out. You will not be disappointed.
So, my suggestions on visiting the new BJ's in Kearny, NJ
Print out the Free 90 Day Trial Membership and bring it to BJ's this week before the crowds hit. There is an extra service mobile set up outside for overflow so you will not have to wait in a huge line.

Go to the Grand Opening on Labor Day weekend. I'm sure there will be quite a few surprises planned.

Bring the coupons that are being mailed to your house and check for additional coupons when you enter the store.

Try to make a list when you walk around for the "next time" you come back.

Walk the store! There is so much to see. They even have an eyeglass center.
For more information on BJ's Wholesale Club click here.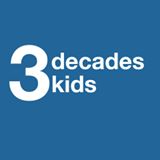 Disclosure: Diane Sullivan/3decades3kids is a BJ's Wholesale Club partner ambassador blog. All opinions are that of Diane Sullivan and do not reflect those of the parent company represented. A media invite was provided to preview the newly opened BJ's location in Kearny, NJ, along with a membership. This is a sponsored post. Please contact me at Diane@3decades3kids.net and @3decades3kids across all social media platforms. Snapchat us at: ThreeDecades.