Hershey's Water Works At Hershey Lodge #HersheyPa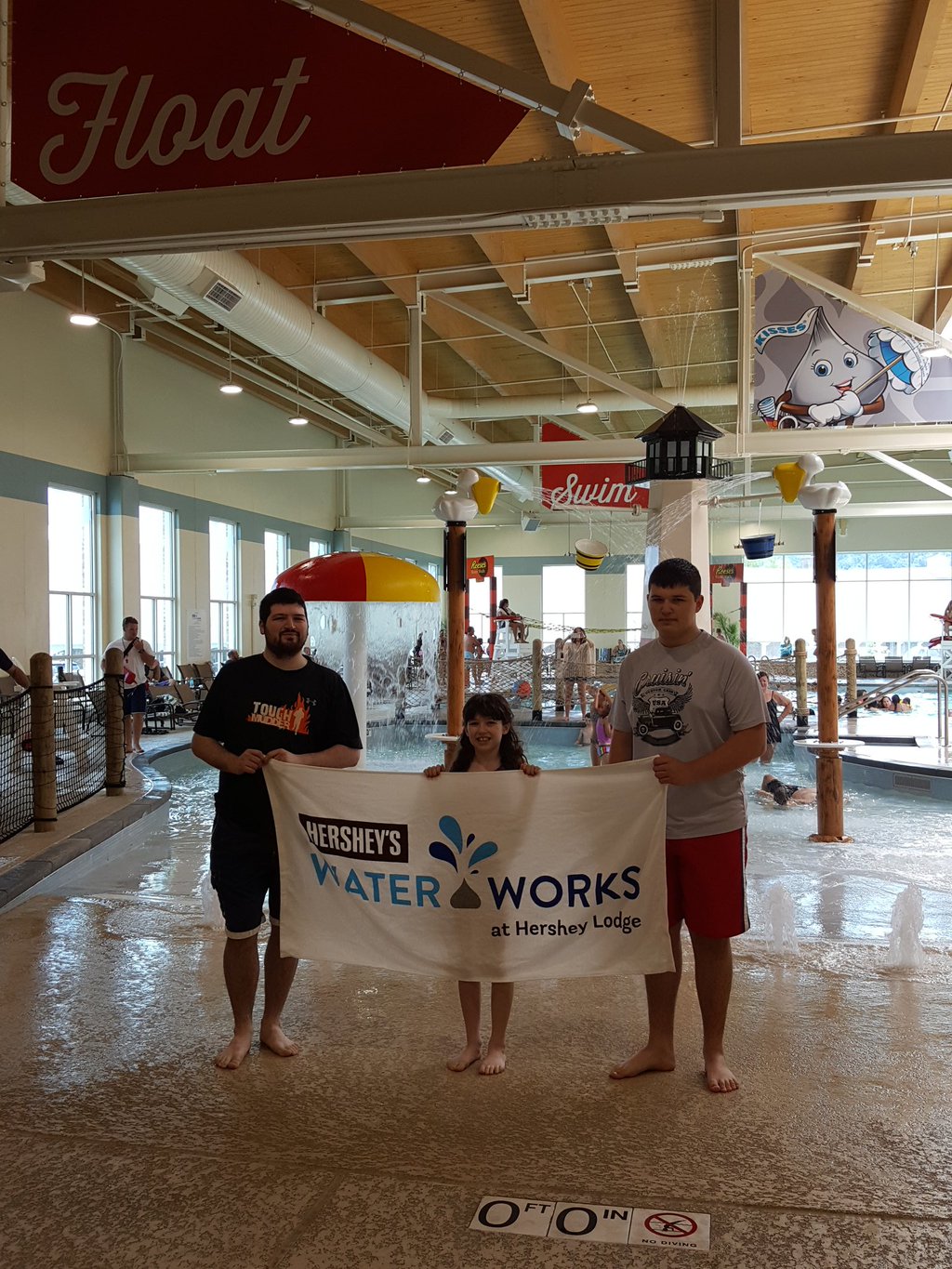 Our family loves everything about Hershey Pa. There is no doubt about it. We have made visiting Hershey a tradition that started with our parents and we hope it continues with our children taking their own children someday. When we do visit Hershey, we love to stay at the Hershey Lodge. The Hershey Lodge is a very special place with many perks- one of them being extra hours at Hershey Park and a shuttle to take you there. There are so many things I love about the lodge, one of them is that it is always improving, always getting better. One wonderful new addition to Hershey Lodge in 2016 is the new 30,000 square feet Hershey's Water Works at Hershey Lodge. Water Works is a brand new reimagined water area at Hershey Lodge, open only to guests of the lodge. This new complex is huge and includes a fitness center, arcade with Hershey themed games and prizes, an activity room, food options complete with a full bar, a big whirlpool, waterslides, and outdoor section, private bathrooms with showers and more.
The swim areas at Hershey's Water Works at Hershey Lodge are incredible. They range from walk in zero entry level to about four feet. You can wade or swim, it's up to you. There are also slides for every age and even sprinkler fun. Water Works has about six (don't quote me) areas to choose from, there is the big pool area that has  dolphin floaties which my daughter fell in love with. That pool also has basketball hoops and Reese's Water Walk where you can try to make it across the floating Resses Peanut butter cups. Don't worry- there is netting above you to help you out. There were definitely a lot of laughs coming from the Reese's Water Walk area.
Another area is the Twizzlers Twist Slides. These two slides go from inside to outside to inside and both are a different experience. There are over two hundred feet of  Twizzlers tubing. You can talk to the Twizzler guard to see which one is right for everyone in your family. The Twizzlers Twist Slides also have an outdoor splash area surrounded by lounge chairs. This area was great for parents who wanted a little sun while their little ones splashed around running through the sprinklers. A third area is a sand castle themed area that was packed with fun. This area was filled with toddlers to tweens. They were sliding down the three mini slides, checking out the splash areas, water play, and using fishy water squirters to squirt their friends and family. It's an adorable area surrounded by soft padded flooring. That really put the toddler moms at ease.
A forth area of Water Works has a zero level water entry. It's supercute and about one – two feet high water level. There is a larger than life sized red and white lighthouse, a large water covered umbrella, some dumping buckets and tons of water fun. Although this area is small it is packed with fun.  The fifth area, a total relaxation station has a triple sized whirlpool hot tub. This is a definite must and I love how it was placed next to the windows with a view of the Twizzlers Twists. I could not help but imagine myself in that hottub with the snow falling softly outside those windows.
The sixth area is filled with tables and chairs and located next to the eatery, The Cocoa Cabana! There is something for everyone at the Cocoa Cabana ranging from delicious food choices, to ice cream delights, drinks for adults(full bar) and children and more. Hershey definitely did not skimp on details when it came to putting together Hershey's Water Works at Hershey Lodge from the windows adorned with Hershey's Kisses, to Hershey themed water sections, activities and slides to Heshey's wall art and painted walls- you will be surrounded by sweetness for sure.
We also loved how many lifeguards were present at Water Works. They were very attentive to watching all areas of their zones and kept a watchful eye on both children and adults throughout the water and non water areas. If you are still in search of a more traditional pool experience, Hershey Lodge has kept their outdoor pool located near the mini golf course.
Water Works has more than just wet activities. We  absolutely loved the activity center and arcade. The arcade is filled with family friendly games for all and even has themed ones along with themed prizes! Our favorite was the air hockey. It has become a family competition to say the least! But visiting Hershey is all about making memories, right?  There was also ski ball, the claw, racing, basketball and more! The activity center is amazing! The wall art and table benches are themed with Hershey characters and products. There is so much attention given to detail, you will just love it! The room is also big and stacked with oversized bean bag chairs, board games, a tv, tables for coloring and playing the games and lego tables. Our family never wanted to leave! By the way, both the arcade and the fitness center are open 24/7. Bravo, Heshey Lodge! What else could you ask for?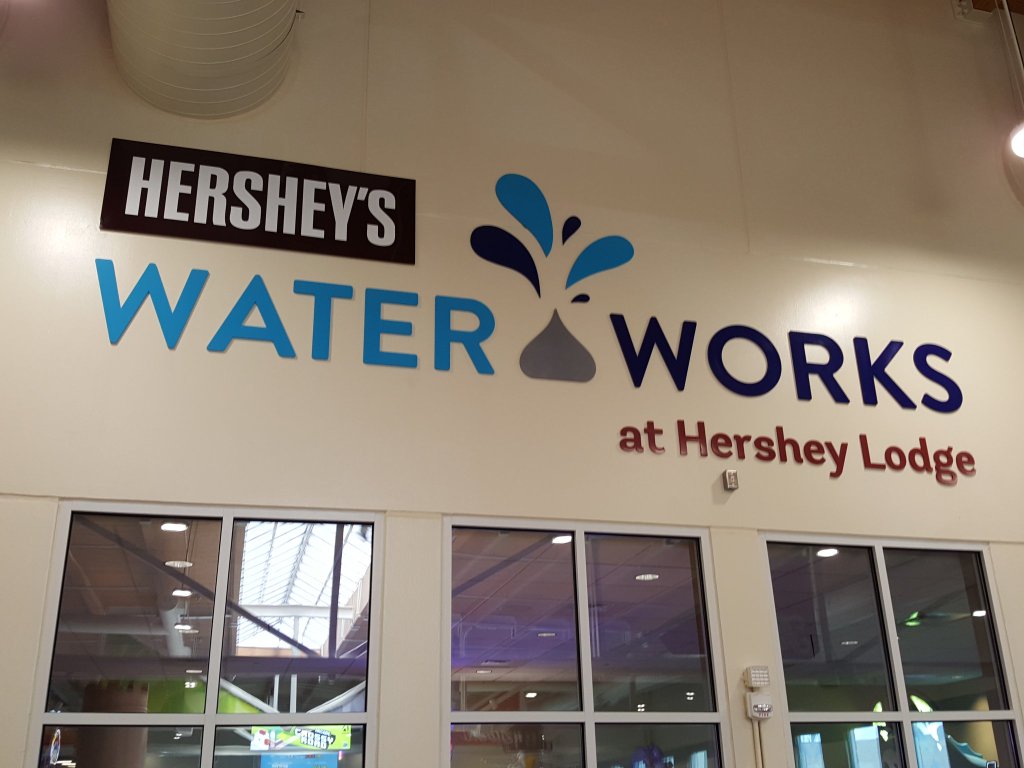 If you are planning a trip to Hershey Pa, you should definitely consider checking out the Hershey Lodge. It has always been a great place to stay but now it is even better with the addition of Hershey's Water Works at Hershey Lodge. It won our family's hearts over immediately and we were honored to create even more memories and create new traditions. We all agreed that Hershey's Water Works at Hershey Lodge would be great during any season of the year and is also perfect for all age levels. So what are you waiting for? You can check out all of the fantastic pacakages for Hershey Lodge and learn more about Hershey Pa right here: http://www.hersheylodge.com/ See you soon at the Sweetest Place on Earth- Hershey Pennslyvania!
Check out our video that will show you all of Hershey's Water Works at Hershey Lodge!
Disclosure: Diane Sullivan is a travel blogger who loves to visit Pa. All opinions are that of Diane Sullivan. No compensation was given for this post. Please contact me at Diane@3decades3kids.net or @3decades3kids across all social media platforms except for Snapchat: ThreeDecades
Diane Sullivan has expressed opinions that are her own and do no reflect on the parent company represented. 3decades3kids is a Hershey Lodge partner blog. This post is part of our summer series: #SweetSummer Thank you for hosting our family, Hershey Lodge. Lodging, park passes and various swag and treats provided by Hershey's Communication Tean. We love you Hershey and cannot wait to visit again. You really are the Sweetest Place on Earth!