Giveaway: Big Hero 6 Blu-ray + DVD + Digital HD Hits Shelves Feb. 24th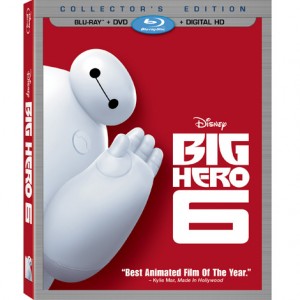 Love Disney movies? Our family has a huge collection of Disney films. Of course we have all the oldies, but I feel it's just as important to make the new movies a part of our collection, too. We celebrate weekly with family movie night and most times Disney is the choice. Of course my daughter thinks a Disney movie a day is just what the doctor ordered, so we do spend most nights catching at least half a movie and watching half the next night. You can't go wrong with a Disney movie in the blu-ray player.
A few months ago we had the pleasure of watching Big Hero 6 on the big screen. Who could not help but fall in love with the movie? I know our family did. Walt Disney Animation Studios,  Find out more about Big Hero 6 here: http://movies.disney.com/big-hero-6
BIG HERO 6 SYNOPSIS: With all the heart and humor audiences expect from Walt Disney Animation Studios, "Big Hero 6" is an action-packed comedy adventure that introduces Baymax, a lovable, personal companion robot, who forms a special bond with robotics prodigy Hiro Hamada. When a devastating turn of events catapults them into the midst of a dangerous plot unfolding in the streets of San Fransokyo, Hiro turns to Baymax and his diverse group of friends — adrenaline junkie Go Go Tomago, neatnik Wasabi, chemistry whiz Honey Lemon and fanboy Fred — who transform into a band of unlikely heroes. Bring home Disney's "Big Hero 6," featuring comic-book-style action and hilarious, unforgettable characters — it's fun for the whole family!
The wonderful team at Disney Pictures is offering one 3decades3kids reader a chance to have a Big Hero 6 Blu-ray + DVD + Digital HD of their own. No wonder we heart Disney. Giveaway will end Feb.28 at 11;59 pm. Enter on the rafflecopter below. USA/18+ only.
Disclosure: Sample product provided by Disney Pictures. All opinions are that of Diane Sullivan. Contact me at 3decades3kids@gmail.com and everywhere else at @3decades3kids.