When the summer comes around, I am always look for a day trip to go on with the family. It's fun to go somewhere close and fun. Recently, I was invited to check out the Turtle Back Zoo in West Orange, NJ. I have gone to Turtle Back Zoo before, but I must say, every time I go the zoo gets bigger and better!
I absolutely love Turtle Back Zoo. It's the perfect size zoo for a day trip and a place you can visit over and over again. My middle son and daughter loved the prairie dogs display. There is an underground tunnel that you can duck down into and go with your child, or older children can go into alone. When they pop up they are in the middle of a prairie dog habitat! What a super experience! My children loved it!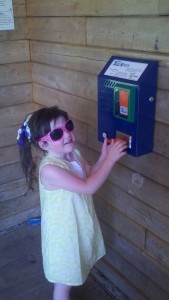 Another wonderful feature of Turtle Back Zoo is something called a Zoo Key. A Zoo Key hangs on a necklace and can be used in story boxes that are found next to many of the animal displays. One side of the key plays a catchy tune about the animal, the other side tell some facts about the same animal. The Zoo Key is only $3.00 and well worth it!
The walk around the zoo was so refreshing and quite a learning experience. It was wonderful to see penguins, bison, elk, and highland cattle just going about their business as we looked on.
Of course we did have to stop at the beautiful animal themed carousel. What a delightful addition to the zoo!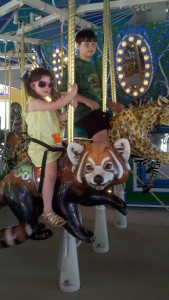 As our day at the zoo continued we came across more and more exciting exhibits. While inside the Bear House, the bear walked right up to the window. What a fantastic experience to have just a window between you and a big brown bear!
If you are looking for a hands on experience with animals, Turtle Back Zoo is the right place. There are pony rides, a petting zoo, and my personal favorite The Aviary. On the way into the aviary you can purchase a flat stick coated with bird seeds and then feed the birds as they land right on your stick! Wow! If you love birds, this is the place for you.
So, if you are looking for a fun day out with the family, friends, or just a day to yourself, I cannot think of a better place that you could be than Turtle Back Zoo. We finished up our trip with checking out more exhibits such as the alligator, red panda, leopard, the reptile house and more! Of course we could not leave until we took a ride on the train that takes you on a scenic ride through the woods and we finished up with some ice-cream and cotton candy!
Wow! It's hard to believe Turtle Back Zoo is right here in Essex County! What a treasure. If you have a chance, please check out Turtle Back Zoo! You will not be disappointed.
For admission prices and special events please check out:
Disclosure: 3decades3kids were guests of the zoo.
All opinions are that of 3decades3kids.