Across The Second Dimension
Phineas and Ferb The Movie,
that debuts August 5th on The Disney Channel.
We are a total Disney loving family, so you can imagine how exciting it was for us
The kick-off event was superb and we were part of the fun! Radio Disney hosted the event,
as the fans cheered and danced! My son and daughter were chosen to play a fun game of "Squirrels in your pants", where my daughter held up a pair of gray pants and my son had to toss stuffed squirrels into them! So much fun for the kids.
The unveiling of the bus was great and the Phineas and Ferb characters
were on hand for some fun and photos.
I also had the pleasure of meeting and chatting with
Dee Bradley Baker- Perry
Dan Povenmire- Dr. Heinz Doofenshmirtz (creator of Phineas and Ferb)
Jeff "Swampy" Marsh – Major Monogram (creator of Phineas and Ferb)
Alyson Stoner -Isabella
Dee Bradley Baker was quite a fun guy and ready to make both the children and adults smile from ear to ear when he graced us with his Perry click!
To keep it simple, I asked the creators, Dan Povenmire and Jeff "Swampy" Marsh to give me one quote on the upcoming movie. Of course, no one can just give one quote when it comes to a great upcoming movie like Phineas and Ferb The Movie, Across The Second Dimension.
Diane: Congrats on your upcoming Disney Channel movie.
Would love one quote about it!
Dan Povenmire:"I was so pleased to work on this movie. It was so very dear to my heart. I enjoyed creating a movie filled with action and adventure and leaving out any menacing forces. It's a good clean family fun movie."
Diane: How did you come up with the characters Phineas and Ferb?
Dan: I was at dinner one night and started sketching on some butcher block paper. Triangles were the focus and soon turned into a fun character.Those triangle sketches became Phineas. The next day, I showed them to Jeff and the rest is history!
Jeff "Swampy" Marsh:
"The oppurtunity to do emotional things with Phineas and Ferb was incredible. It was wonderful to see the relationships of the characters develop throughout the years and now in a movie. It was inspirational to bring Phineas and Ferb into a full length movie."
You can also check out my son's interview
with Dee Bradley Baker
!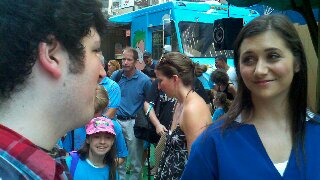 What a great day! Be sure to catch Phineas and Ferb: The Movie
Across the Second Dimension on The Disney Channel, Debuts August 5th!
All opinions are that of 3decades3kids.