Giveaway and Review
Ringling Bros and Barnum & Bailey
Presents
Built To Amaze
Recently we were invited to Ringling Bros. and Barnum & Bailey's Opening Night at
Prudential Center, Newark, NJ. Our awesome night started with the All Access Pre Show Party (included with everyone's ticket for free). I just love arriving one hour early and heading right down to the actual floor where the circus will take place. We had the chance to get an up close view of Asia (the elephant) paint right
before our very eyes. The painting was later raffled off to a lucky audience member.
My daughter could not get enough of the clowns, tattoos, circus clothes testing and more.
My son loved the tall stilt walker!
If you are heading to the circus do not miss out on this fun time. Do your best to arrive one hour early, you will love it!
Asia painting a picture at the All Access Pre Party!
Ringling Bros. and Barnum & Bailey presents the 143rd edition of their Greatest
Show On Earth. I'm sure everyone in the audience will be amazed! In a
typical Ringling Bros. style this show will be non-stop action and thrills to
keep us on the edge of our seats!
Children and adults alike will be in awe as they watch death defying
feats that only Ringling Bros. could perform.
From elephants to tigers we will watch in true amazement.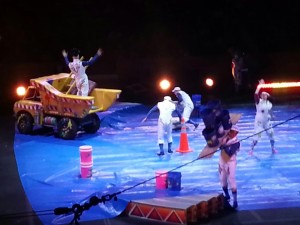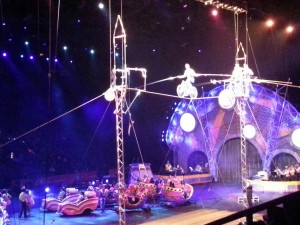 Of course we have a complete collection of Circus soviners .
This time my daughter loved the baby tiger in a purse. Adorable!
How could I say no?
You're invited to join the Ringmaster as his Circus
Celebrity Ringside Guest!
This Exclusive, Electrifying adventure puts you at the center of the action.
Seats are extremely limited.
CLICK HERE
to learn more.
CLICK HERE
for more information. You can also try on clothes
that are worn during the circus. Bring your camera, you will want to
take a ton of pics at this up close adventure. You will be amazed
even before the official circus begins! Don't forget to enter for
a chance to win an original pachyderm painting, which is
painted right in front of you by one of the Ringling Bros. and Barnum
and Bailey Elephants! You will not believe your eyes
when you see how awesome an elephant can paint! And don't
go back to your seats until you grab an autograph or two
from the circus stars you will be rubbing elbows with down on the circus floor!
Pink vs. Blue in this awesome segment of the circus!
This has been my favorite part since I was a child! I sit in amazement every single time!
Icee Time!

Upcoming Dates/Times/Locations

East Rutherford:
Wednesday, 3/6 7:30 PM
Thursday, 3/7 10:30 AM, 7:30 PM
Friday, 3/8 7:30 PM
Saturday, 3/9 1:00 AM, 3:00 PM, 7:30 PM
Sunday, 3/10 1:00 PM, 5:00 PM
Long Island:
Wednesday, 3/13 7:30 PM
Thursday, 3/14 10:30 AM, 7:30 PM
Friday, 3/15 7:30 PM
Saturday, 3/16 11:00 AM, 3:00 PM, 7:30 PM
Sunday, 3/17 11:00 AM, 3:00 PM, 7:30 PM
Brooklyn:
Wednesday, 3/20 7:00 PM
Thursday, 3/21 7:00 PM
Friday, 3/22 7:00 PM
Saturday, 3/23 11:00 AM, 3:00 PM, 7:00 PM
Sunday, 3/24 1:00 PM, 5:00 PM
Tuesday, 3/26 2:00 PM, 7:00 PM
Wednesday, 3/27 2:00 PM, 7:00 PM
Thursday, 3/28 2:00 PM, 7:00 PM
Friday, 3/29 2:00 PM, 7:00 PM
Saturday, 3/30 2:00 PM, 7:00 PM
Sunday, 3/31 11:00 AM, 3:00 PM, 7:00 PM
Monday, 4/1 1:00 PM, 5:00 PM
GIVEAWAY TIME!

Ringling Bros. and Barnum & Bailey is sending one lucky reader to the circus

of your choice with a 4 Pack of tickets to the show.

Just enter on the rafflecopter below and we'll see you at the circus!

Winner chosen at 11:59pm March 6, 2013 and contacted by email.

Winner will have 24 hours to claim prize before a new winner is chosen.

Prize is delivered through voucher which must be exchanged for tickets at

the Box office of your choice. Blockout dates apply. I do not know what they are right now, but will post with an update when the vouchers arrive.

Disclosure: Review/Giveaway tickets provided by Ringling Bros.

All opinions are that of Diane Sullivan. Email me at ELGeorgia@aol.com