"World Premiere of Pompeii The Exhibit
Life And Death In The Shadow of Vesuvius"
Discovery Times Square Exposition
If you have a definite interest in Pompeii or want to learn more about it and experience Pompeii first hand, you will not want to miss this exhibit!
I was fortunate enough to be invited to a preview night for the new exhibit event at DTSX Times Square NYC the other night.
I personally love learning everything I can about Pompeii and cannot wait to be a part of the action!
The exhibit is very informative and very emotional.
Walking into the room of body casts from people and animals that were caught in their tracks when Mt. Vesuvius erupted, covering Pompeii, Italy was overwhelming. The thought of all those poor people covered in ash. The body casts were amazing and I felt honored to be able to experience seeing them. How wonderful that we now have a chance to see the artifacts that were left behind.
During Pompeii The Exhibit, you can experience first hand what Pompeii was like before and after Mt. Vesuvius made its mark.
Our audio guide was fantastic and a wonderful perk to the exhibit! It was great having two choices of numbers on the audio guide for "children" and "adults". I loved it, since I was there with my 11 and 4 year old. They both we able to experience the exhibit, on their own level. They especially enjoyed the "closed space" movie where we were able to follow along watching the events of the day leading up to the eruption of Mt. Vesuvius 2,000 years ago.
I also enjoyed reading the very long events timeline, spanning the length of the room!
The jewelry inside the display was wonderful, and there was plenty to choose from in the gift shoppe, as well as many other choices, including books, dvds, leather checkers, and more.
We all also enjoyed sampling two different waters inported from Italy. What a night! What a great exhibit!
You are not allowed to photograph inside of the display area. I was able to give a few sample pics from the gift shop area.
If you are in the NYC area, or planning a vacation to the area- do not miss Pompeii-The Exhibit! It is great for all ages and the experience is unforgettable!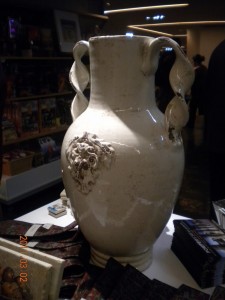 See you at Discovery Times Square
See You At Pompeii The Exhibit!
All opinions are my own. A special thank you to Discovery Times Square Expostion for hosting a wonderful night!