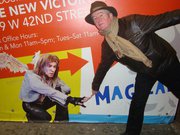 Looking for something entertaining for your children 9 and up? Looking for something entertaining for yourself?
Skellig is a great choice! If you have already read the book you can see it come to life.
If you haven't read the book, it's a perfect follow-up to the show!
Neal Foster, the actor who plays the title character in the stage adaptation of David Almond's award-winning children's novel, Skellig, by The Birmingham Stage Company, relishes the challenge of becoming someone — or is it something? — who is as down-and-out as he is enigmatic.
"Skellig may be an aggressive and frightening tramp with arthritis and terrible breath, but you are always made aware there is something very different and mysterious about him. He makes very strong demands on the imagination. One reason I love theater for young people is it often involves characters we rarely meet in adult drama." said Mr. Foster.
In Skellig by David Almond, Michael, a good-natured 10-year old with more on his plate than the average boy, discovers a grouchy yet strangely mystical vagabond with a taste for brown ale and Chinese take-out hiding out in his family's garage. Who is he? Did Michael even see him at all? What unfolds is a powerful tale that examines the connections between family, friendship, love and the links between us all.
In the style of RSC's Nicholas Nickelby, the actors share narration duties while slipping in and out of character. They also provide the instrumental accompaniment. Skellig by David Almond will have its U.S. premiere at The New Victory Theater on March 4 and run through March 13.
The impact of Skellig in British literary circles is quite formidable. In 1998, the book received the Whitbread Children's Book of the Year Award, and in 2007, it was selected by judges of the CILIP Carnegie Medal for children's literature as one of the ten most important children's novels of the past 70 years. Furthermore, in 2010, David Almond received the Hans Christian Andersen medal for his "unique voice" and was described as "a creator of magical realism for children." His prequel to Skellig, entitled My Name is Mina, was published in September 2010.
Skellig by David Almond is directed by Phil Clark. Design is by Jackie Trousdale, music is by Jak Poore, lighting is by Jason Taylor, and sound is by Lewis Fowler. The cast includes: Ellen Callender, Colin R. Campbell, Christopher Chamberlain, Neal Foster, Victoria Hamnett, Matt Harrison, Dean Logan, Charlotte Palmer, Jak Poore and Charlie Sanderson.

Theater-goers who buy tickets for three or more New Vic shows qualify for free Membership benefits, including a 35-percent savings.
Tickets for Skellig by David Almond cost $25, $18 and $9 for Members and $38, $28 and $14 for Non-members.
BY PHONE at 646-223-3010; Monday-Friday 12 noon-8 pm; Saturday 10 am-8 pm; Sunday 10 am-5 pm
IN PERSON at The New Victory Theater Box Office; Box office hours: Sunday & Monday 11 am-5 pm; Tuesday-Saturday 11 am -7 pm
*indicates Talk-back following the performance. # indicates signed performances.