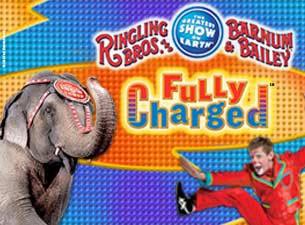 Ringling Bros and Barnum & Bailey Circus
Celebrates the 141st Edition!
When I think of some of my favorite memories as a child and many of my favorite times with my three children, I cannot help but think of going to the circus! Every year as soon as we begin to see circus commercials the buzz in our house automatically goes to "Circus Talk"! Remember when the clown put the funny nose on? Remember the parade? The music?
Everyone in our house has a different "favorite part" of the circus, but everyone agrees that going to the circus is a must! The circus is something that appeals to every age! I would know, since my children are 20, 11, and 4! There are never any complaints when we hit the Greatest Show On Earth!
I would have to definitely say, we are Fully Charged!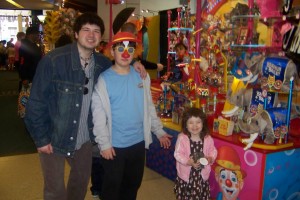 Don't miss Fully ChargedSM, the all-new surge of circus entertainment fromRingling Bros. and Barnum & Bailey®where megawatts of thrills explode off of the arena floor with breathtaking dare-devilry, superhuman stunts and never-before-seen performances that energize Children of All Ages!
The most electrifying edition ever ofRingling Bros.®celebrates performance power that boosts circus-goers excitement. The amazing acts, which can only be seen at The Greatest Show On Earth®, include Tabayara, a dynamic animal trainer whose rare ability to communicate with animals allows him to ride rearing stallions at a fully charged gallop and orchestratemajestic four-ton Asian Elephants in a symphony of dance. When he stands inside a cage, eye to eye with twelve ferocious tigers, Tabayara sees family where others see danger.
Audiences will feel the earth shake when the Ukrainian strongman duo ofDmitry Nadolinkskiy and Ruslan Gilmulin, who are as wide as they are tall, enter the arena. The brawny twosome give the word manpower a whole new meaning as they lift large cumbersome telephone poles, which weigh up to half-a-ton, and twirl them above their heads while acrobats balance atop.
The Fearless Fernandez Brothers dial up the thrills as they perform daring feats of athleticism on the Twin Turbines of Steel, including, extreme jumps and twists inside the moving wheels! Audiences will crackle with excitement as they watch Guillermo perform a three hundred sixty degree flying forward somersault, three stories in air, a feat so difficult it has only been attempted by one other person in the 141-year history of Ringling Bros.The Human Fuse, Brian Miser, sets the arena sky ablaze as he rockets through the air from his self-made human crossbow. Don't blink as he flashes across the sky in less than a second, and travels 80 feet at 65 miles per hour.
Ever wonder how many clowns it takes to change a light bulb? The hilarious hoopla continues to flow as the clowns from the world-famous Ringling Bros.®clown-alley, charge-up the audiences' funny bones with hysterical silly antics and clownish comedy.
You can only experience this current of excitement at Ringling Bros. Fully Charged! Get your ticket for high-voltage fun today!
Don't miss the All Access Power Up Pre-show Party!
Arrive an hour before show time and step onto the arena floor to meet our performers and animals. It's your chance to learn skills from the stars of the show and discover how to be CircusFit®. This action packed event will get you Fully Charged and ready for the show to begin. Plus, watch one of our incredible Asian elephants paint a masterpiece, and enter for a chance to win your very own pachyderm painting. The fun starts an hour before show time, and it's free with your ticket!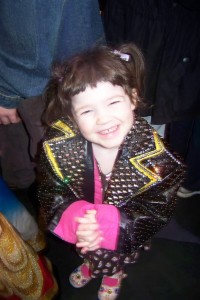 ARE YOU FULLY CHARGED?
is a unique initiative in which we're encouraging everyone everywhere to check their smoke detector batteries to make sure they're (wait for it) — Fully Charged. As a mom and a former teacher, I cannot begin to tell you how many lives I have seen changed and saved by "working/charged" smoke detectors! Hats off to Ringling Bros and Barnum & Bailey Circus for their great cause!
Please: Check your smoke detector and please LIKE Fully Charged on FB!
Yes, there's a Facebook page ––Like Are You Fully Charged? On Facebook! Click Here 🙂. please help spread the word — you might also help save a life.
Use code BLOGGER saves $5 on all non-VIP tickets to all shows (except opening nights) for the IZOD Center (Mar. 2-13) and Nassau Coliseum (Mar. 16-20).There is also a special $12 ticket for kids ages 2 through 12 available for all evening performances.
The code
BLOGGER
is good on all performances at both locations, except for opening nights.