at New Victory Theater NYC
Anyone that has ever been to New Victory Theater located on 42nd Street in NYC can tell you that it's a wonderful find for children and families. This was evident over the weekend, when I had the chance to attend the performance of Skellig!
Skellig is based on the book written by David Almond. Being a teacher for the past 20 years, I had the opportunity to share Skellig with more than a few of my classes. The book is gripping and the story is fast moving. The performance by The Birmingham Stage Company does the book justice.
The company keeps the story moving and the audience right in the middle of it. Skellig deals with many issues that face children and adults every single day.
Skellig-Angel?Man?Bird?
Michael is a ten year old boy coming to grips with moving to a new house and getting ready to welcome his new baby sister. Soon after the move, the baby makes an early entrance into the world and becomes ill. Mom and Dad are busy dealing with a sick baby, a ten year old, a new house, and their own lives. With extra time on his hands, Michael discovers "someone" in his garage(the same garage his dad is planning to destroy). With the help of his new friend, Michael tries to figure out life and how to deal with it.
The show is wonderful and it does not matter if you have read the book or not, it will be enjoyable to all. It was especially interesting to attend the show with my eleven year old son, who has not yet read the book. He enjoyed the performance just as much as me and is now, of course, reading, or should I say almost finished with the book (available at the gift shoppe).
The story is a drama and does have some very funny lines in it. But, don't be surprised if you get a lump or two in your throat as you watch and experience the feelings Skelling ignites.
I absolutely loved seeing the book come to life.
It was truly a magical experience to see Skellig, hear him talk, feel his pain and ….well, I can't give it all away, right?
If you have a chance to see Skellig at New Victory Theater, do not miss it! It will not disappoint!
For more information and Tickets to Skellig and New Victory Theater/for ages 9+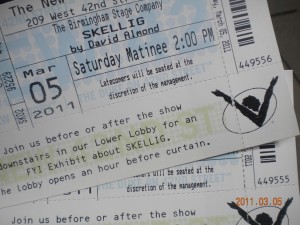 All opinions are that of 3decades3kids.