Kathy Griffin Wants A Tony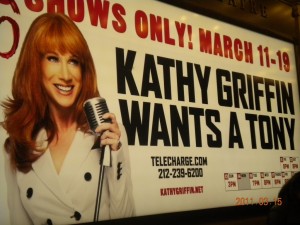 Last night hubby and I had a real treat! Thanks to
MommysLinks we had the opportunity to attend Kathy Griffin Wants A Tony! If you like Kathy Griffin you do not want to miss this chance to see her LIVE!
The show was hilarious. It started with a slide-show that rolled right into her on stage entry. From the minute she set foot on the stage to the second she stepped off, there was non-stop fun!
The laughter surrounded us as she "trashed" every celeb that you could think of! Kathy Griffin was on a story telling 2 hour roll. No one was safe. Some of my favorite fun included stories about Elisabeth from The View, Sarah Palin, Justin Bieber and on and on.
I have not laughed that much in a long time.
Every seat was filled and every person had a smile on their face.
Kathy Griffin was hilarious. If you are offended easily, I do not recommend this show. But, if you have a great sense of humor and don't mind a little "trash" talk, you will really enjoy this! The only problem: The show ended too soon. Everyone wanted more!
I loved how "down to earth" Kathy Griffin was when she was on stage. I felt like I was back in high school and getting updated on ALL the gossip!
If you have a chance to see Kathy Griffin Wants A Tony, don't miss it! Bring your camera, too! Kathy is very camera friendly!
For A Great Mommy Site Please Join: