Dorney Park Halloween Fun During the Day and Night!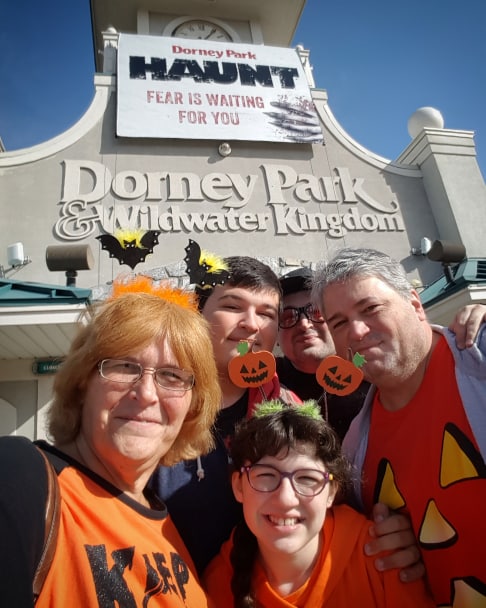 If you are looking for a place to visit for some Halloween fun with the family, look no farther than Dorney Park in Allentown, PA. It's about a two hour drive from NYC and works great as a day trip or sleep over. We generally do it as a day trip. This weekend we checked out Dorney Park and everything they had up their sleeves for Halloween! As you know our family has an age span in the kids so typically we need somewhere that is not scary during the day and super scary at night! Well, Dorney Park worked out perfectly! 
Dorney Park is currently hosting The Great Pumpkin Fest which highlights a ton a pumpkins, and more. The Great Pumpkin Fest features a special area just for kids and their families. There is trick-or-treating on Trick or Treat Street when kids can fill their bag with candies and non candy treats! There is a petting zoo that has a bunch of such adorable baby animals you will want to bring them all home with you! You can visit the straw maze and then do some awesome arts and crafts in the area next door (free of charge)! There are also carnival games to test your luck. Unfortunately this time we had no luck when it came to them. Oh well, there's always next time, right? There is a main stage that has dance contests, balloon fun and a costume parade! Be sure to pick up a schedule on your way into the park so you know all the times. We arrived at the park just before the 11 am gate opening. I would strongly suggest this if you are going and interested in the day time activities. There's really nothing scary during the day BUT there sure is A LOT of Halloween fun! 
In addition to the full park being open and The Great Pumpkin Fest there is something NEW at Dorney Park! If you love Monster Jam you cannot miss the NEW Monster Jam  Thunder Alley! It is SO amazing! As you already know our family loves Monster Jam, so this review is coming from a true fan. If you have a Monster Jam fan in your family, do not miss this opportunity to see your favorite monster trucks and meet the drivers! There is full section dedicated just to Monster Jam! We were able to actually GET INSIDE of one of the Gravedigger trucks and also El Toro Loco! It was such an awesome treat to be able to get behind the wheel! In addition there is an opportunity to ride inside the Gravedigger truck and Megalodon Free Style Trucks with an official Monster Jam freestyle driver. I'm not exaggerating when I say that we had the time of our lives being taken out on the make shift freestyle course and of course the donuts were my absolute favorite! You get to do the track ride twice in the truck so that is really fun! We chose Gravedigger!
he ride along with Monster Jam Thunder Alley are included with your Dorney Park day ticket but you can purchase a VIP lanyard that will get you in the VIP line to ride the freestyle truck. If you don't want to buy a VIP I would suggest that you get through the gates and head right down to the Monster Jam area and get in line. PS- The line is definitely worth it!! If you do splurge for the VIP, you can also choose to get a Monster Jam program (which you can get signed by the driver visiting that day), a Monster Jam pull string bag or a Build Your Own Monster Jam Truck Kit! All of them were awesome no matter what you choose!
You can also have your kids play in the biggest sandbox! It's so big there are Monster Jam truck wheels inside of it! There are also trucks stocked inside the sandbox for the kids to play with when they visit! There are interactive and teaching areas. You can see just how the arms are made for one of our favorite trucks, Zombie!
Now, honestly, when the sun goes down the ghouls come out! Dorney Park has a way of transforming from an family fun place during the day to an insanely scary place at night. If you have never been to Dorney Park's HAUNT, you need to go! Don't waste another minute. It is so much fun. The children's Halloween activities close at 5pm which gives you time to get out before the night begins. At 7 pm HAUNT begins with a devilish show near Hydra! Overlord's Resurrection will get you set for the night. It's the kick off of HAUNT and where all the ghouls are released to their designated zones. It's a great place to see everyone (well, it is dark). There are also follow up shows, Terror Rising throughout the night. https://www.dorneypark.com
If you have a thing for clowns be sure to get yourself to CarnEVIL where you can walk into the carnival of scare and clowns shielded behind smoke screens and carnival boxes! Steamworx and The Lair are some new additions to HAUNT! They are both worth going to and believe me they are scary fun! When it comes to mazes, HAUNT has you covered! There are a ton of mazes to choose from. Can't lie, my favorites are Urgent Scare and The Cornstalkers! Trick-Or-Treat Lights Out is a really good one, too! But you will have to choose for yourself! Here's a list of all of them: https://www.dorneypark.com/play/haunt/attractions
 During HAUNT you can also still ride all of your favorite rides in the dark. Somehow they are even more fun when you have to walk through the smoky walkways to get to them. If you are not that much into the entire scare vibe you can always purchase a light up necklace (for $10) that tells the ghouls to keep their distance. We did test it out one year and it works! As for the rest of the group they will still be victims of the scares! 
There is also a new Stake & Ale where you can warm up when the chill of the night sends shivers up your spine. You can sink your teeth into a tempting array of select beers, wines and mixed drinks but beware you may be greeted by vampires! You may also want to check out the buffet on Saturday nights, Fright Feast, where you can sink you vampire teeth into some delicious seasonal foods while surrounded by monsters of all sorts. The menu includes Pumpkin Ravioli with a Brown Butter Sauce, Garlic Parmesan Chicken Breast, Hamburgers, Red skin Mashed Potatoes, Roasted Brussel Sprouts with Bacon, Dirt Cups, and Coca Cola Beverages. Yum! That is definitely on my next trip to do list!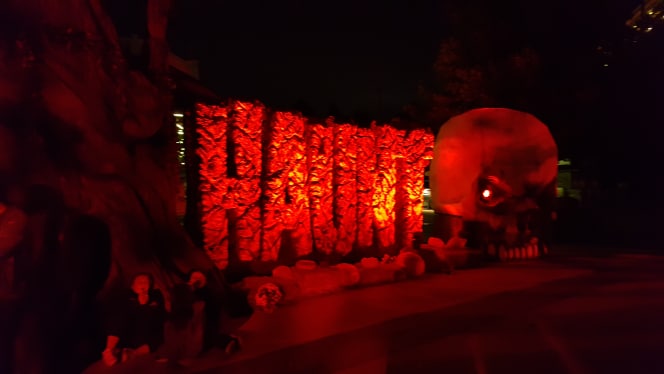 Well, I hope that you enjoyed our trip to Dorney Park during the day and night. We arrived just before 11 am and stayed until almost closing. It was a day our family won't soon forget and it definitely put us right into Halloween mode! You can check out everything you need to know about Dorney Park The Great Pumpkin Fest, Monster Jam Thunder Alley, and HAUNT by clicking here! If you have any questions just leave them below or catch me on all social media networks at @3decades3kids

Disclosure: Diane Sullivan is the author of this 3decades3kids.net post. All opinions are honest and do not reflect the views of the partner company represented. Media family invite extended in order to facilitate this post. Thank you for hosting our family, Dorney Park. We can't wait to visit again! To contact us please reach out to Diane@3decades3kids.net or @3decades3kids across all social media.