Dorney Park Is Always The Right Choice!
Theme parks are a BIG subject in this house. We love coasters and we just love being out for the day with a million ride choices, food and fun. When we think back on one of our best days of summer we automatically think of Dorney Park and Wild Water Kingdom in Allentown, Pa. It's under a two hour ride from the NYC area so that makes it an easy day trip, although there have been a few times we have opted to stay over and make a weekend out of it.
Dorney Park is a summer staple in this family. Come to think of it, it is also a Halloween Haunt staple, too! But we will get to that in  another post. First of all, I just love Dorney Park because the water park is inside of the theme park. That makes my life so much easier! Our family could spend a full day enjoying Wildwater Kingdom itself, but we always try to stay there until about mid afternoon and then head to Dorney Park until closing. It is VERY easy to spend the entire day at Dorney Park and Wildwater Kingdom so I would recommend arriving as early as possible. Our family generally arrives before the gates open so we can be in the first group let into Wildwater Kingdom because it does tend to get very crowded. If you want to find a place to sit it's a good idea to get there as early as you can. There are also cabanas available for rental.
When it comes to Wildwater Kingdom my personal favorite is the Runaway River Lazy River. It's a lazy river with a twist of fun. As for my daredevil kids, they run off and ride the Aqua Racer and the Constrictor! If you want to find me, I'll be in the wave pool! There is so much to do, something for everyone.
If you are not the waterpark type then you can head directly into Dorney Park. If you love coasters you definitely have come to the right theme park. There are plenty of choices. Our family favorites when it comes to coasters are Hydra and Talon but I'm happy to say that Dorney Park is the home to seven adrenaline rushing roller coasters
In addition to coasters you can find so many fun things to do. Kids of all ages can enjoy Dorney Park. There are children's ride throughout the park but our favorite place for the littles is Planet Snoopy where you can find Snoopy and friends themed rides and even meet Snoopy and his friends! There's also a new show, Space Beagle! There is also a grand array of Snoopy souvenirs! So if you are a Snoopy fan, you need to stop by and grab a stuffed Snoopy, tee, or mug!
Our family enjoyed the refillable mug with free refills the day of purchase! It's a total perk and good in both Dorney Park and Whitewater Kingdom. As for food choices, Dorney has you covered! They have a dine all day plan! For one price you can you dine every ninety minutes throughout the park. No one leaves Dorney Park hungry! They even include one bonus dessert! Our family chose Cinnabon!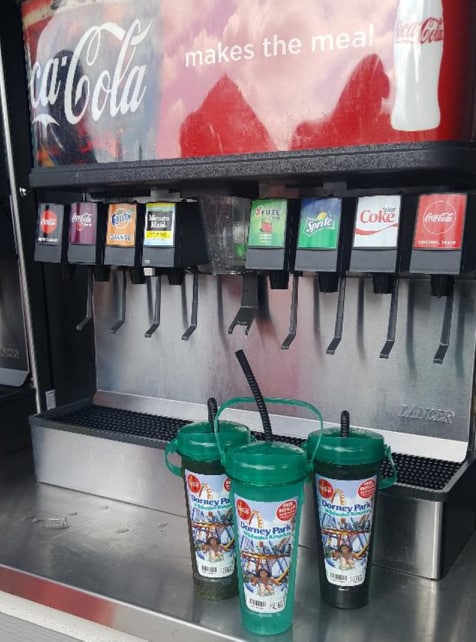 There is something magical about staying at Dorney Park into the darkness. I just love all the lights of the rides and the sounds and music. It's all so exciting and so much fun! So if you are looking for an awesome day trip to take with your family and friends look no farther than Dorney Park! You will not be disappointed. If you want to make your ride wait even faster there is a choice, it's called Fast Lane! It's a bracelet that you get and a special entrance to most high line rides. There are few Fast Lane choices. They even include some waterpark attractions! Having Fast Lane during our last visit was a dream come true! It allowed our family to bypass the lines on so many of the attractions. It allowed us to ride more than usual and we absolutely loved it! Dorney Park and Whitewater Kingdom is always the right choice!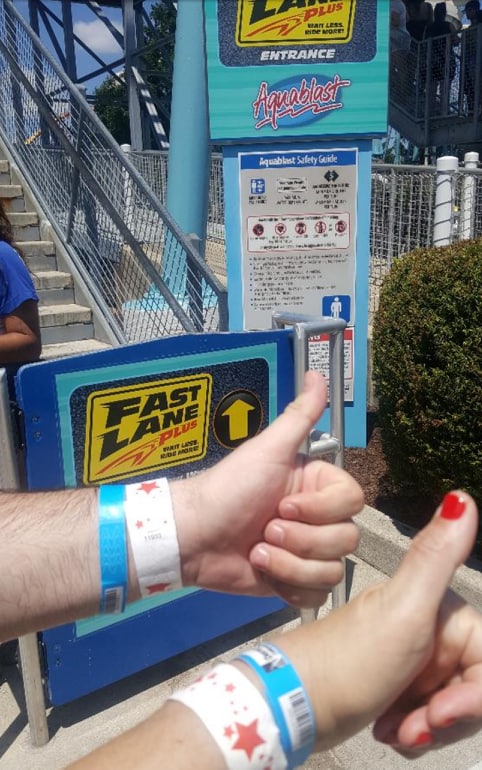 In addition to all of the fun we had this year, there is more to come in 2020 with the brand new addition of Seaside Splashworks! 
Disclosure: Diane Sullivan is a Dorney Park Ambassador Blogger. All opinions are that of Diane Sullivan and do not reflect the views of the partner company represented. Special thanks to Dorney Park and Whitewater Kingdom for the amazing time! Family media passes, drink all day cups, all day dining vouchers, parking and Fast Lane passes provided by Dorney Park.