Disney Floral and Gifts Spooktactular Mickey's Halloween In Room Celebration Is A Must Do For All!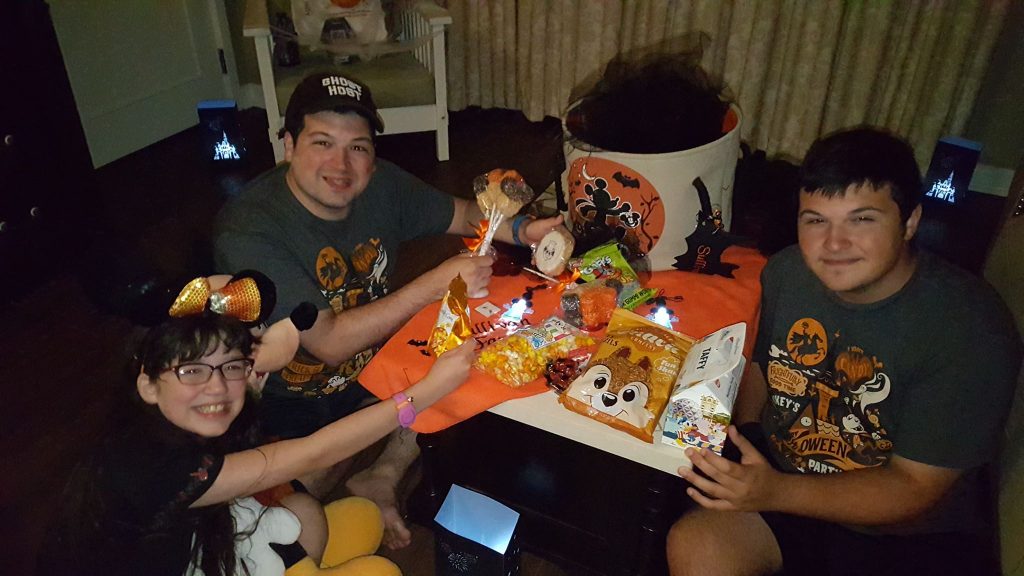 Halloween is hands down one of our family's favorite holidays. We all love fall and we just love Halloween. Although we are not huge into the gore, we are obsessed with all things spooky friendly. Recently on our venture to Walt Disney World we had the pleasure of attending Mickey's Not So Scary Halloween Party at Magic Kingdom. It's a night that is certainly filled with fun for the family and Magical Spookiness that only Disney can come up with to entertain the entire family.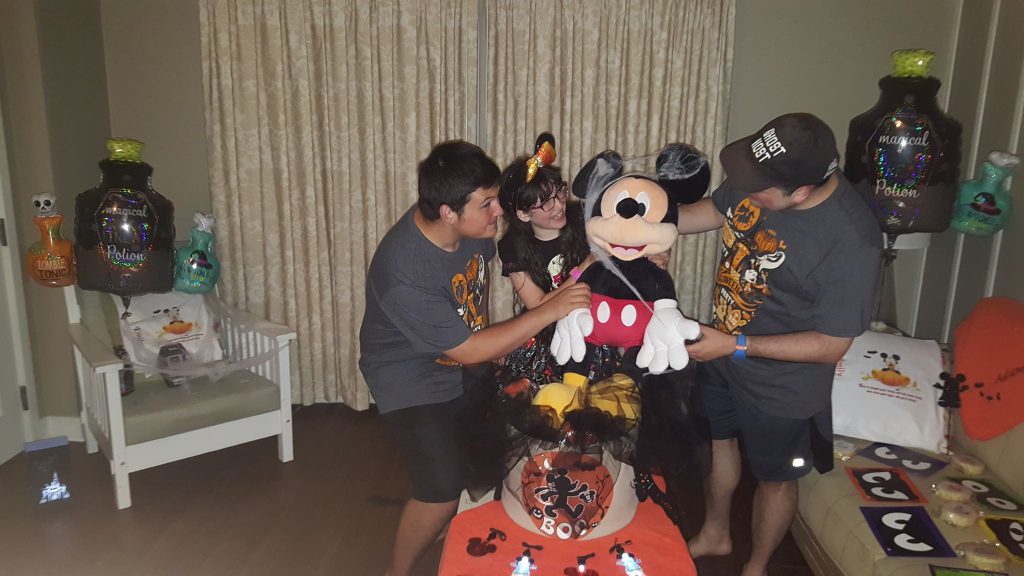 As if going to Mickey's Not So Scary Halloween Party was not enough to get us into the Halloween spirit when we returned home to our resort room at Disney's Boardwalk Villas a huge surprise awaited our family. Now, I have to say up front that I knew the surprise was coming, but had no idea exactly what was arriving from Disney Floral and Gifts. So, although I knew, I really didn't know exactly what to expect. Last year our family was surprised with Mickey's In Room Celebration and we could not stop talking about it. This year was a surprise beyond my wildest Halloween dreams!

So here goes the story. As our family neared the room Emily was the first one to spot the personalized Halloween door banner. I think right at that moment the family knew what it meant. Could there be a magical surprise behind the door. Considering spooky cobwebs and light up eyes greeted us it was safe to say that we all could not wait to open that door! The video I placed below is our reaction video so please forgive me for the darkness and all of the "reactions" as we made our way through the room. I thought it was a perfect video of finding surprise after surprise! I think you are going to love it!
We opened the door and everyone pretty much gasped! Our room had been transformed into a spooktacular surprise. As we entered the room we could see shadows of Mickey bats on the walls and lanterns illuminating the path adorned by many glittery bats on the floor. We followed them to the table where a cobwebbed flickering candelabra shone over a note from Mickey Mouse himself. He told us to explore the room and have fun discovering all of the surprises he left us. Wow, Mickey! Being huge Haunted Mansion fans, we were thrilled by this sight. It was like we walked into one of the Haunted Mansion rooms! The candelabra was incredible!
(Look at Emily's face in this picture. I only noticed it later that you can see her in the mirror!!)
Looking around we could see spooky eyes peering at us from the mirrors, but all of us were drawn to the center of the room where a bigger than life sized Mickey Mouse sat in a glow in the dark Boo-sket surrounded by light up necklaces, tattoos and treats! Later we discovered that the basket was also filled with treats galore. But there was more, much more. It's so hard to describe the feeling that all of this gave us. It was overwhelming. It gave some of us chills just to look around and see cobwebs coming from everywhere. They were even in the kitchen area and draped over the sink making a perfect haunting experience.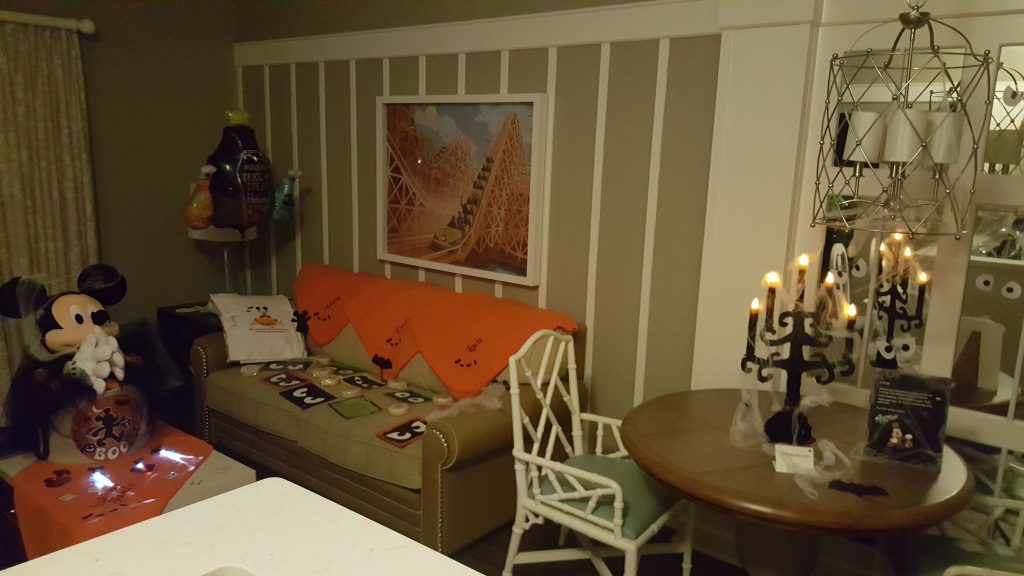 My husband called our attention to the couch area. Wow, just wow! There were three Halloween orange blankets personalized with black bats and names! And Haunted Mansion hitchhiking ghost treats all over the place! There was also a personalized Mickey pumpkin Halloween pillowcase for Emily. The poem on it was so adorable and it definitely made for the most magical night's sleep ever. Emily also noticed the cards that were placed all over. They each had different messages and games on the back. The next day we spent playing them and answering some of the trivia that was part of it.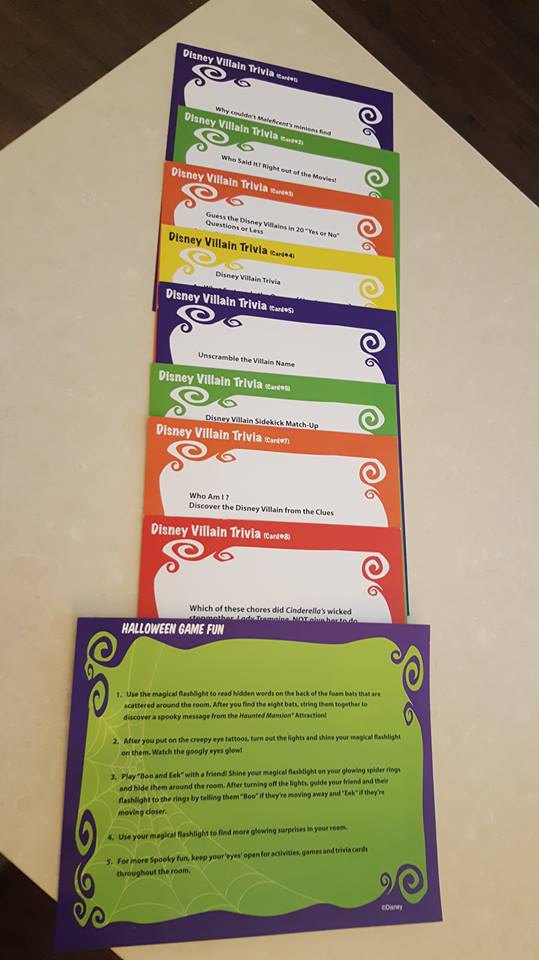 But that wasn't the end. There was a chair covered with cobwebs! A little secret I will let you in on is that our family loves Halloween cobwebs! Our living room at home and kitchen get a total cobweb makeover around Halloween time, so this was a big hit with us! The chair was filled with Haunted Mansion themed goodies, tattoos, Glow in the dark Haunted Mansion playing cards, Haunted Mansion candies and a matching second pillowcase for Emily. Lucky Emily! There were also magical potion balloons all over the place!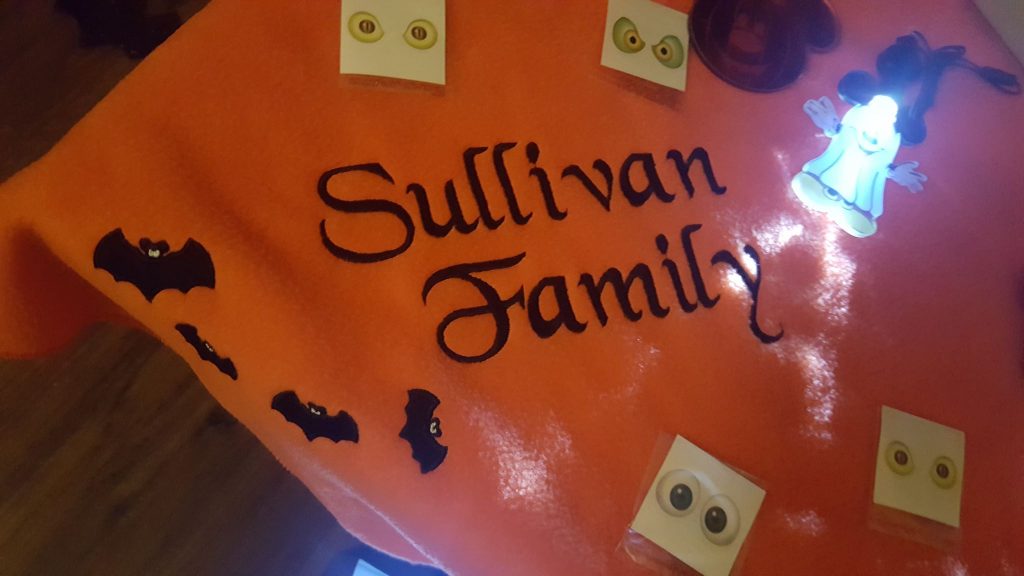 Now if you think our fun was over, just hold on a few more minutes. The entire experience was  so hard to process. It was also a night I wish I could have just frozen in time. I'm so glad that I have our reaction video to look back on.  As if all of this was not already enough, there were two additional gift baskets that I absolutely loved! One was filled with games and treats, The Ghouls and Ghosts Night In! If you are a Haunted Mansion fan you will definitely want to check this out. It includesd a Disney Parks Haunted Mansion game of Life and game of Clue and treats to enjoy while you play! Beyond incredible! Although I really wanted to leave them unopened until we arrived at home, but somehow the next morning after breakfast we ended up playing both of them!
The second gift basket was my favorite and perfect for hubby and me! I am a total Disney Villains fan every since forever. I have to tell you that when I saw this gift basket I was just about in tears. I had seen it on the Disney Floral and Gifts site and loved it! I was planning to drop a few hints to hubby about maybe surprising me with it someday. BUT there it was right in front of me. It was like someone knew how much I loved  the Disney Villains! A Disney's Villains Indulgance Gift Basket includes two Disney Villains exclusive stemmed goblets! Enough said? It also has a matted illustration by Disney artist Charles Wissig of all of my favorites and their signatures! ( It's already hanging up in our house!) Of course there was some bubbly to spill into those incredible goblets and I may have just saved the best for last. The gift set also included a hand made chocolate box adorned with the Disney Villains on top and filled with handmade chocolates inside. Mine! Mine! Mine! I'm rarely selfish and most times my kids and hubby claim all of the surprises, but this time it was something I absolutely would not share! Update- Of course I shared! I really need to get better at the word, No. But, how could I not share. They were so delicious!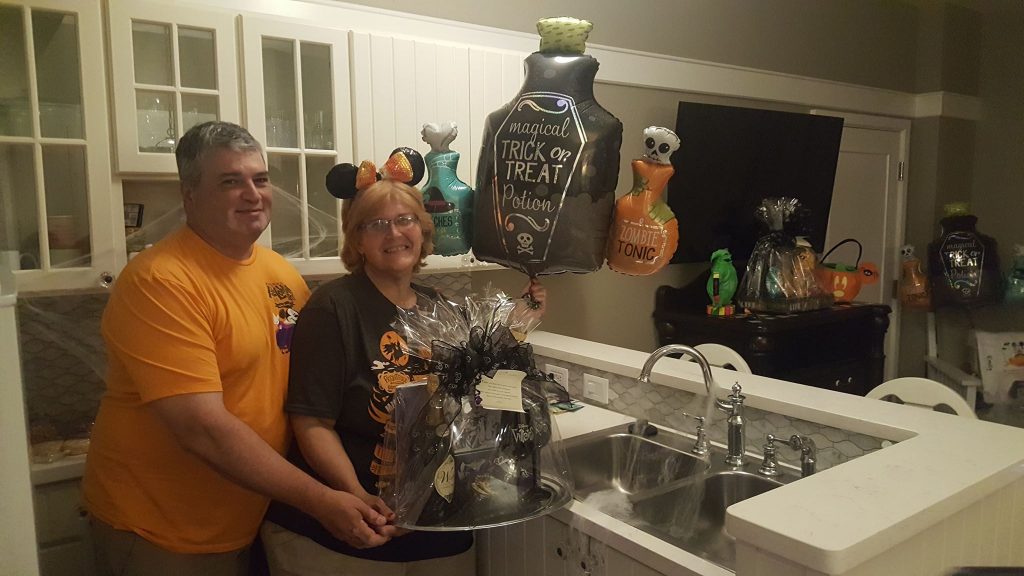 If you are heading to the Disney Resorts and looking for the perfect surprise for your family,  your friends, or yourself (because can't we just sit down and spoil ourselves once in a while?) you definitely need to  visit Disney Floral and Gifts. They have the perfect Halloween Spookiness you are looking for from simple to extravagant. Our In Room Celebration- Mickey's Halloween Celebration is something your family will talk about for years to come. There are also Halloween gift baskets  and build your own gifts! As for our family. We really felt like we lived a dream, a magical spooktacular experience. Thank you Disney and Floral for the amazing surprise that our family will treasure for years to come. We are starting our home Halloween decorating and will definitely be including some of the magic from Disney Floral and Gifts. What a wonderful wonderful Halloween and family experience!
Disclosure: Special thanks to Disney Floral and Gifts. All opinions are that of Diane Sullivan and do not reflect the views of the parent company represented in any way. Contact me at Diane@3decades3kids.net or @3decades3kids across all social networks. Visit Disney Floral and Gifts at http://disneyworld.disneyfloralandgifts.com/