Disney Floral and Gifts- Mickey's Magical Welcome- In Room Celebration
Have you ever dreamed of being surprised? As adults most of the time it's pretty tough to actually surprise each other. My hubby did pull off the surprise of a lifetime last year when he orchstrated a surprise re-engagement for our 25th Anniversary during the Disney Social Media Moms Celebration. It was honestly the biggest surprise of my life and quite frankly a moment I will never forget. My eyes could not stop streaming tears as hubby knelt before me on one knee popping the big question, again, 25 years later. After our smoochy smoochy I was presented with the most breathtaking floral bouquet I have ever seen. It was mix of roses and assorted flowers adorned with a creamy silky ribbon and a trio of pearls that formed a Mickey. The scent was divine. I needed to know where those flowers came from and so began my love for Disney Floral and Gifts……
Little did I know about what this hidden gem of Disney had to offer to its guests. Of all the places I have visited in the world I may have to say that going to Walt Disney World in Florida is up there in my top choices. There is something so very magical that happens when you visit the "Happiest Place On Earth". Recently our family visited Disney World for our family vacation. It's always great as the kids get older to be able to still celebrate as a family all together. Our children were all born into a Disney Family and proud of it. During out trip we celebrated Adam's recent high school graduation and birthday, but most of the time we just cherished being together away from it all and having fun! Our days were filled with Mickey, Minnie, Princesses, rides, Mickey Pops and pools! Our nights were taken over by quieter times, fireworks and a million memories in the making. 
Of course there was one particular night that was pretty much the best night of the trip. It was the night of the big surprise, bigger than we ever expected! Our family was delightfully surprised by [click here] Disney Floral and Gifts with an In-Room Celebration– Mickey's Magical Welcome Family. From peeking on the Disney Floral and Gifts site I did have an idea about what an In- Room Celebration was like, but I had never seen one in person. I did receive an email early in the day asking if we would be out of our room for a two hour period in order for some magic to happen. I did not tell anyone in our family what was about to happen. I really did not even know much about it myself since Disney likes to operate on the magic of a surprise. All I knew was that something special would be left in our room for the family. What a surprise was about to unfold, what a magical magical  surprise. I'm getting teary eyed as I write this thinking about how much emotion went into that night, it was just amazing.
The day of the surprise we left our room at Disney's Contemporary Resort like any other day of the trip, but in the back of my mind I kept wondering how the night would play out.  We spent the day at Magic Kingdom and ended our night with the newest fireworks show, "Happily Ever After". It was a perfect night! Everyone was tired at this point and ready to head back to the room. I starting getting butterflies of excitement wondering about what was about to happen next. As the monorail came to stop on the grand concourse I thought, "This is it!".
I remember the exact moment our family noticed the room door. My daughter and both sons gave out a little bit of a yell- WHAT??? No one, including myself, could believe it. There was a huge Mickey Window door banner on our door. The banner literally took up half of the door. Everyone stopped in their tracks, except my daughter who could not wait to use her Magic Band to open the door. The door was opening and we were about to let the adventure begin…
The room was darkened except for a dim light that let us see what looked like sparkling fireworks lighting up everywhere. It was absolutely beautiful to see the castle luminaries as they twinkled their ever changing colors. We flipped on the lights and to our surprise there were Mickey footprints on the floor! It looks like Mickey Mouse himself definitely had made a stop at our room. My daughter took the path of footprints (You can see the footprints in the video below. I was so excited I missed grabbing a pic!)  that led to a surprise note on the table. The family gathered around as Emily read the note left by none other than the Big Cheese! We all peeked inside the Mickey Mouse inspired bin overflowing with yummy deliciousness, all Mickey themed of course. The bin even had our name embroidered on a Mickey tag. Wow! Snack after snack seem to parade out of the bag which included a bouquet of chocolate dipped Mickey krispies pops, taffy, Mickey shaped pretzels, popcorn and more!
We were all so obsessed with the door and the footprints and the fireworks that we almost missed the fact that there were even more surprises. More surprises?!?! As Emily turned she let out a shriek! The living room area was filled with Disney happiness. Tears filled my eyes as I saw the reaction of my daughter and sons. What a magical moment. They were just overwhelmed. We all headed over to the living to check it out. There was an embroidered,  "Welcome Sullivan Family" sign which immediately caught everyone's eye. The couch touted five Mickey and Minnie ears hats- one for each of us! As soon as I saw them I imagined us all arm in arm wearing the hats at Magic Kingdom. They were perfect! Beside them were Disney beach towels that we made use of at the pool the very next day.
But there was still more. Was it really even possible? They had us all at the Mickey door decoration! It seems like the gifts left were personalized to our individual likes. There were two Star Wars Pop figures, an Autograph book [already signed by MM] and pen, a Walt Disney mug and an amazing wooden collage picture frame to hold all of our memories that were made during the our stay.
Sitting on a beautiful silver serving platter adorned with Cinderella's Castle was a Mickey lollipop-Minnie mug arrangement! My daughter fell in love with the snuggly sweet pillowcase featuring Baby Minnie asleep on the moon, surrounded by stars. The pillowcase also had Emily's name embroidered onto it. There was no mistaking exactly who that was left in the room for! Did I mention there were five pair of Mickey vision glasses. When we put them on there were Mickeys all over!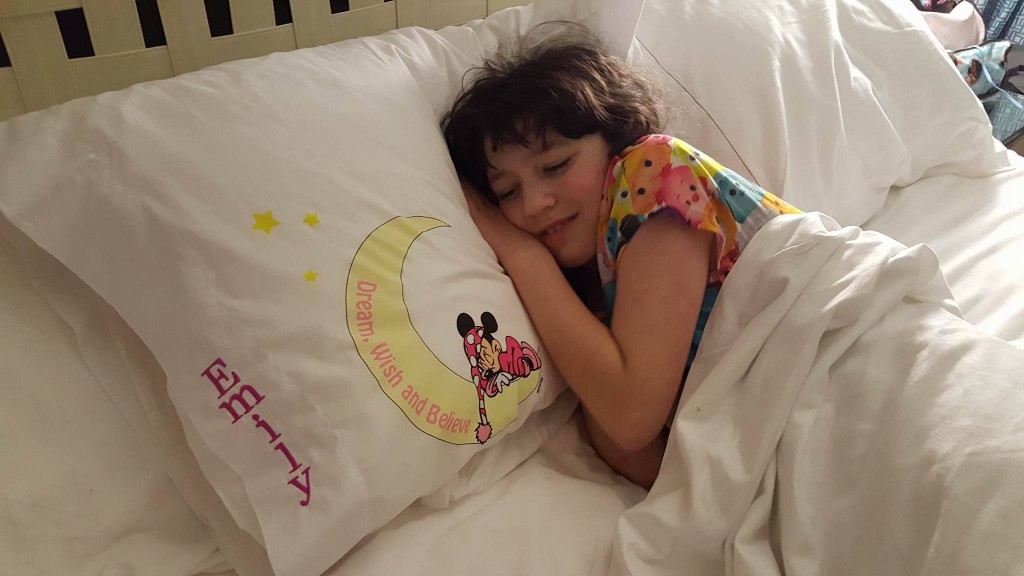 So there we stood, the five of us, our family, in this surreal moment of happiness. In some ways it was a moment I wish had lasted forever. It was something we will never forget. You hear about Disney creating Magic, and we had the chance to experience that magic firsthand…and that night we went to sleep as the castle luminaries twinkled their fireworks throughout our room…….as the pillow says…."Dream, Wish and Believe". Check out all things Disney Floral and Gifts here. They offer so many in room gifts. There is something for everyone from birthdays to princessing, to Star Wars, holidays and even romance! Check out our video of our In Room Celebration here. 

Disclsoure: Diane Sullivan/3decades3kids is a Disney Floral and Gifts Partner Blog. The above In Room Celebration was provided complimentary in order to facilitate this review. No compensation was given for this post. Contact me at Diane@3decades3kids.net or @3decades3kids across all social media platforms. Special thanks for your kindness and amazing experience, Disney Floral and Gifts! Visit Disney Floral and Gifts by clicking here!