September 9th Is Care Bears #ShareYourCare Day!

How Will You Show You Care? #CareBearsAmbassador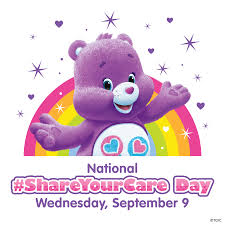 There is nothing more important than being able to show you care, is there? You don't need to have a lot of money or a lot of items. You need need a big heart and a happy mind. Caring about someone helps the world to see inside of your heart and your love will shine through. For nearly 35 years, Care Bears have taught children of all ages about sharing their feelings and caring for others. The Care Bears toy line was originally introduced in 1983 to caring fans everywhere and they've never been out of the heart and minds of fans since. Recently, the huggable Cousins have been reintroduced for digital natives on Netflix in the Netflix Original Series: Care Bears & Cousins.
Care Bears have heart and are all about love, caring and sharing with others. Care Bears also support charities around the world that help families in need, including We Care Bears, ZachKapCares, Fathom/en-ABLE, United Way, Operation Smile and many more.
You can be part of the celebrating by just doing something kind on September 9th! The #ShareYourCare movement is all about acts of kindness, big and small. Care Bears encourage you to do something nice for someone today, such as treating a friend to lunch, sharing a toy with your sibling, taking out the trash for your mom, helping an older neighbor across the street. Or inspire others with bigger acts of philanthropy like planting a tree, buying coffee or lunch for a homeless person or spending a day volunteering for a charity. Care Bears hope to embolden you to be kind, think of others and #ShareYourCare every day
Keep up with the latest on Care Bears: www.CareBears.com
Care Bears Get Social: 
Facebook: www.facebook.com/CareBears
Twitter: www.twitter.com/CareBears
Instagram: www.instagram.com/CareBears
YouTube: http://www.youtube.com/CareBears
Pinterest: www.pinterest.com/CareBearsAGP
Disclosure: Diane Sullivan/3decades3kids is a Care Bears #ShareYourCare Ambassador Blog. All opinions are that of Diane Sullivan and do not reflect the opinions of the parent company represented. Contact me at Diane@3decades3kids.net or @3decades3kids across all social media platforms.