Spider-Man Homecoming DIY GoodwillNYNJ Challenge
Spider-Man Homecoming is a movie you will definitely want to see this summer with friends and family! It's great for all Spidey fans young and old and gives us a sneak peek into a high school Peter Parker. Recently I had the chance to come face to face with Tom Holland, Spider-Man after attending the Sony Spider-Man Homecoming Press Junket. As part of the Press Junket a group of Mommy Bloggers were taken to Good Will Chelsea, NYC to take part in our very own Spider-Man DIY (do it yourself) Challenge. After a brief intro to the store each blogger was given a $25 gift card and fifteen minutes to shop for a Spidey inspired outfit. You could see the brains spinning as the bloggers raced against each other and against the clock to grab items that reminded them of Spider-Man. Many of us ran directly to the reds, blues and blacks. We were given shout out reminders every five minutes until time was up!
The Spidey bloggers lined up comparing items and complimenting each other on their amazing finds. As for me, I was incredibly shocked at the items I found at Good Will for my own DIY! For under $25 I was able to walk away with black pants, a red and blue checked tie, a red athletic tee, a black mask, and a few little staple items. I had the perfect DIY project in my mind- Now I just had to make it come to life with the help of my daughter.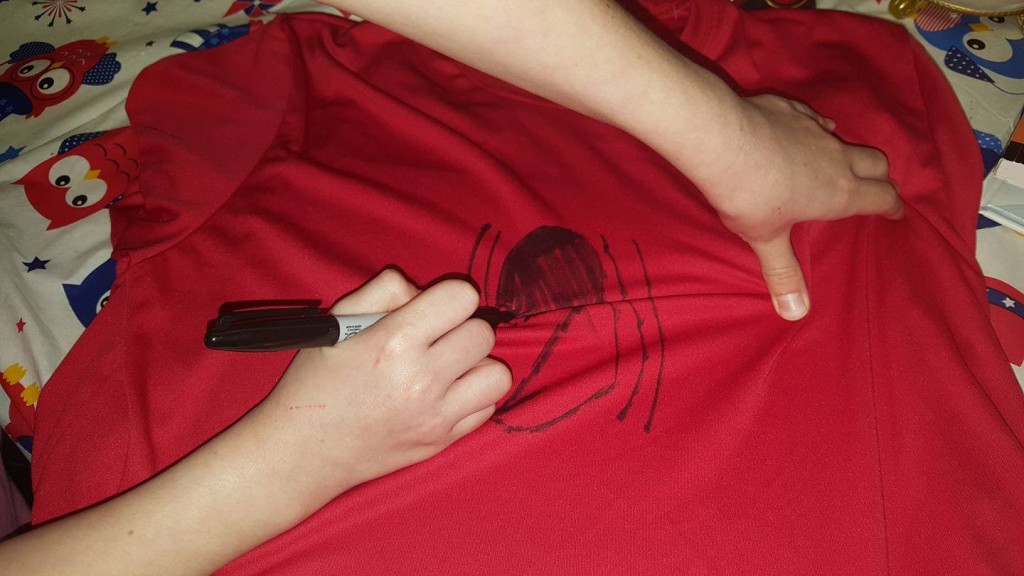 Coming home with a loaded bag from Good Will did take my family off guard. We do get into DIY's once in a while, but it is really not the norm. So when I took out the items my kids were like- "You are going to turn that into Spider-Man???". Doubtful as they were that day, they are not anymore! They were quite shocked as to how it all pulled together and how my daughter really took the project by the reins. With two older brothers she is quite an expert on Spider-Man! So, out came the scissors and the glue and the ruler. Spider-Man toys were also present for inspiration! As for my sons, they could not wait to see their sister take on the role of Spider-Man- and she did, she really did. She went into the DIY with all of her heart, cutting, gluing, rearranging and then posing. She not only posed for the pics, she went into full character mode- even visiting a local store as Spider-Man. It became a family effort, many laughs and a million Spider-Man memories made! You can check out the results of our DIY Challenge in pics below. We ae quite proud!
Disclosure: Diane Sullivan/3decades3kids is a Spider-Man Homecoming partner blog. As part of the press junket media invite the bloggers were given a gift card to shop at Good Will NYC and create a DIY Spider-Man inspired costume outfit. All opinions are that of Diane Sullivan and do not represent those of the parent company represented. Contact me at Diane@3decades3kids.net or @3decades3kids across all social media platforms. Thank you Sony and Spider-Man! We had an amazing time creating this DIY!